Women Helping Women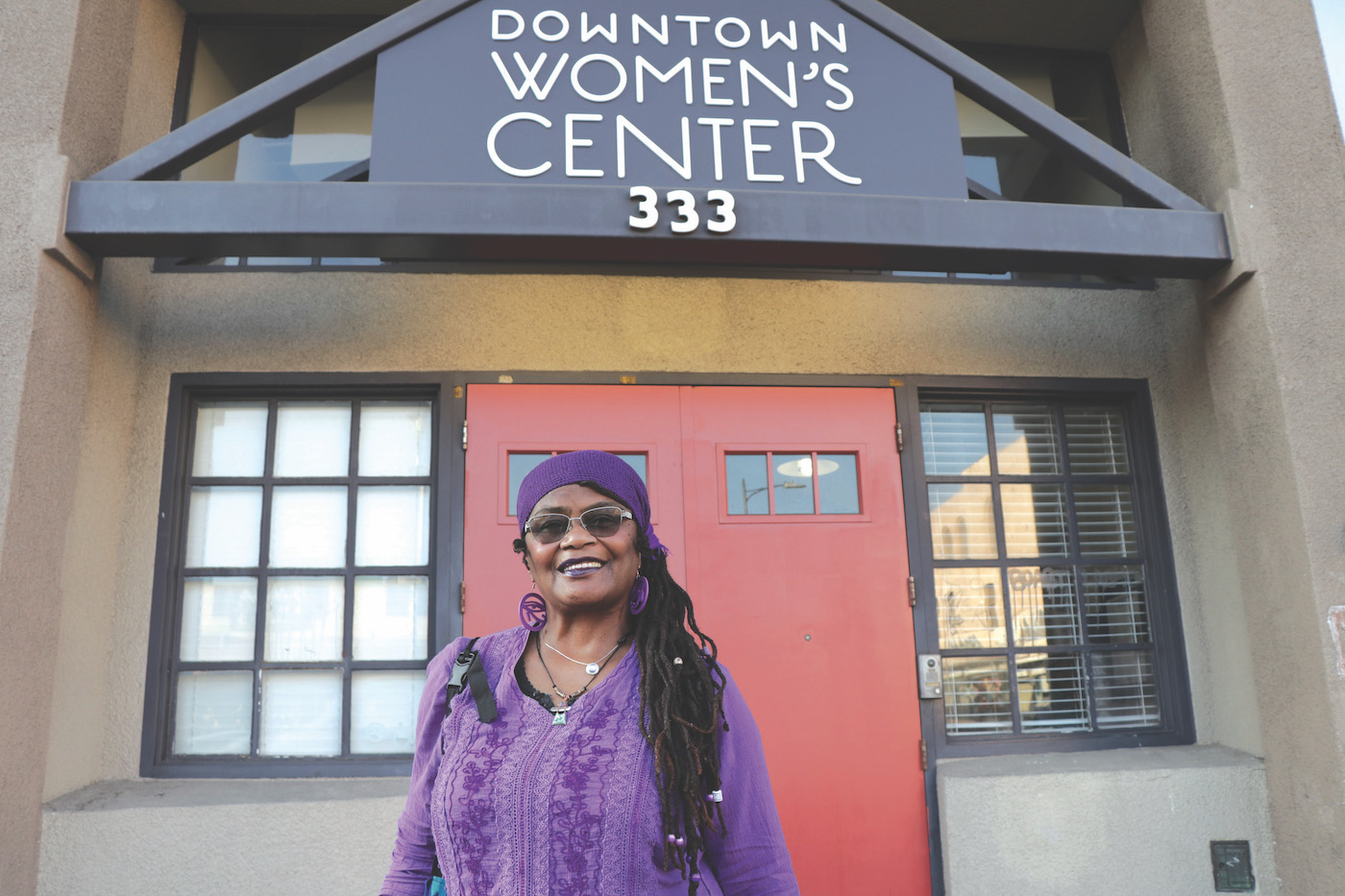 Of the more than 66,000 unhoused people living on Los Angeles County's streets, over 20,000 are women. 
One of them was Vikki Vickers, who spent four and a half years on the streets of Santa Monica. She says she was lucky, living next to a group of homeless Vietnam Veterans who looked out for her. Now, 11 years later, having worked helping women experiencing homelessness herself, Vickers says the "stories are horrific."
But Vickers and hundreds of other unhoused women have found hope and healing at the Downtown Women's Center (DWC), a multiservice agency that changes lives while shining a light on what is possible in the midst of the rolling humanitarian crisis playing out on L.A.'s streets.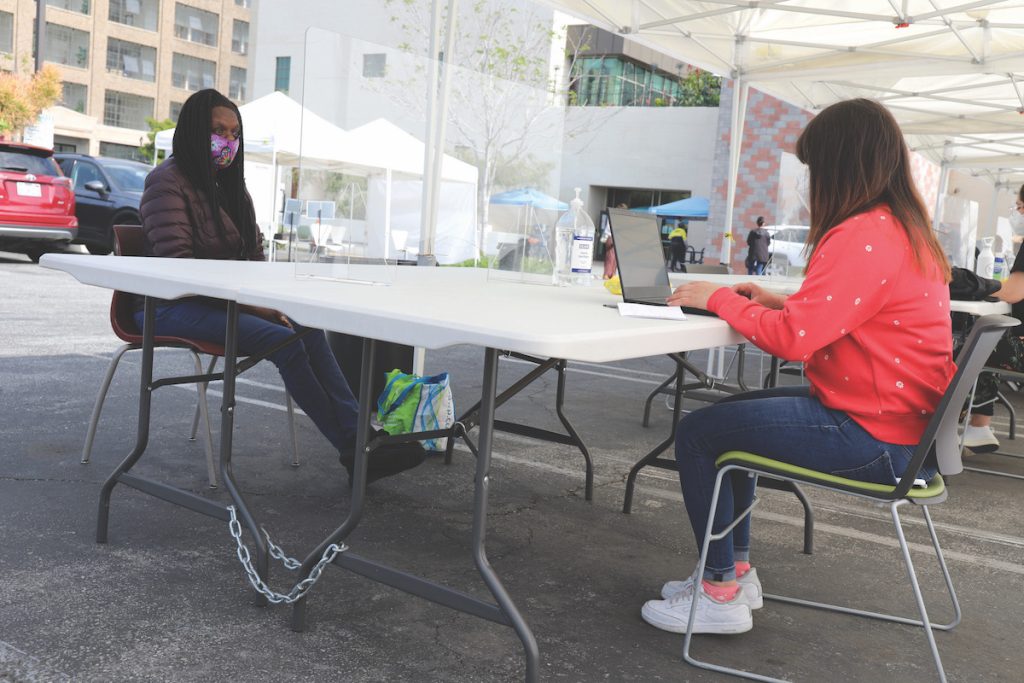 Beyond the services it offers are the people Vickers met there, and the person that meant the most to Vickers was DWC's CEO Amy Turk.
"The thing with Amy and DWC is that there is no closed door," Vickers says. "She is there to support you and all the women there."
Turk and the DWC team are always listening to women like Vickers to ensure that their programs are guided by the womens' needs. That is a large part of why the nonprofit has a retention rate of 98%, ending homelessness for hundreds of women.
"Core to our mission is really listening to the voices of women experiencing homelessness and designing all our services around that," Turk says. "This trauma-informed approach is really looking at what has happened to you, and how we can meet you where you're at."
Beyond owning 119 supportive housing units in Los Angeles' Skid Row Community, housing hundreds more across L.A. County, and serving some 5,700 women annually, DWC also runs a social enterprise cafe, resale boutique, and handmade product line, MADE by DWC.
"It's an 'employment program' but I observe so much self-esteem come out of it that I see it more like a mental health program," Turk says. "We're not trying to career path candle makers or coffee baristas unless they really want to pursue that. But I hear women say, 'I didn't know that I could do this' or 'I needed this job training program, it gave me time to regain my confidence.'"
For her part, Vickers has surely regained her confidence. She has advocated for state level homelessness legislation, and is currently leading a new program in South L.A. connecting seniors to services so that they can stay in their homes.
"I get to solve these problems for people and it feels so good," she says. "Like they [at DWC] did for me. I had no house, I was mentally ill, but they made appointments for me and helped me."
For Turk and the team at DWC, this sentiment is baked into their core values. It's all about women helping women.
Donate now!
downtownwomenscenter.org
(213) 213-2834
Director of Donor Relations and Events: Holly Hight
Mission
The Downtown Women's Center (DWC) envisions a Los Angeles with every woman housed and on a path to personal stability. Its mission is to end homelessness for women in greater Los Angeles through housing, wellness, employment, and advocacy.
Begin to Build a Relationship
We know you care about where your money goes and how it is used. Connect with this organization's leadership in order to begin to build this important relationship. Your email will be sent directly to this organization's director of development and/or Executive Director.
I take this work very personally because it pretty much saved my life. I love that I'm able to train women that were just like me and guide them. So I'm gonna be here forever. It's my career now, that's how I look at it.
Let Your Legacy Be Saving Women's Lives
The Downtown Women's Center recently launched its legacy circle. Thus far, 36 people have joined, writing the life-changing nonprofit into their bequests.
For Vikki Vickers, a one-time DWC resident, it's about the best investment you can make.
"Ninety eight percent of women housed at DWC never return to homelessness," Vickers says. "In giving money to DWC, you are saving a life, changing a life, giving them a foundation, support, and someone to trust. You're not just giving money, you're actually saving a life."
Please consider making the Downtown Women's Center part of your legacy.
Key Supporters
Otis and Bettina Chandler Foundation
Maria Bamford
Carla Barboza
Joanne Kozberg
Eileen Goodis and Eric Strom
Billie Greer
Lynn Hall Russell and L. Michael Russell
Kellie Hawkins Davis
Shelli Herman and Stewart Gleischman
Elizabeth Karatz Faraut
Marilyn and Jeffrey Katzenberg
Foundation
Tiffany Mayberry
Christy and Stephen McAvoy
Linda Griego
Elizabeth Naftali
Marylouise Oates and
Robert Shrum
Eleanor and Glenn Padnick
Brenda Levin
Silton Family Foundation
Andrea Van de Kamp
Weingarten Family
John and Marilyn Wells
Cindy Starrett