Nourishing Essential Workers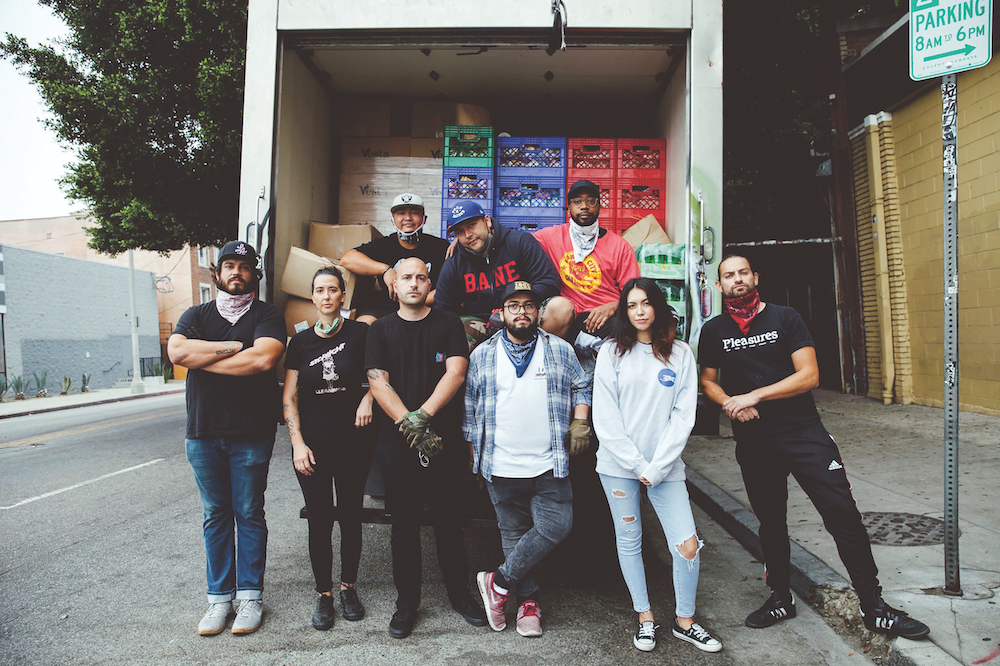 When Los Angeles experienced its first COVID-19 lockdown in March 2020, Damián Diaz and Othón Nolasco wasted no time helping one of the city's most vulnerable groups – undocumented restaurant and hospitality workers.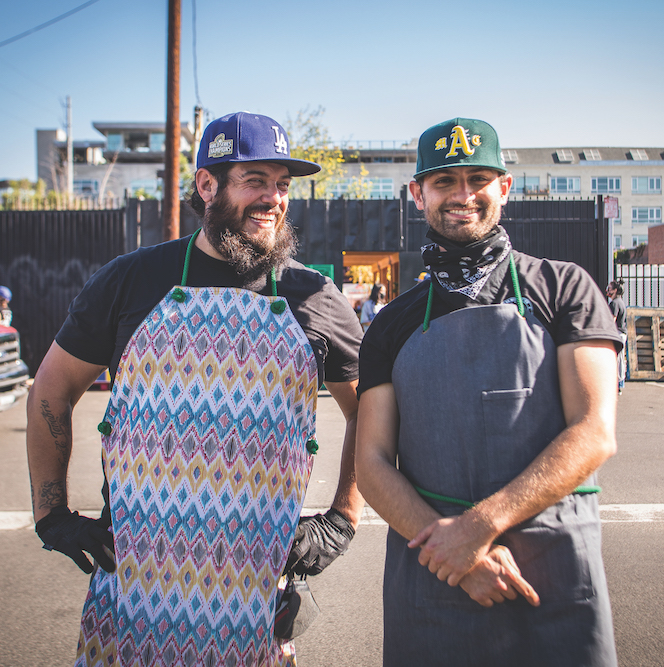 With restaurants shuttered, unauthorized immigrants working back-of-the house jobs, such as line cooks, dishwashers, and sous- chefs, were sidelined with no pay or government assistance. Diaz and Nolasco, founders of Va'La Hospitality, a bar consultancy group, immediately stepped in to ensure these workers would have enough to eat. They created No Us Without You LA, a nonprofit focused on providing food relief to undocumented workers struggling through the pandemic.
"We realized the majority of the people that we worked with in kitchens weren't going to be able to get any unemployment insurance," Nolasco says. "They really were worried; they were sharing with us that they didn't know how they were gonna feed their kids."
Initially, the duo set out to feed 30 families a week, using their own money to buy them groceries. During the height of the COVID crisis, their efforts expanded. As word spread locally and donations poured in, they turned their Boyle Heights office into a food distribution center. They distributed over 100,000 pounds of food weekly to over 1,600 families in crisis.
Today, No Us Without You LA continues to provide $100+ worth of food to roughly 700 families on a bi-weekly basis. Through 2023, the nonprofit will continue to feed undocumented workers in need in appreciation of the essential role these individuals play in the community.
The nonprofit has also expanded its reach beyond restaurant workers to serve housekeepers, day laborers, street food vendors, and other largely undocumented workers who can't receive social services from the government despite paying taxes and contributing to the local economy. The immigrants No Us Without You LA serves mostly hail from Mexico and Central America, but they include individuals from countries such as Ukraine, Nigeria, Lebanon, and Haiti, Nolasco says.
"It's not just a Hispanic thing," he says. "It's about anyone who comes to this country that just needs a little help."
Donate now!
www.nouswithoutyou.la
(213) 645-8600
Co-Founder: Othón Nolasco
Mission
No Us Without You LA(501c3) provides food security for the undocumented immigrants who are the backbone of the hospitality industry in the greater Los Angeles area. These hard-working women and men who have, for years, fulfilled the unforgiving back of house restaurant positions, now find themselves in the vulnerable position of being  unemployed, with little to no government assistance.
Begin to Build a Relationship
We know you care about where your money goes and how it is used. Connect with this organization's leadership in order to begin to build this important relationship. Your email will be sent directly to this organization's director of development and/or Executive Director.
No Us Without You has grown into a true garden raised by generosity and care.
Feeding the Future Generation
Donors to No Us Without You LA can feed a family of four for a week for as little as $33. In addition to store-bought groceries, the nonprofit built an organic garden in the heart of DTLA's Arts District to provide additional produce for families. Finca Tachibana is an event fundraising space that provides a self-sufficient path for No Us Without You LA.
Donations go toward regular meals for hospitality workers and their families and, during the holidays, for special treats. For the past two holiday seasons, No Us Without You LA, a nonprofit organization dedicated to providing food relief to struggling undocumented food industry employees, has provided turkeys for families and toys for their children.
"We're literally taking care of mothers and children," Othón Nolasco, the organization's co-founder, says. "That's how we see it; it's not even about being undocumented. We're just trying to show families that this too shall pass."
Key Supporters
Lululemon
Crafted Kitchen
Diageo PLC
Heinekin USA
Tito's
Everson Royce
Northgate
Beam Suntory
Bacardi
Hunter PR
United Way of Los Angeles
Casa Vega
Lush Life Productions
Vesta Food Service
Sysco Los Angeles
Kids of Immigrants
Chefs To End Hunger
Pepsi
Studio UNLTD
Steve Siegrist Design
Topo Chico
Molina Family Foundation
KAUSE