The Untiring Upstander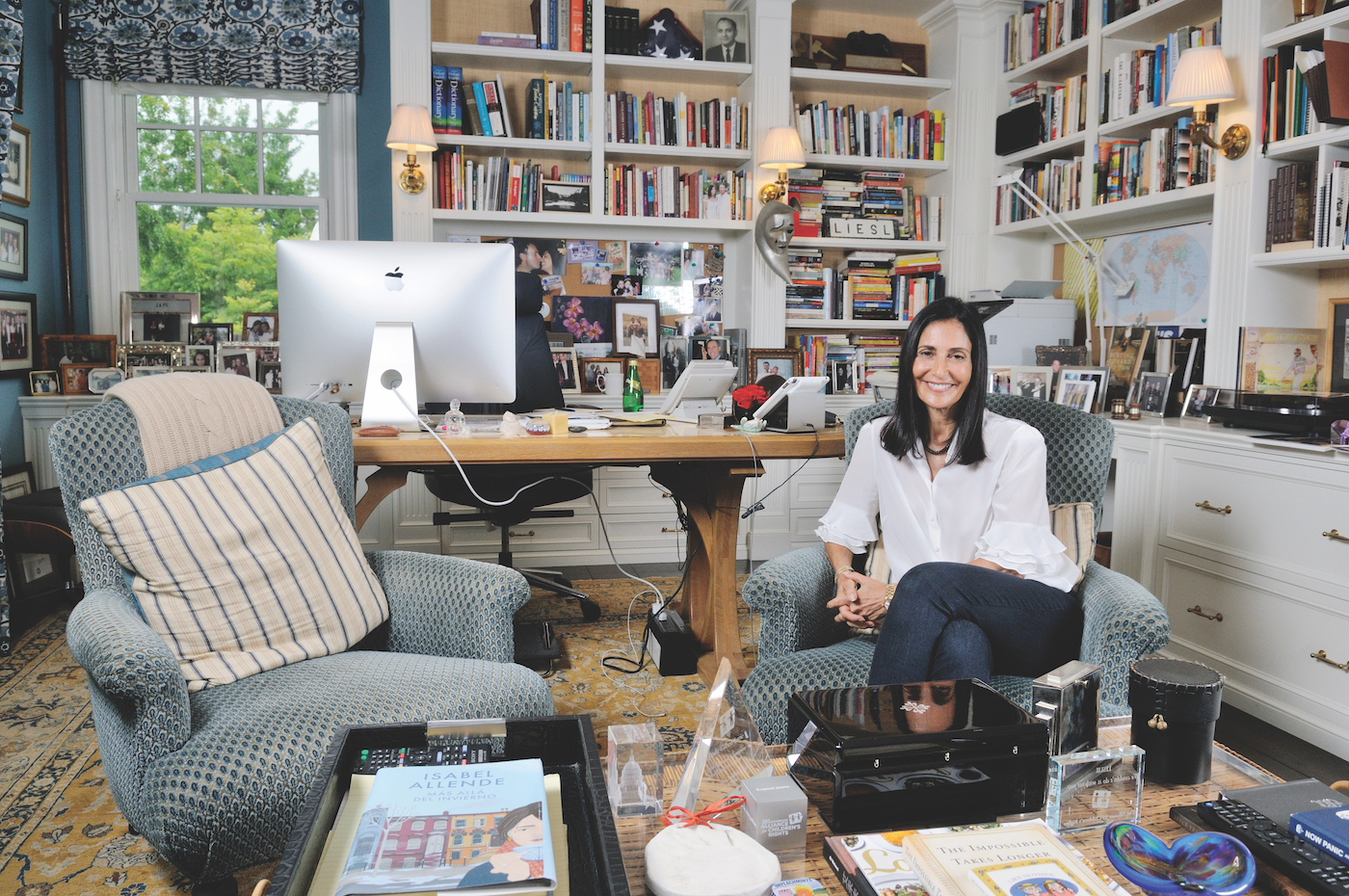 By her own description, Leslie Gilbert-Lurie had a sheltered middle-class childhood in suburban Los Angeles. Her family ate dinner together most nights, and her mother liked her to be as close to home as possible.
But her mother did crack open a window on a wider world, one filled with personal trauma. One that Gilbert-Lurie would channel to contribute widely to society as an author, lawyer, educator and prominent advocate for children's and human rights.
Early on, she sensed a sadness about her mother. When Gilbert-Lurie was seven, she overheard the word "Holocaust" during a visit by her mother's cousins. Like many survivors, her mother wouldn't bring up the subject, but she would answer questions. Gilbert-Lurie soon learned that in Poland, her five-year-old mother and 14 family members had hidden from the Nazis in an attic for two years and that her grandmother and an uncle (then a toddler) had died there.
In her late twenties, Gilbert-Lurie visited Poland, met the family that had shielded her mother and climbed into the very attic. In her forties, she and her mother, Rita Lurie, wrote Bending Toward the Sun, a memoir about the wartime experience and the emotional legacy passed down from mother to daughter and granddaughter.
Not surprisingly, youth and intergenerational trauma are at the heart of Gilbert-Lurie's prodigious nonprofit and educational work. "I've always had a thing for kids," she says.
After graduating from UCLA, Gilbert-Lurie stayed for law school, motivated by idealism (changing the world) and realism (future financial security). She quickly decided practicing law wasn't for her and gravitated toward the entertainment industry, where her friends actually enjoyed their work. Gilbert-Lurie spent a decade as an executive at NBC, including two years running her own television-production company.
Her legal training paid off as she entered civic life. While at NBC, Gilbert-Lurie collaborated with a law school classmate who wanted to launch a public-interest law firm to represent indigent children. That led to the founding in 1992 of the Alliance for Children's Rights, a nonprofit legal- and social-services provider for foster youth – trauma victims of neglect and abuse. Gilbert-Lurie joined the original board and has served ever since, including two stints as chair.
The immediate challenge was to tackle a backlog of tens of thousands of adoption cases mired in Los Angeles County courts. The Alliance mobilized pro bono lawyers and even got judges to hear casework on Saturdays. Following L.A.'s lead, juvenile courts across the country have opened on designated Saturdays for National Adoption Days.
The Alliance also secured improvements in health services and education rights for foster children and equal pay among relative and non-relative foster parents. Over 30 years, the group has helped more than 150,000 youth and families, and Gilbert-Lurie has worked closely with each Alliance CEO.
After leaving NBC to spend more time with her young children, she continued her child-focused community work. Gilbert-Lurie served on the L.A. County Board of Education for over a decade, including three terms as president, and as vice chair of a county blue-ribbon commission to improve the foster-care system. Despite progress, it remains an uphill battle to improve children's mental health services, a key to treating trauma and reducing or preventing its transmission.
Gilbert-Lurie's book came out in 2009, bringing attention to her broad humanitarian interests. When Human Rights Watch sought her out, she didn't think she had time to serve on another board. But then she happened to read A Problem from Hell, Samantha Power's critique of U.S. inaction during 20th-century genocides. The then-professor, future diplomat, later coined a term – "upstander" – to describe those who tried in vain to persuade Washington to intervene. It resonated.
"Okay, I have to do more," Gilbert-Lurie recalls thinking. She first joined the L.A. Committee of Human Rights Watch and since 2017 has also served on the International Board.
Education was her next frontier. Asked – at short notice – to teach a class on the Holocaust at her son's high school, Gilbert-Lurie turned to an organization, Facing History and Ourselves, which trains educators to teach about racism, antisemitism and prejudice through case studies. Impressed with its curriculum and mission, she reciprocated by joining Facing History's leadership council.
The missing piece was UCLA, her cherished alma mater – and, coincidentally, where she got her first taste of board service as the student member of the UC Board of Regents. In quick succession, Gilbert-Lurie was invited onto the boards of the UCLA medical center, law school and foundation.
She brings passion, vision and intellectual rigor to each nonprofit she serves. "I'm a very experienced board member," Gilbert-Lurie says. "I think I stir things up. I ask difficult questions, I know how to help a group set and achieve goals, and I have a good eye for talent." She regularly recruits new board members to add youth, diversity and fresh ideas.
Gilbert-Lurie's impact extends beyond the boardroom and into the classroom. More than a decade after Bending Toward the Sun was published, she and her mother continue to speak frequently to student and adult groups.
To her surprise, the less the students have in common with her family history, the more captivated they seem to be. A few years ago, she and her mother spoke at Jordan High School in Watts – one of L.A.'s lowest-performing schools in one of its poorest neighborhoods. As they drove up, her mother asked, "Why would these students be interested in my story?"
Yet 250 to 300 students packed the library for a 90-minute talk and asked sensitive, probing questions. Afterward, many crowded around because "they wanted to tell my mother their own sad story, to give her a hug," Gilbert-Lurie recalls. A teacher, who had doubted it would be worth bringing books to give students, reached out days later to request more copies.
Underprivileged Black, Latino and other minority students relate to her mother's childhood trauma and to Gilbert-Lurie as, like many of them, an immigrant's child who made good. "I think young people who have experienced trauma feel a connection with my mother and are inspired by the way she managed to thrive," she says. "It gives me such hope for the future that we're able to tap into this common humanity."
Moreover, the lessons of the Holocaust are still relevant, as the rise of autocrats, racism and threats to democracy highlight "the importance of being an upstander rather than a bystander," she says. "I always ask students: 'Who were the upstanders in my mother's story?'"
"I want them to see that heroes are not born heroes. They're ordinary people who one day decide to do one good thing," Gilbert-Lurie adds. That, in turn, often leads to another. "I encourage people to just pick a day and say you're going to do one thing that makes a difference."