A Public Educator for the Public Good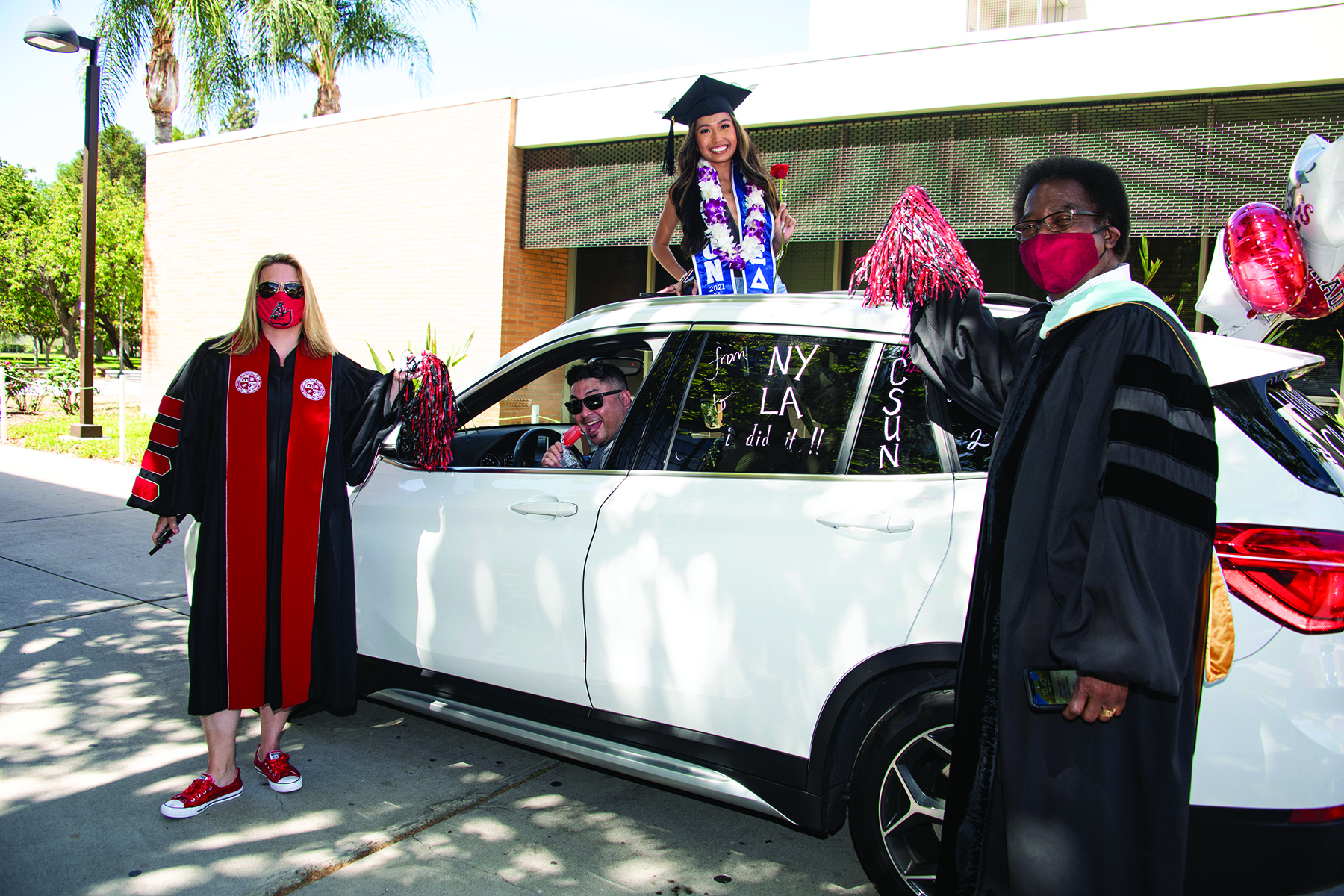 Erika D. Beck has been up since 4 a.m., yet as the afternoon light fills her office, she is effervescent. Her inaugural fall semester as president of California State University, Northridge has just begun, and the campus is alive with students for the first time since the COVID-19 pandemic began.
But what really has her adrenaline surging is that morning's predawn announcement of a $25 million gift from Apple to support CSUN's Global Hispanic Serving Institution Equity Innovation Hub, an ambitious initiative to inspire students from Latino/a and other historically underserved communities to pursue degrees and careers in science, technology, engineering, and math.
Apple's gift marks a sterling endorsement of Beck's mission to re-envision higher education so that it "authentically serves" students from underrepresented communities and propels them into the future workforce and up the economic ladder. Moreover, it affirms CSUN's leadership in the national dialogue about eliminating equity gaps.
"The Equity Innovation Hub is truly the realization of a professional and deeply personal dream that has been a couple of decades in the making," Beck says. It braids together her convictions that higher education can transform lives and that collaboration – across academic disciplines and with public and private institutions – enhances outcomes, and thus the collective good.
Beck's passion for inclusive education was seeded by her grandmother, who emigrated from Norway after World War II and earned a master's degree when it was a rarity for women. She was limited to studying nursing, teaching, or library sciences; she chose the third.
In Marin County where Beck grew up, her mother's involvement in women's and children's issues instilled a commitment to the broader community.
Beck is a product of public higher education. Her bachelor's degree in psychology and doctorate in experimental psychology from the University of California, San Diego bookend a master's in psychology from San Diego State University. She has conducted research, including work at the Salk Institute for Biological Studies, on developmental psychology and cognitive neuroscience. Beck says her background shaped "my fundamental belief in the critical importance of a liberal arts core that is then enhanced by data." Lots of data.
Beck loved teaching and never imagined going into administration. Only at the urging of a UCSD colleague, who saw her as a natural leader, did she reluctantly wade in and discover that, in fact, she was. At first, Beck assumed she would stay at a traditional top-tier research university, but she began to long for a model that was more connected to the surrounding community and the social responsibility of higher education. So, she made another unexpected career change.
"My heart pulled me in a very different direction, toward the mission to increase access for first-generation, historically underserved students," she says, "to have a bigger impact, particularly on issues of equity and seeing things through a different lens."
In 2002, Beck helped launch Nevada State College as a founding faculty member, was named dean of liberal arts and sciences two years later, and then rose to the posts of provost and executive vice president. She crossed back over state lines in 2016 to become president of California State University Channel Islands, the youngest CSU campus.
Among Beck's accomplishments at CSU Channel Islands, the four-year graduation rate for first-time students reached the highest level in the campus's history. The success rate for freshmen who entered the year that Beck became president was a remarkable seven percentage points higher than that of the previous class.
Beck, who is 49 years old and is raising two teenage sons while overseeing more than 4,000 faculty and staff, is CSUN's sixth president – and the fourth consecutive woman to lead a campus that has a majority of women students. She aims to build on her track record of boosting enrollment and graduation rates among historically underserved groups. CSUN offers her a much larger platform for her leadership, its own track record of facilitating social mobility and two assets that her previous campuses were not old enough to have: world-class academic programs and a vast network of accomplished, devoted alumni.
Up-and-coming ones, too. Beck recently saw Amal, a senior film project by 2018 graduate Dilek Ince. It traces the journey of an American volunteer in Syria who adopts a seven-year-old girl orphaned by civil-war violence, only to arrive in the United States with her just as a travel ban is imposed on Syrians. Ince had come to Los Angeles from Turkey after high school and learned English from scratch to pursue her dream of studying film. It paid off: Amal won her a top award from the Directors Guild of America over students at New York University and other leading film schools.
"Our tuition is $7,000 a year, she was an undergraduate, and she beat MFAs from the top film schools around the country," Beck says emphatically.
Beck's vision for CSUN is to give all students a shot at success, no matter where they start the journey.
"We have to shift the conversation from being about what students must do to be successful to what institutions must do in order to support the students," she says. Or, as she recently told Latino/a-focused educators, "meet the students where they are, not where we are."
Open and accessible, Beck has been meeting students, among many others in the CSUN community. The feedback has reinforced her desire to enhance faculty and staff diversity, inclusive student services and academic excellence. Her first year has fueled her ambitions for CSUN.
"I'm never satisfied with where we are. I always want us to dream bigger, think bolder," she says. "I'm just more comfortable on the cutting edge. I want to nurture innovation.
"I've always known that my life would be shaped by education and that opportunity would follow education," Beck says, "so I went straight through" from undergraduate to doctorate.
Years later, the educator who never planned to swap grading papers and lab reports for managing personnel, budgets, and fundraising is still on campus.
"I have no intention of ever leaving the university environment. It's magical," Beck says. "It's that sense of the fundamental imperative of higher education to help facilitate the world that I want to live in."
www.csun.edu/foundation
(818) 677-4400
President: Nichole Ipach
Mission
California State University, Northridge exists to enable students to realize their educational goals. The University's first priority is to promote the welfare and intellectual progress of students. To fulfill this mission, we design programs and activities to help students develop the academic competencies, professional skills, critical and creative abilities, and ethical values of learned persons who live in a democratic society, an interdependent world, and a technological age; we seek to foster a rigorous and contemporary understanding of the liberal arts, sciences, and professional disciplines, and we believe in the following values.
Begin to Build a Relationship
We know you care about where your money goes and how it is used. Connect with this organization's leadership in order to begin to build this important relationship. Your email will be sent directly to this organization's Director of Development and/or Executive Director.
Join California State University, Northridge in Its Bold and Inclusive Vision
Philanthropic investment in California State University, Northridge has a transformative impact. Recognized nationally as one of the top campuses for advancing the social mobility of its students, CSUN welcomes everyone who possesses a determination to make their mark in the world. They come from every background and rung of the socio-economic ladder. CSUN is where their talents are cultivated, where odds are overcome, and where aspirations, even those once seen as impossible, are fully realized.
In Southern California, CSUN answers an urgent call for an educated and diverse workforce, and in doing so, transforms lives, families, and communities. Support for CSUN drives local results with immediate impact and a significant return on investment.
Giving to CSUN is a contribution to a bold and inclusive vision, a commitment to some of the most comprehensive solutions to today's most urgent challenges, and an investment in a brighter and more equitable future. For more information, visit https://engage.csun.edu.