Groundbreaking Care and Research for Children with Complex Medical Conditions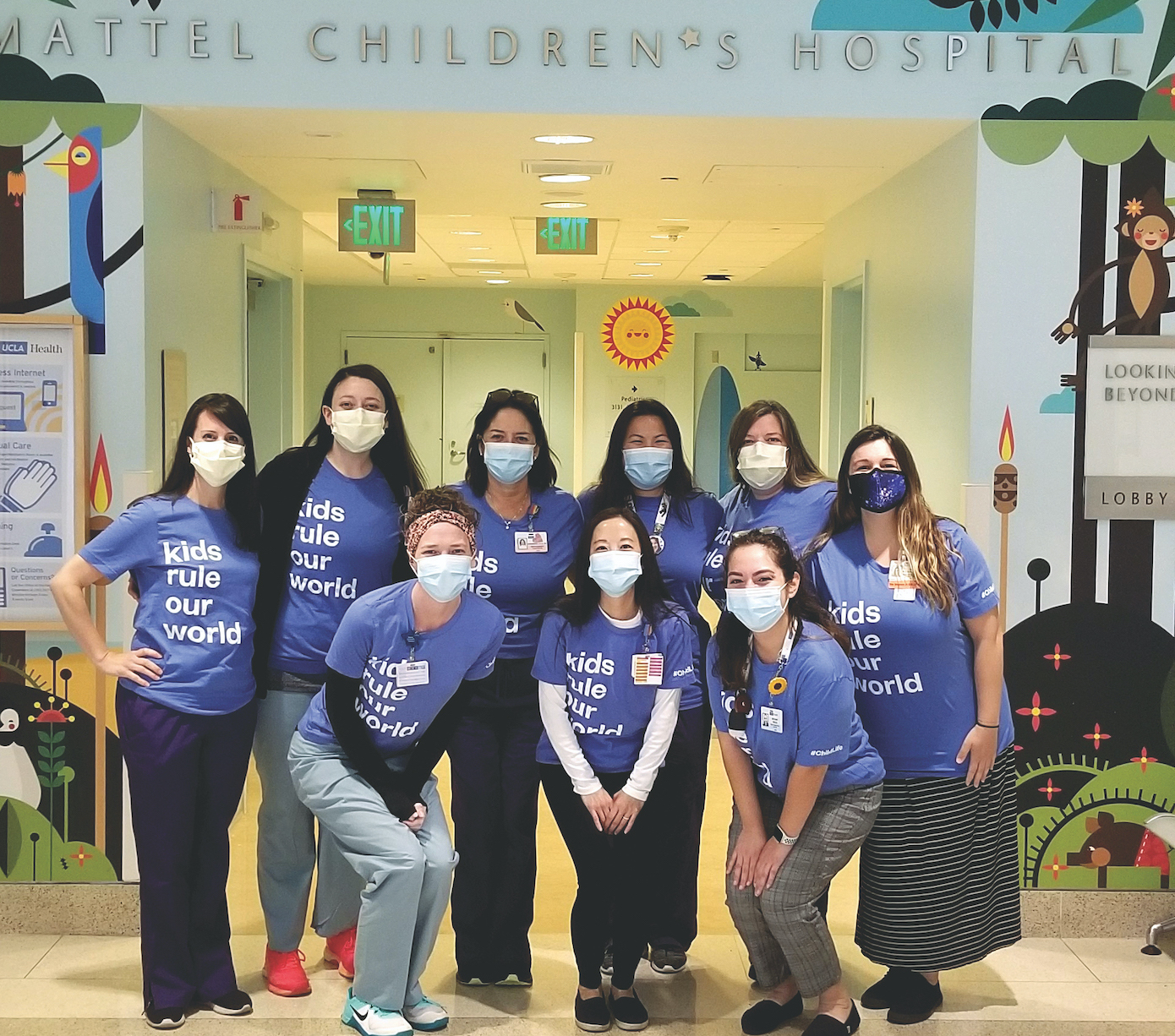 Sick and injured children entering UCLA Mattel Children's Hospital are not only met by a 60-foot welcome wall with messages of hope, healing, and recovery. They're also greeted by UCLA's vaunted Chase Child Life specialists, who provide comfort and help ease their fears.
"It's incredibly important," says Ellen Haddigan-Durgun, senior executive director of hospital initiatives for UCLA Health Sciences Development. "There's a level of anxiety that everyone – children and their parents – feels walking into a hospital."
UCLA Mattel Children's Hospital, a vital component of UCLA Health, is ranked among the best pediatric hospitals in the nation – acclaimed for its treatment of vulnerable patients, medical innovation, and its family-centered care environment.
The 71-year-old teaching hospital consistently ranks among the best pediatric hospitals in the country in ratings by U.S. News & World Report. It was also named among the most innovative children's hospitals in the nation by Parents magazine, and among the top 20 to stand out for its medical advancements, research, family support, and technological innovation.
It was especially noted for prioritizing the comfort of kids and families.
The 131-bed facility consists of a main "hospital within a hospital" inside Ronald Reagan UCLA Medical Center, in Westwood, and a smaller unit at UCLA Santa Monica Medical Center.
Its nearly 550 hospital staff work within 17 specialty subdivisions that see 37,000 unique patients, nearly 7,500 inpatients, and 10,000 ER visits a year.
Its mission is to provide state-of-the-art treatment for children in a compassionate atmosphere, as well as conduct advanced research into pediatric diseases and train the next generation of pediatric leaders.
Designed to serve the most critically ill children in the nation, UCLA Mattel Children's Hospital is renowned for its comprehensive, evidence-based clinical care and groundbreaking clinical trials and research.
In the past 10 years, UCLA researchers developed a cure for ADA-deficient SCID, also known as Bubble Baby disease, a severe immune deficiency that can be fatal.
In another case of medical innovation, UCLA doctors cured a four-year-old boy of an often-fatal fungal infection by reprogramming his immune system. The technique may help treat other infections, from Valley fever to tuberculosis to COVID-19.
For nearly four decades, its Chase Child Life Program has been a national model for addressing the social, emotional, and developmental needs of children confused and frightened by the hospital environment.
Twenty-five specialists of the Chase Child Life team connect with kids through stuffed animals, an in-house robot, visiting celebrities and dogs, art and music therapies, as well as holiday events.
"The Child Life Program puts everyone at ease so they can focus on their health," Ellen Haddigan-Durgun says. "They're having fun. They can relax. They're experiencing the joy of play."
Donate now!
www.uclahealth.org/mattel
(310) 694-6539
Director of Strategic Partnerships and Development, Children's Health: Danielle Dietz
Mission
UCLA Mattel Children's Hospital's mission is to provide state-of-the art treatment for children in a compassionate atmosphere, as well as conduct research that improves the understanding and treatment of pediatric diseases and to train the next generation of leaders in pediatrics.
Begin to Build a Relationship
We know you care about where your money goes and how it is used. Connect with this organization's leadership in order to begin to build this important relationship. Your email will be sent directly to this organization's Director of Development and/or Executive Director.
The Los Angeles Dodgers Foundation (LADF) deeply values our partnership with UCLA Mattel Children's Hospital as we work to support children and families in need throughout Los Angeles. By funding research around the impact of sports and recreation on children's health, we are able to better understand how socio-economic barriers influence physical activity and support solutions that address these challenges throughout the communities we serve.
Comfort and Calm
The Chase Child Life Program costs between $1.2 and $2 million a year, of which nearly half is funded by donations.
UCLA Mattel Children's Hospital is seeking donations from foundations, corporate partners, and individual philanthropists to help fund its essential services.
Hospital Board Members
Lou L. Adler
Page Adler
Natasha Beck
Melissa H. Bordy
Eric Borstein
Glenn Bozarth
Jeffrey H. Cohen
Beth L. Cutler
Richard Dickson
Beth C. Friedman
Nancy Glaser, M.D.
Liz Greenspan
Alan Kaye
Bobby Khorshidi
Louise Linton
Jonathan Littman
Debbie Lustig
Hillary Milken
Lori A. Milken
Michael A. Paseornek
Jodi Perlman
Monique Rosenthal
Ellen H. Sandler
Ray Scherr
Carl Schuster
Stephanie Shafran