Activities, Recreation & Care: Loving Bigger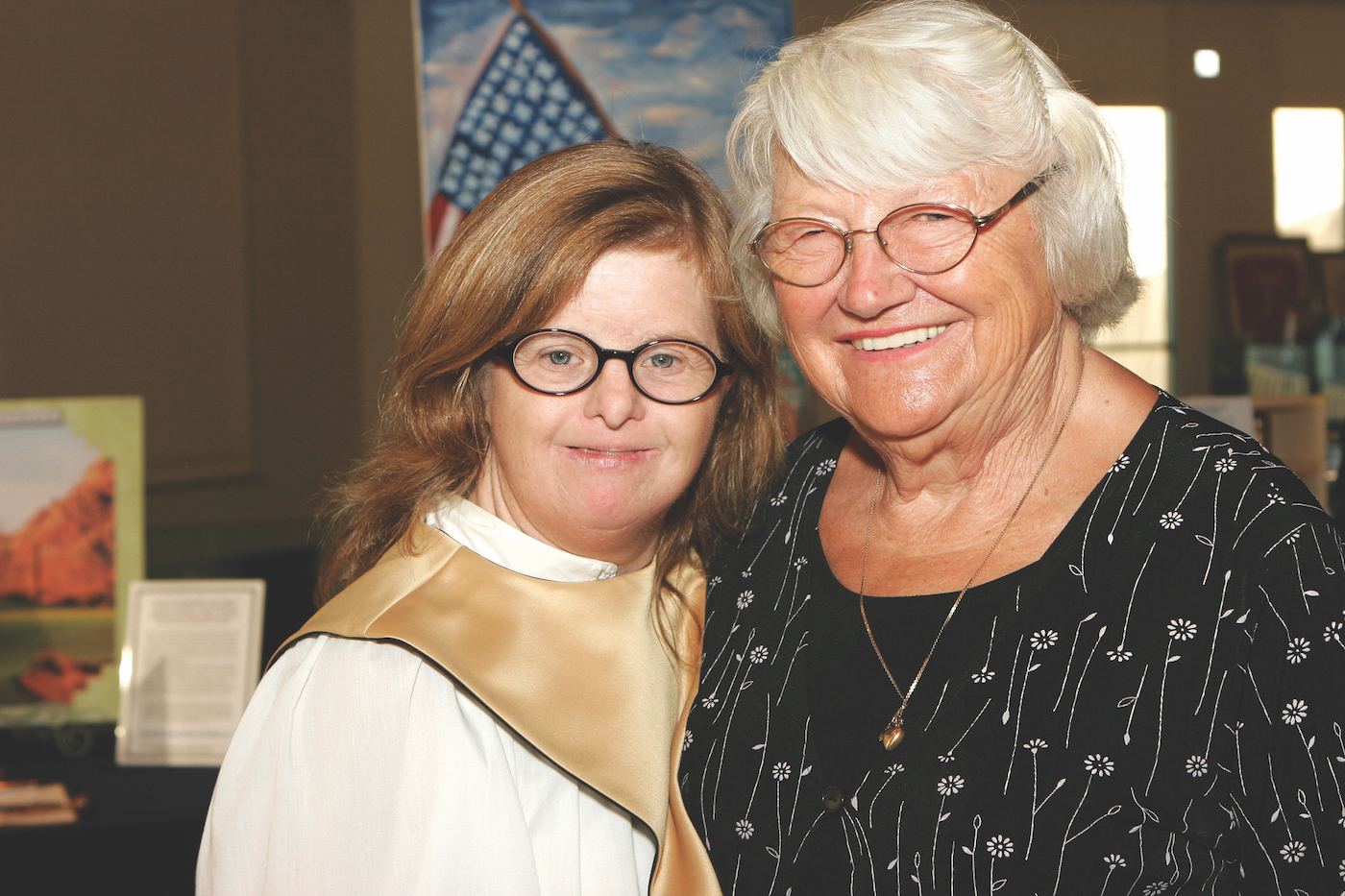 In the 1960s, there were few services available to parents who were raising children with Down syndrome. Refusing to accept the bleak expectations for their children, Los Angeles mothers Dixie Henrikson and Mary Schallert would meet in a small North Hollywood Park so that their daughters, who both had Down syndrome, could play together like other children with as few limitations as possible.
"Back in those days, the world was not a safe place for families with children with Down syndrome," says Jennifer Pippard, Acting Executive Director of Activities, Recreation & Care for Individuals with Developmental Disabilities (ARC-Cares). "There was no expectation that their children would even live, let alone thrive, so parents had to make very hard decisions on their own."
Inspired by wanting a place where their children and others like them could socialize and grow with their peers into adulthood while living their best lives, Henrikson and Schallert started ARC-Cares. It began as a camp where people with Down syndrome could socialize and enjoy many normal activities and experiences in a safe, family environment. Today the North Hollywood-based organization offers free day and weekend programs as well as live-in housing for its clients, primarily adults with developmental disabilities of all types, not just Down syndrome.
ARC-Cares offers everything from health and wellness education, cooking and socialization classes, arts and music, to marathon training and museum expeditions. The organization has a recently updated apartment building and residences where clients live and enjoy Independent Living services. ARC-Cares employs 24 full-time staff members and serves between 50 and 100 people every day through its programs.
"There's a very strong sense of community here," Pippard says. "It's not unusual for our clients to have grown up together, and to live with people they've known for 15 to 20 years."
Clients at ARC-Cares are protected and safe, but not separate from the world. Some volunteer or hold down part-time jobs. Clients participate in a Bell and Chime choir that gives performances for groups, clubs, and even the Los Angeles City Council at City Hall.
"We want them to be in the world just like any of us, and also have the autonomy and dignity to live as they wish," Pippard says.
The organization measures its successes by the health and well-being of the people they serve. Although they focus on catering to individuals between 22 and 59, they have older residents stay if their health allows: the most senior is Teddy, who is 66, and has been at ARC-Cares since he was in his late 30s.
Pippard says the organization's growth and success has put it in "uncharted territory."
"When ARC-Cares was created, it was never expected that any of our clients would live past 30, but innovations and support systems for people with Down syndrome like ARC-Cares have allowed them to thrive. Residents at ARC-Cares are happily enjoying their lives."
"There's this energy of being greeted when you arrive at the houses," Pippard says. "People say our clients learn differently, yet they love bigger than the rest of us."
Donate now!
Matching Challenge
The first $1,500 will be matched.
Opening More Doors
One of ARC-Cares' strengths is adaptability. During the pandemic, the organization held virtual dance classes for their Day Program participants including sing-alongs to classic tunes like "The Time of My Life" and workout classes with aerobic exercises, even producing video performances with holiday themes for the entire community to enjoy.
"We were completely virtual within 30 days," says Jennifer Pippard. And it's this flexibility that ARC-Cares is hoping to build on, adding more services to its roster including a social enterprise component that will focus on employment skills.
The organization is also looking to serve even more individuals with Down syndrome and other intellectual and developmental disabilities. It's planning on a multi-million-dollar expansion on an empty lot it owns to grow its live-in residences and upgrade its Day Program facilities. ARC-Cares' plan is to hire an architect to begin work on the project by February 2022.
Thanks to The Giving List's novel matching program, all donations up to $1,500 will be matched.
Mission
We provide the resources, programs, education, and environment to support the independence and inclusion of people with intellectual and developmental disabilities. We partner with them towards fostering social relationships, cultivating their individual talents, allowing them to reach their full potential and a life filled with dignity, compassion, and respect.
www.arc-cares.org
(818) 762-4365
Executive Director: Jennifer Pippard
Begin to Build a Relationship
We know you care about where your money goes and how it is used. Connect with this organization's leadership in order to begin to build this important relationship. Your email will be sent directly to this organization's Director of Development and/or Executive Director.
I have spent a career in business that has benefited me and made millions for those I have worked with and for. To now be able to share what I have learned, offer ideas, and give my perspective to help the clients and families of ARC is some of the most rewarding work I have ever been a part of.
Key Supporters
ARC Board of Directors:
Mary Ann Barnes, ARC Board Chair,
Freelance Writer
Jeff Butler, ARC Board Vice Chair,
President, CIG Financial
Patricia Walker, ARC Board Treasurer,
CBS Broadcasting (Retired)
Sharon Trocki-Miller, ARC Board Secretary,
Special Education teacher (Retired)
Rich Cooper, President, CTI
Neil Hartman, MD, PhD, Psychiatrist
Larry Schallert, LCSW,
College of the Canyons
John Wilson, Vice President, Finance
& Treasurer at Otsuka America, Inc

Supporters:
Don S. Levin Trust
John Gogian Family Foundation
Woodland Hills Woman's Club
Angela Whitman Foundation
Comerica Bank

Partners:
L.A. City Councilman Paul Krekorian
L.A. City Councilman John Lee
Down Syndrome Association of L.A.
(DSALA)
Harvard-Westlake School
Loyola High School of Los Angeles
Lanterman Regional Center
North Los Angeles Regional Center
Born to Act Players