Putting Children and Families Front and Center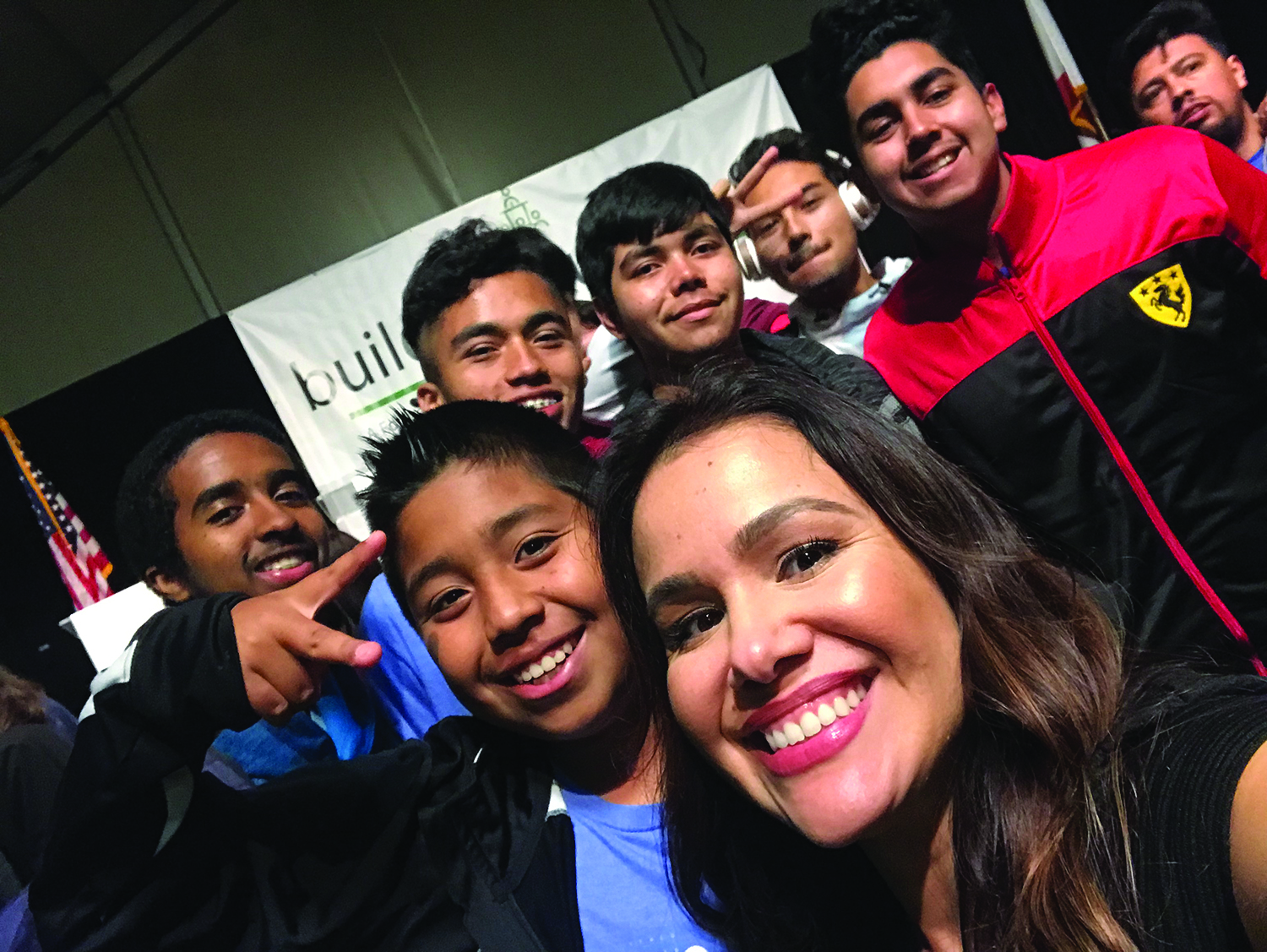 Mayra E. Alvarez – who leads The Children's Partnership (TCP), where she works to put California's children front and center – wants to dismantle the systemic injustices that she came to know as a child. 
"Ever since I was a kid, I knew that there wasn't a level playing field," says Alvarez, one of four daughters born to Mexican parents who "worked Monday through Sunday." Despite this, she adds, "My parents never owned a house, never had a 401(k), and rarely had insurance. Something was wrong.
"This isn't equality," she remembers thinking.
It is this inequity – experienced by so many Brown and Black Americans – that serves as a motivating force in a career where Alvarez would advocate for health and wellness first while staffing a Junior Senator named Barack Obama, then while rolling out the Affordable Care Act for the Obama Administration, and now serving as the president of The Children's Partnership. Into 2022, the young first-time mother is focused on helping those California children, youth and families who are bearing the worst of the pandemic's fallout build back stronger and become healthier and more empowered than before.  
"Children are a priority and a shared value for us all," Alvarez says. "But when it comes to budgets and policy, children are not front and center. We [at The Children's Partnership] fight to put them first. If you believe children are the future, you should know that we are fighting for them every day."
The Children's Partnership is a statewide Los Angeles-based policy advocacy nonprofit driving forward equitable health policy that benefits children and their families. The group's efforts range from ensuring that information about the COVID-19 vaccines reach all communities in California to sharing a series of policy briefs showing how racism impacts every stage of a child's development across institutions like law enforcement, healthcare and tech.
Another key aspect of TCP's forward-thinking work is giving young people most affected by policy decisions the power to make policy themselves. For Alvarez, who traveled the country informing community members that look like her how to access the Affordable Care Act in her twenties, this is deeply personal.
She recalls that after these town hall meetings, "Latina women would say, 'I was so proud watching you; you felt like you could be my daughter.'"
Alvarez realized "that people are watching," and that it "matters when government looks like the people it's meant to serve." Alvarez reflects the same value in the makeup of TCP's nonprofit staff, "hiring people who have these stories – who carry these stories and experiences with them, who are the kids we're fighting for."
With funding from Melinda French Gates' Pivotal Ventures and in partnership with the National Black Women's Justice Institute, The Children's Partnership in 2021 launched the Hope, Healing and Health Collective to, as the press release announcing it states, "expand the availability and accessibility of culturally competent and gender-responsive mental health and well-being services to youth of color, particularly Black girls, Indigenous youth and Latina girls."
Through the program, 15 youth advocates and adult allies from around the country are setting recommendations to inform TCP's 2022 policy agenda, which will be a fundamental part of collective advocacy work here in California.
But in Alvarez's mind, this goes far beyond policy change. Advocacy is a key driver in promoting young people's mental health and overall wellness – something she has experienced in every career choice she has made, culminating at TCP.
"There is a direct connection to one's own agency and power," she says.
Donate now!
www.childrenspartnership.org
(213) 341-1222
President: Mayra E. Alvarez
MATCHING CHALLENGE
All donations made to TCP in support of the mental health agenda put forward by the H3C will be generously matched up to $20,000!
Mission
For over 25 years, The Children's Partnership has envisioned a California where all children—regardless of their race, ethnicity or place of birth—have the resources and opportunities they need to grow up healthy and thrive. Our mission is to advance this vision of child health equity through research, policy and community engagement.
Begin to Build a Relationship
We know you care about where your money goes and how it is used. Connect with this organization's leadership in order to begin to build this important relationship. Your email will be sent directly to this organization's director of development and/or Executive Director.
I give to The Children's Partnership because I believe in the power of communities. When I invest in the work they do, I know that children's voices are being heard and their health is being protected. The Children's Partnership is an organization I trust to ensure children and families are safe.

A $200,000 Goal
For the hope, healing and health of BIPOC youth, systemic change is the only way forward.
TCP supports the BIPOC youth-led policy council, known affectionately as the H3C, in reforming the mental health landscape for their communities.
With funding for the council to deliver recommendations through 2021, we need your help to put their agenda into action. Policy implementation takes advocating to legislators, building public will, and staffing resources that require us to raise $200,000. Our Board will match up to 10 percent.
In 2020, as the pandemic worsened mental health crises, Black and Latinx children were 14 percent less likely than white to receive treatment for depression. Suicide was the second leading cause of death for Native youth – nearly 3.5 times higher than the national average.
We need your help to not only empower the voices of 15 youth leaders, but also get their ideas to the finish line, creating policy change that impacts millions.
TCP Supporters
The California Endowment
California Health Care Foundation
California Community Foundation
The David and Lucile Packard Foundation
First 5 Policy Center
The James Irvine Foundation
Robert Wood Johnson Foundation
Weingart Foundation
Virginia and Austin Beutner
Chiquita and Allyn Brooks-LaSure
Ken Chawkins and Lan Nguyen-Chawkins
Dennis and Lauri Crane
Shari Davis and Michael Dubin
Susan Fleischman
Wendy Lazarus and Harley Frankel
Laurie Lipper and Lawrence Kirk
Donna and Greg Lucas
Rebecca Medina-Pleitez
Stephen and Jesse Nathan
Jessica Perez
Anthony Perez
Robert Phillips
Tamara Ritchey Powers
Cindy and Jake Winebaum