Reimagining High School, Da Vinci RISE Gives Students a Rewarding Future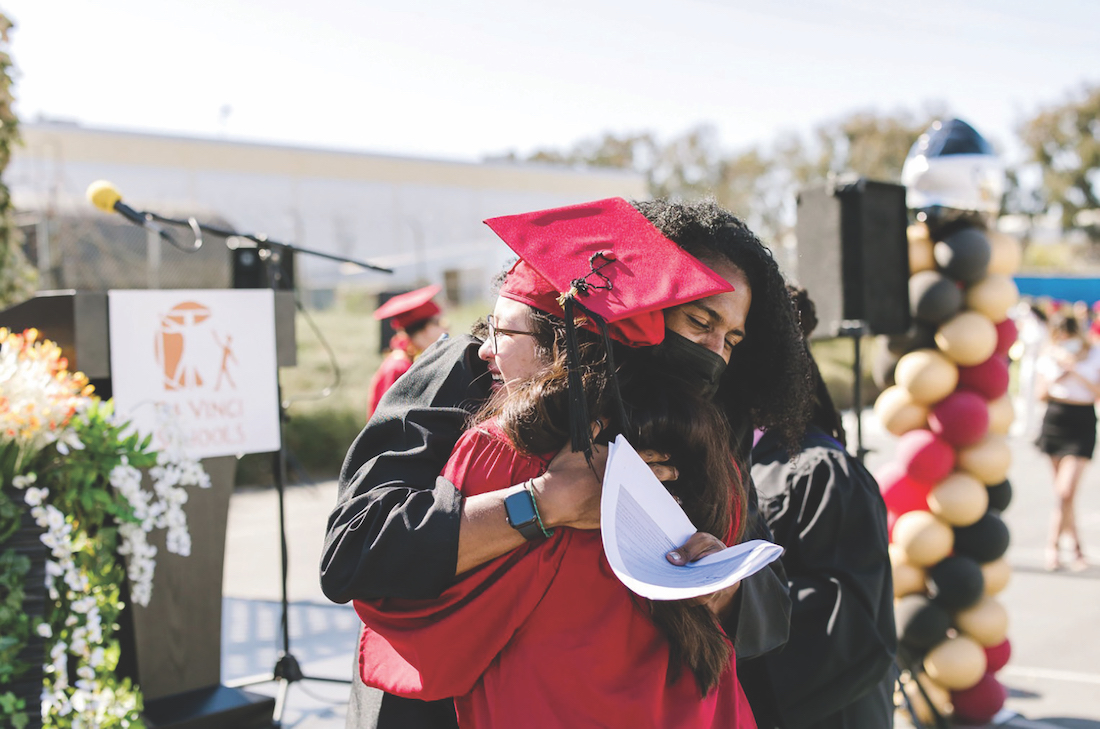 At first, Donnaysia thought it strange the teachers at Da Vinci RISE High, a charter school in Los Angeles designed around the need of at-promise youth, would greet her with a cheerful smile and a "good morning." 
Before coming to Da Vinci RISE, Donnaysia was doing so poorly in school that it didn't look like she would graduate. Most of her mornings didn't feel "good" and her future seemed bleak.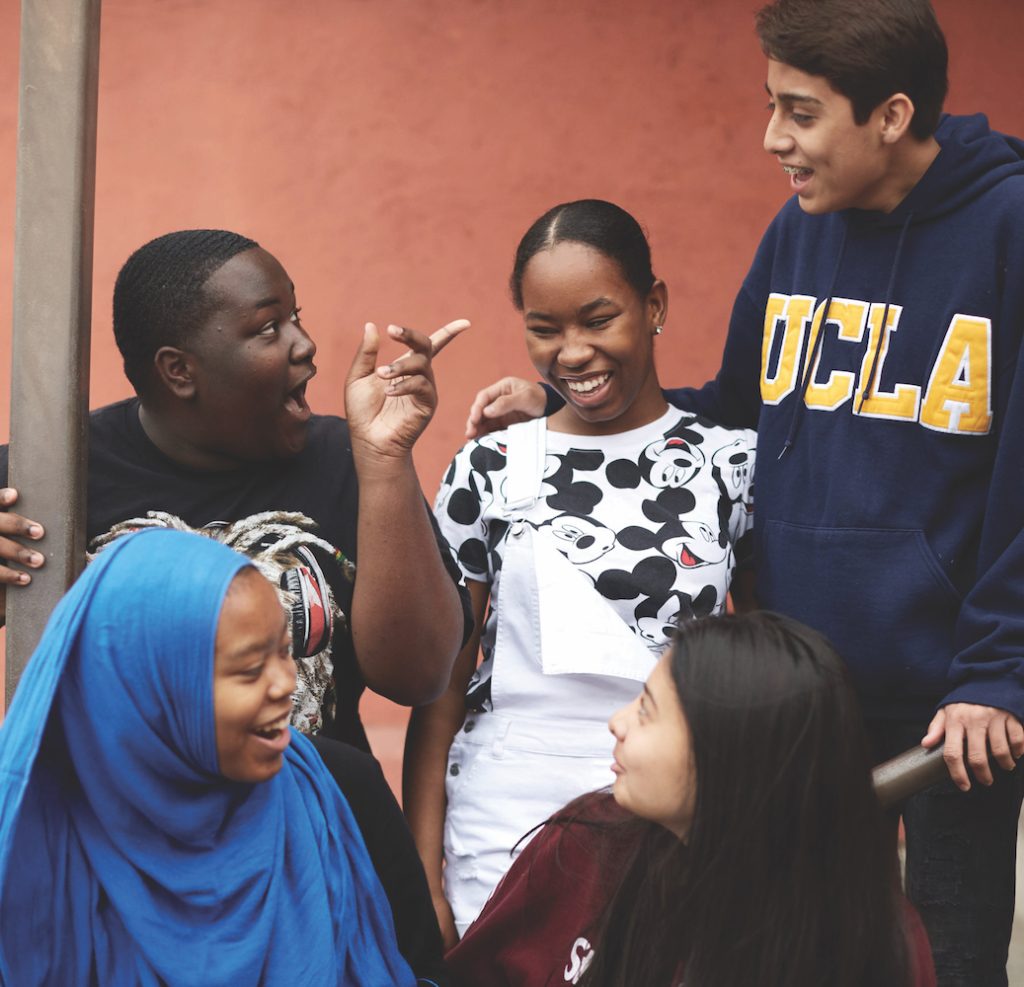 "I didn't care about academics or my dreams and goals," Donnaysia says, now 17.
Worried Donnaysia wasn't going to graduate, her mother enrolled her at Da Vinci RISE. The school offers a flexible hybrid learning schedule and is geared toward helping students who need trauma-informed support, safe spaces, and extra resources to learn effectively.
Created in 2016 with and for students like Donnaysia, Da Vinci RISE was designed around the needs of youth in foster care, experiencing housing instability, and/or are impacted by the juvenile justice system under the belief that if they built a school for kids who need the most support, they would create a magical place that is empowering for all youth. Some of the students come from homes with generations of family gang involvement, and it's typical for students in foster care to have attended six high schools before landing at the supportive and welcoming environment at Da Vinci RISE.
"We actively recruit kids who have been expelled or suspended from their traditional schools," says Erin Whalen, executive director and co-founder of Da Vinci RISE. "We're the last stop. We refuse to give up on kids and are committed to being as supportive and consistent as their family would be."
The RISE model is built on the foundation of partnerships with community nonprofit organizations to provide full wraparound services to youth and families. The learning-design leverages personalized and relevant project-based learning and hybrid learning technologies to ensure students can access their learning whenever and wherever they need it. Rather than arm the school in armed guards or restrictive policies, RISE provides their students with an equitable healing environment by offering mental health, behavioral support, and crisis management. Students get access to free transportation, internships, mentorship, scholarships, and groceries.
The need to help these students succeed is great. In Los Angeles, there are 63,000 homeless students, 28,000 kids are in foster care, and 20,000 students are incarcerated. These youth disproportionately contend with a severe lack of educational, social-emotional, and material resources, Whalen says.
Over time at Da Vinci RISE, those smiles and "good mornings" grew on Donnaysia. They are now what she loves most about the school. The teachers care about her: They want her to have a good morning, to graduate, to have a successful career, and to have a whole new life.
"When I came here I bloomed. Everyone really cared about me and my future. And that means a lot," she says, tearing up.
Donate now!
dvrise.davincischools.org
Co-Founder & Executive Director: Erin Whalen
(310) 490-5100
Mission
RISE High exists to provide our students an individualized education through the coalescence of their personal and professional goals, their interests, and the academic skills necessary for success in the high-demand, constantly-changing world around them.
Begin to Build a Relationship
We know you care about where your money goes and how it is used. Connect with this organization's leadership in order to begin to build this important relationship. Your email will be sent directly to this organization's director of development and/or Executive Director.
"RISE meets students where they are and not only shows them the path to where they want to go, they accompany them on the journey. Every student deserves access to RISE, but for many, it is their lifeline. As a RISE student commented, 'Life is like falling out of a plane and RISE is my parachute.' RISE shows students every day that they have value and purpose. The wraparound services provided are invaluable but must be increased if we are to aid more students. The need is there, the will is there. We just need the resources to meet the demand of students in crisis."
Da Vinci RISE High School must fundraise $3,000 per student in order to sustain the wraparound services that allow these youth to access an equitable and empowering education.
Caring relationships, the building of trust, and valuing each student are essential architecture of the structures and practices within the RISE Community. Student voice and empowerment are reflected in multiple ways in the school's culture, systems, and routines, and teachers integrate social-emotional support with academics. For example, students share their perspectives on school policies and culture with the staff through one-on-one conversations and in surveys. Also, rather than utilize traditional punitive disciplinary practices, RISE utilizes restorative practices designed to solve problems and help students who have broken norms to reflect on their actions.
Key Supporters
Russlynn Ali,
Managing Director of the
Education Fund at Emerson
Collective and CEO and
co-founder of the XQ Institute
Laurene Powell Jobs,
Founder and President of
Emerson Collective
Supervisor Holly Mitchell
Supervisor Janice Hahn
CA State Assemblymember
Isaac Bryan
CA State Assemblymember
Al Muratsuchi
US Congresswoman
Sydney Kamlager
Tom Vander Ark,
CEO of Getting Smart
XQ Super Schools
Emerson Collective
Boeing International
The Ballmer Group
Cotton-On Foundation
The Los Angeles Institute
for Restorative Practices
USC Chan Zuckerberg Initiative
Indivisible Arts
Richstone Family Center
New Earth Arts
and Leadership Center
School on Wheels
SpringPoint School Consultants
Kitamba Social Impact Agency
Leslie Heimov, Executive Director
of Children's Law Center
Jerell Hill, Dean
and Assessment Coordinator
in the School of Education
at Pacific Oaks College
Tamara Y. Craver,
President and Chief Executive
Officer of Reality Changers
A Place Called Home
Capital Advisors
LA County Office of Education