Building the Bones of Something Great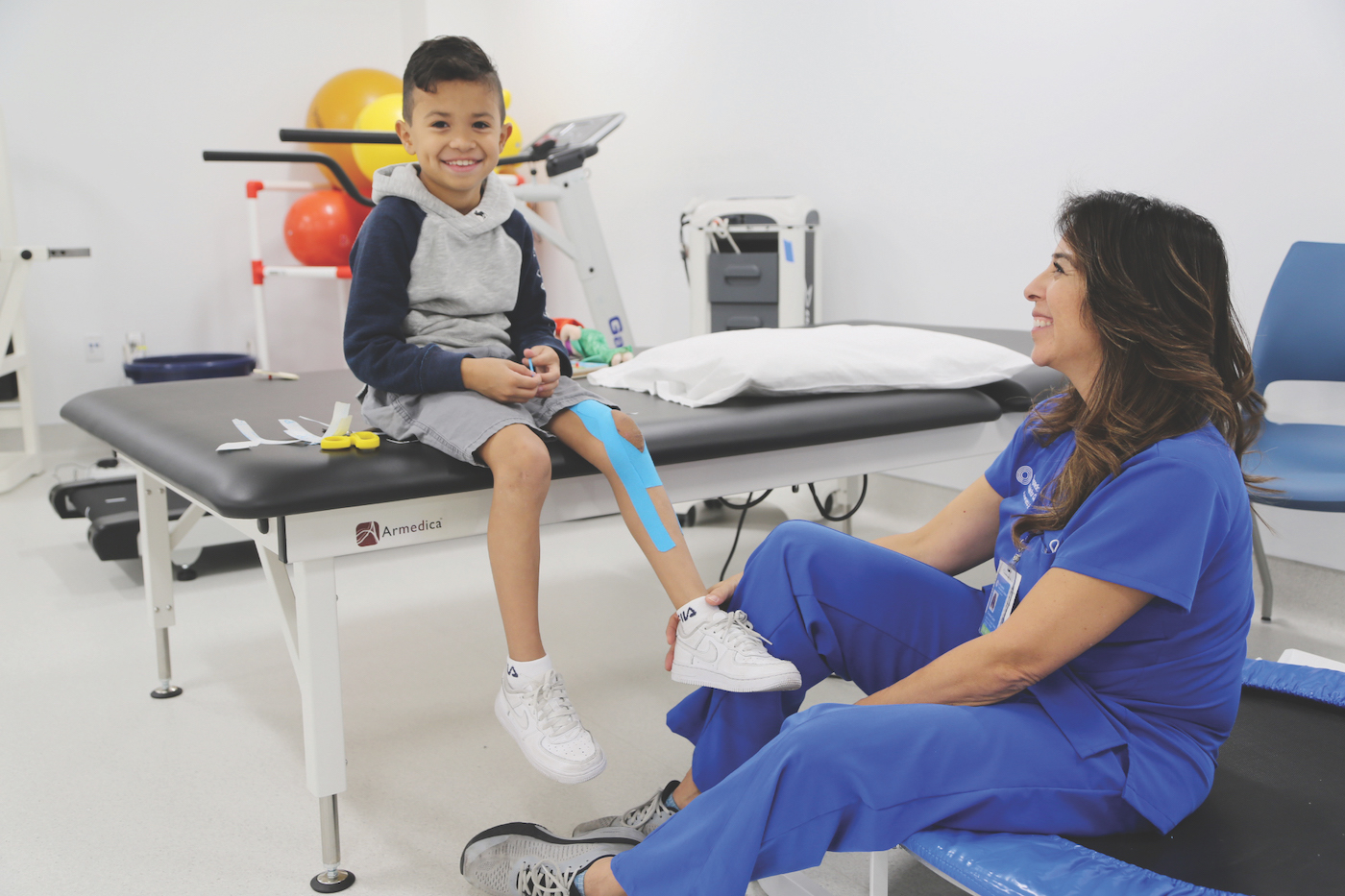 According to the World Health Organization, significant orthopaedic injuries account for more patient cases worldwide than cancer and HIV-AIDS combined. The impact of these injuries on young children's lives, and the barriers to access high quality medical care, represent a serious threat to families.  
For over a century, Luskin Orthopaedic Institute for Children (LuskinOIC) has stood with open doors to address children's musculoskeletal issues, from bone injuries to congenital orthopaedic disorders. Established in 1911, during the rise of polio, LuskinOIC has expanded into a first-class center for research, education, and medical care.
Today, its focus is on providing care where it is most needed: delivering compassionate, comprehensive treatment to children from underserved families. As Vice President and Chief Philanthropy Officer Michael Sullivan says, "Our parents, particularly the uninsured, are already nervous coming into a healthcare organization. But as we say: 'We're kid first, not insurance first.'"
LuskinOIC makes patient accessibility central to their mission as care providers. "The psychology of being welcomed is an important part of the healing process, particularly for parents. These are families that are used to being told no," says Sullivan.
Contributions from donors help ensure accessibility. Donations allow LuskinOIC to relieve the burden on low-income families by supporting the cost of treatment.
Take Efrain for example. Efrain was born with a significant limb deficiency and was unable to walk. Doctors in his home country considered amputation or leg-lengthening procedures, but the family had reservations and little funds to afford either option. When they relocated to Los Angeles, they saw a pediatrician and a nurse who immediately suggested they visit LuskinOIC.
Under the care of Dr. Anthony Scaduto, LuskinOIC's President and CEO, Efrain underwent a rotationplasty – a very rare, unique, and painful surgery. But this amazing procedure gave him the opportunity to easily wear a prosthesis, allowing Efrain to have two functional legs, and for the first time let him walk without any crutches or assistive devices. Efrain is simply one example of the thousands of children who count on LuskinOIC for care.
The expert medical staff are trained in 21 sub-specialties and treat over 70,000 patient visits a year. They see children from Los Angeles County and around the world, regardless of ability to pay. All of the care for children, research in orthopaedics, and education is possible thanks to private support.
Donate now!
www.ortho-institute.org
(213) 742-1534
Assistant Vice President: Mary Beth Perrine
Mission
Luskin's Goal is to make sure kids keep chasing theirs.
Begin to Build a Relationship
We know you care about where your money goes and how it is used. Connect with this organization's leadership in order to begin to build this important relationship. Your email will be sent directly to this organization's director of development and/or Executive Director.
I enjoy reading books to children to help exercise their imagination while also providing a 'healthy distraction' for what may be a scary time for them.
Helping Children Grow and Play Well
LuskinOIC is the largest provider of pediatric orthopaedic care on the West Coast. Eighty percent of patients are of color, and 93% are underinsured or uninsured. California is ranked 47th of 50 states in Medicaid reimbursement for children's healthcare. Donations help offset the lack of insurance reimbursements for underinsured children. 
For patient Efrain, for example, non-reimbursed costs include such things as prosthesis ($25,000); physical therapy visits ($300 per visit); and X-rays ($129 per visit). Every donation goes to help kids like Efrain walk. Funds also allow LuskinOIC to train the next generation of medical personnel and conduct groundbreaking research.
For the past 22 years, Luskin Orthopaedic Institute for Children has been the sole provider of pediatric orthopaedics for the UCLA Health System, and is ranked among the best pediatric orthopaedic programs in the nation by U.S. News & World Report.  
Key Supporters
Renee and Meyer Luskin
Valley Orthopaedic Clinic
Ahmanson Foundation
Stella L. Spencer
W. M. Keck Foundation
The Kenneth T. & Eileen L. Norris Foundation
The Fred L. Hartley Family Foundation
Vice Admiral George Davis and
Jean Carroll Davis
Callie D. McGrath Foundation
Dr. Harry A. McKellop and Tovya Wager
Andrea and Donald Goodman
The League, Caring for Children with
Orthopedic Needs
Ralph M. Parsons Foundation
Searchlighters
The Fred and Peggy Hartley Family
Foundation
Carl & Roberta Deutsch Foundation
QueensCare
Ned and Nancy Fox
Charitable Children's Guild
Ruth L. Sawyer
Carrie Estelle Doheny Foundation
Dr. Robert Nichols Family
Exela Technologies
Sharon and Par Chadha
Sarah and Andrej Jonovic