StrengthUnited – Dedicated to Ending Abuse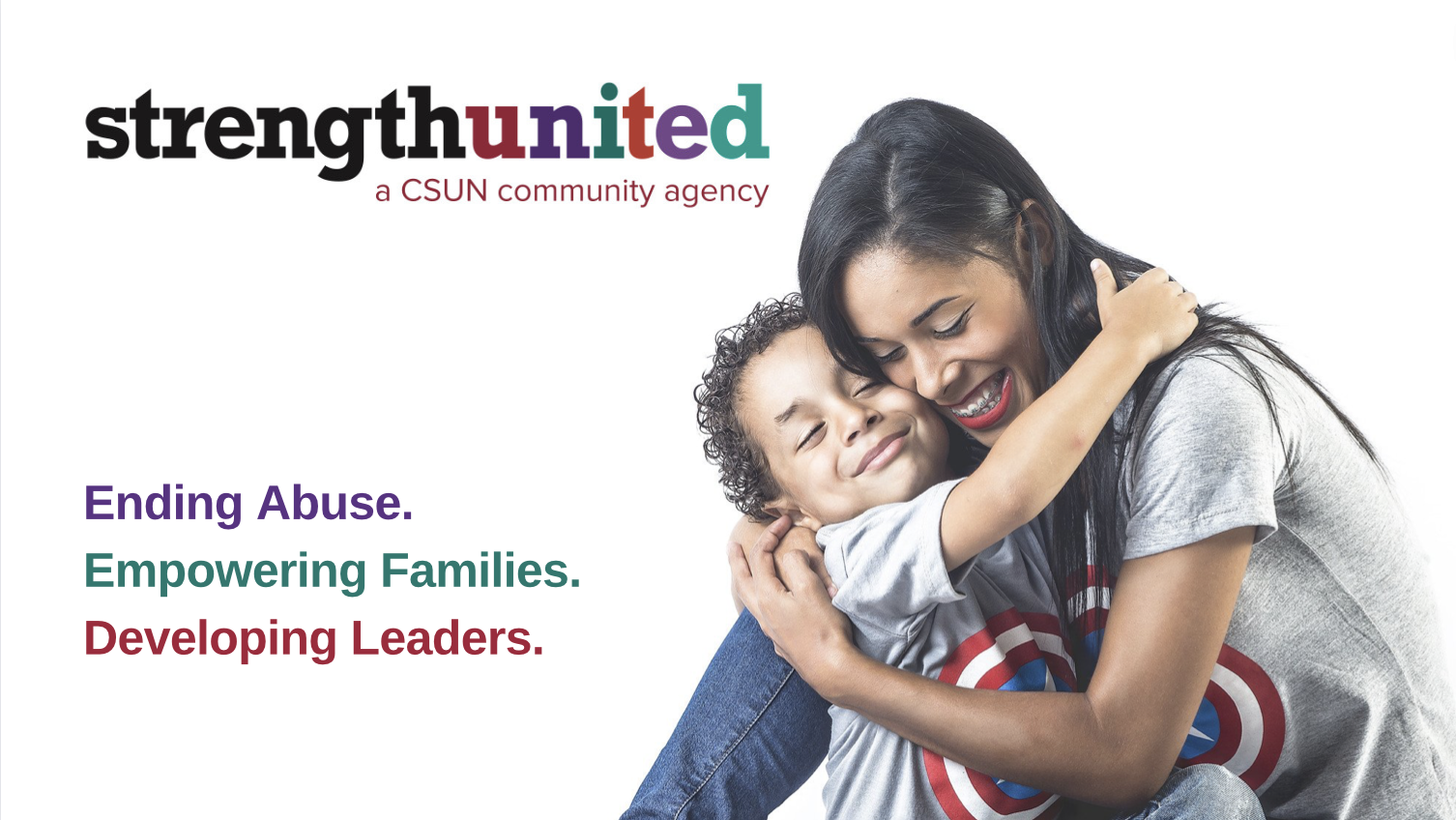 The aptly named nonprofit StrengthUnited harnesses resources from its community to bring mental health healing and equal access to opportunities to people in need allowing them to heal and thrive. They simultaneously create practical training, experience, and professional growth to aspiring and current mental health professionals empowering them to successfully work with those in need. A chartered center of California State University Northridge, Michael D. Eisner College of Education, the organization "creates change agents for the future," says current Executive Director Kim Goldberg-Roth. "It's powerful to watch that happen," she adds. The organization has three locations off campus in Newhall, Northridge, and Van Nuys, and provides crucial mental health resources to people throughout the San Fernando and Santa Clarita valleys.  
StrengthUnited focuses primarily on individuals and families that have experienced child maltreatment and domestic and sexual violence. Very often, StrengthUnited representatives are the only voice in the victims' world that is "non-judgmental and non-shaming, a voice who listens, believes, and supports," Goldberg-Roth says. StrengthUnited serves approximately 3,500 individuals annually. It's a unique model, she explains. "It's a continuum of care unlike any other, because systems that have to work with these individuals who have experienced victimization often inadvertently re-victimize folks." Its Family Justice Center model is also unique because it brings key first responders into one setting to reduce barriers to services, and limits the number of times victims have to retell their experience, reducing the likelihood of retraumatization.
StrengthUnited begins its support at ground zero: the 9-1-1 call. Goldberg-Roth explains, "If you call LAPD or a neighbor calls and says, 'I think my neighbor's being beaten by her boyfriend,' our staff actually rolls out with law enforcement to the scene. And we carry through that support until the individual tells us that they no longer want or need help." Students and mental health care trainees and specialists provide a range of services that can respond to needs 24/7: a crisis hotline, emotional support, shelter, clothing, and emergency funds are just a few on the list. Most recently, the organization's partner agency, Dignity Health, built a replica courtroom at the Family Justice Center to help victims (50% of the victims served are children) and train professionals in the provision of court testimony.
Perhaps the most valuable innovation is the centralization of interviewing and information-gathering in the investigation and medical and legal processes. "When someone is the victim of a crime, there are many parties involved in their life: LAPD, a prosecutor, a forensic nurse examiner, and they all have demands on the person," explains Goldberg-Roth. They all require interviews, which tends to create the potential for re-victimization. The center prevents that by having all of those professionals in the same setting, so that they can all view the room where the interview takes place. "That way," Goldberg-Roth continues, "we're able to bring everyone to partner with the victim in determining the best path forward for the person or family, so they don't have to be re-interviewed or retraumatized." That is only part of what is unique about StrengthUnited's model.
Incoming Executive Director Merilla McCurry Scott, Ph.D. hopes to expand upon the effective and comprehensive work of the center. "I hope to seek new funding sources that will help us expand our reach and deepen the foundation we've created here," she says.
From the miraculous support and healing that has already taken place at StrengthUnited, that is a tremendous foundation upon which to build.
Donate now!
www.csun.edu/eisner-education/strength-united
Office: (818) 677-3063
Director of Development: Sarah Oesterle
Mission
Strength United is dedicated to ending abuse, empowering families and developing leaders.
Begin to Build a Relationship
We know you care about where your money goes and how it is used. Connect with this organization's leadership in order to begin to build this important relationship. Your email will be sent directly to this organization's director of development and/or Executive Director.
What We Need
Ask: $250,000
Impact: Each year the gap between the needs of the communities that we serve and the level of funding that we receive grows wider. Violence, hate crimes, and gender-based crimes are on the rise. StrengthUnited is stretched beyond its financial capacity.
As the need grows and our financial resources are stretched, there is also the unfortunate threat of a 30-40% reduction in funding (due to budget shortfalls) by one of our large funders. As a result, we would not be able to provide services to 750 clients.
Your donations help us continue to increase much-needed services and meet the growing demands of the communities we serve.
Key Supporters
The Ahmanson Foundation
Van Nuys Charities
The Everychild Foundation
Weingart Foundation
California Community Foundation
The Lawrence P. Frank Foundation
KM Foundation
The Southland Regional
Association of Realtors, Inc.
Mary A. James
Kim & Ernie Roth
Shari Tarver Behring
and John Behring
Nancy & Charles Hanson
Anna Schaerf