National Disaster Search Dog Foundation Puts First Responder Boots – and Paws – on the Ground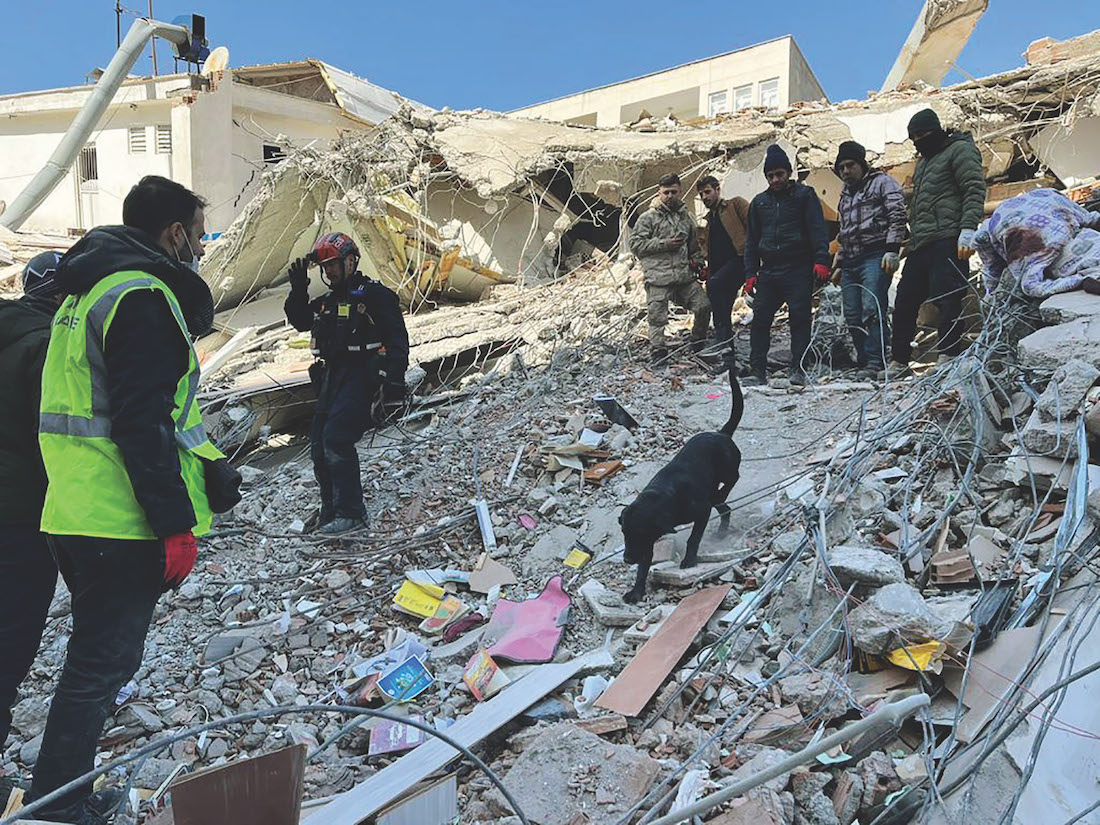 In the wake of Maui's tragic 2023 wildfires, relief organizations and the goodwill of the world at large poured into the affected areas. Amid this bustling influx of aid, three California task force workers and their dogs quietly made landfall and began methodically working through the smoldering ruins. These National Disaster Search Dog Foundation (SDF)-trained Human Remains Detection (HRD) teams would be instrumental in the painstaking search for victims in Maui's devastated communities.  "We say they're like the Olympic athletes of the canine world," says Denise Sanders, Senior Director of Communications & Search Team Operations at the National Disaster Search Dog Foundation. "They train up their stamina so their energy doesn't flag in the course of these long searches."
In 1996, FEMA-Certified Canine Search Specialist Wilma Melville founded SDF to address the troubling shortfall of rescue canines she'd seen working the ruins of the Alfred P. Murrah Federal Building bombing the year before in Oklahoma City. Melville drew up a training curriculum and model for an organization she envisioned as a mission of mercy – both for future victims of disaster, and for the unwanted dogs she would retrieve from shelters and transform into incomparably specialized, deeply loved rescue animals.
"She needed to set up a system," Sanders explains, "that could take all these different types of dogs – and all these different types of humans – and figure out the best way to recruit, train, and partner them."
In 2017, the SDF's privately funded National Training Center (NTC) launched near Santa Paula, California. The NTC is a sprawling, 145-acre forensic mock-up of all the disaster scenarios for which SDF's canine rescuers are arduously and lovingly trained. A map of the NTC includes such place names as Rubble Pile, Train Wreck, Collapsed Freeway, Tilted House, and more. "The tilted house is built to code, believe it or not," Sanders says with a smile.
Dog lovers may wonder if all shelter dogs complete the program, and what happens to those that don't. "Once rescued, they'll never have to be rescued again," Sanders says. "That is our lifetime care promise to any dog that enters our program. It's not just about the disaster search program, it's about helping each and every dog."
The foundation offers its services to first responders with a two-word caveat: No Charge. "We all know that these first responder budgets have become strapped in recent years," Sanders says. "We're not charging fire departments or task forces for anything. Taxpayer dollars are not going towards these dogs. We're able to do that because our donors believe in the work we do. These dogs and their loving handlers are out there training each and every day in preparation for something that we hope never happens."
Donate now!
www.SearchDogFoundation.org
(888) 4K9-HERO
(805) 646-1015
Executive Director: Rhett Mauck
Mission
Our mission is to strengthen disaster response in America by rescuing and recruiting dogs and partnering them with firefighters and other first responders to find people buried alive in the wreckage of disasters.
Begin to Build a Relationship
We know you care about where your money goes and how it is used. Connect with this organization's leadership in order to begin to build this important relationship. Your email will be sent directly to this organization's Director of Development and/or Executive Director.
Over the years, the Search Dog Foundation has forged numerous partnerships with canine disaster search teams that proudly serve the Los Angeles area. We deeply appreciate the presence of these remarkable canines in our ranks, standing as a steadfast resource we can rely on when summoned to action by the Los Angeles County Fire Department and California Task Force 2. Our task force holds the distinction of being one of only two in the nation with the capacity to deploy internationally, and the indispensable role played by our search dogs cannot be overstated. In the face of earthquakes, hurricanes, mudslides, or the daunting challenge of locating missing persons, these exceptionally trained canines form the bedrock of our search missions. Whether the need arises close to home or on foreign soil, these four-legged heroes ensure that our operations are successful. It is of utmost importance to highlight the unwavering support provided by the Search Dog Foundation, which generously supplies these canines as invaluable assets to our department and task force. This unwavering commitment ensures that we are perpetually ready and equipped to serve our community whenever the call for assistance rings out. Together, we stand united, ready to bring aid and hope in times of crisis.
What We Need: Future Canine Heroes For America
The frequency and strength of recent disasters are stark reminders that they can strike at the heart of any community. In the search for victims, a search dog's remarkable nose and hard-earned skills mean the difference between days versus minutes, lost versus found, uncertainty versus hope. The National Search Dog Foundation (SDF) works diligently to ensure canine search teams across America can deploy at a moment's notice when needed, which includes preparing the next generation of canine heroes.
From the day they arrive on campus to the day they are paired with first responders, SDF spends approximately $60,000 to train a search dog over 10 to 12 months.
SDF is raising $1,020,000 to train the next search dog graduates. Donors at $20,000 and above can become sponsors of a search dog in training, receiving updates on their progress and milestones throughout their career. Sponsor one or even a pack of canine heroes to be Part of the Search!
Key Supporters
BOARD OF DIRECTORS
George Leis – Board Chair
President and COO,
Montecito Bank & Trust
Richard Butt – Board Vice-Chair
Retired EVP, Executive Creative Director, VMLY&R
Mike J. Diani – Secretary
President, Diani Building Corp.
Christine DeVries
Management Consultant
Robert Harris
Battalion Chief, Los Angeles
County Fire Department
George R. Haynes, Ph.D.
CEO, National Disaster
Search Dog Foundation
Crystal Wyatt
Leadership in Board Governance and Creative & Sustainable
Philanthropy