Lighting the Way for Children With Special Needs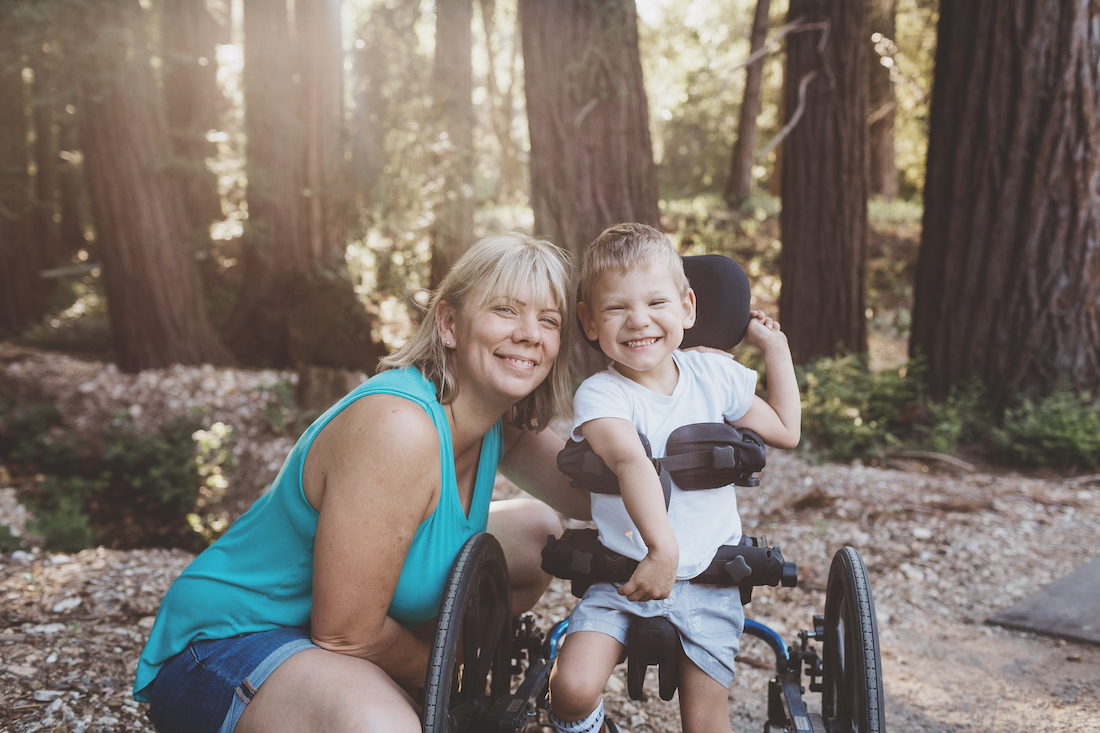 Imagine the rush of thrilling emotions that comes with preparing to adopt for the very first time. Making it through the selection process. Learning the name of your new child. Eagerly anticipating their arrival in your home, and your new life together as a family. Gina couldn't wait to welcome baby Kennedy. 
But when Kennedy arrived, Gina's excitement turned to worry. Baby Kennedy was supposed to be a perfectly healthy three-month-old, but the infant was just six weeks old, and something seemed to be very wrong.
"She didn't cry at all for the first eight months," Gina says. "And when her eyes were open, she'd just stare into a corner."
Gina learned that Kennedy had been exposed to methamphetamine in the womb, that she was legally blind, and that her development had been severely delayed. Doctors gave little hope of Kennedy ever recovering her vision.
"I didn't know what I could possibly do for her," says Gina.
Then Wayfinder Family Services stepped in. Since its founding as Junior Blind 70 years ago, the nonprofit has earned a strong reputation for helping children and families that many other organizations are unable to serve. Based on the belief that those facing the greatest challenges deserve the chance to thrive, Wayfinder has more than 20 comprehensive programs that provide expert, individualized services and support to an increasingly diverse population of children, youth, adults, and families.
Bertha, a Wayfinder child development specialist, was assigned to work with Kennedy when she was just four months old. Wayfinder's Child Development Services provide early intervention statewide to children with vision impairment or multiple disabilities.
Bertha started making home visits. Among other items, Bertha brought an iPad with a glowing red bunny. Week after week, Bertha would work with Kennedy to follow the slow-moving red bunny with her eyes. "Babies' brains are amazing," Gina says. "The improvement happened over months, but it was quick. She started seeing."
When Kennedy was one year old, "the bunny was bouncing all over the iPad, and Kennedy was following it," says Gina. This is the power of early intervention. Research shows that every $1 spent on early intervention saves $17 in future care and support. Today Kennedy is a typical elementary school student and does not need special education services.
"Early intervention was totally life-changing for Kennedy," Gina says. "I don't know where she'd be now without Wayfinder. Thank you from the bottom of my heart."
Donate now!
www.WayfinderFamily.org
(323) 295-4555 ext. 205
Associate Vice President of Development and Donor Relations: Vanessa Botshekan
Mission
Wayfinder Family Services ensures that children, youth and adults facing challenges always have a place to turn.
Begin to Build a Relationship
We know you care about where your money goes and how it is used. Connect with this organization's leadership in order to begin to build this important relationship. Your email will be sent directly to this organization's Director of Development and/or Executive Director.
I don't know where she'd be now without Wayfinder. Thank you from the bottom of my heart.
Changing the Future for Children Who Have Special Needs
Wayfinder understands the unique challenges facing some of our state's most vulnerable youth and adults. Those with disabilities, those without a home of their own, those who have been abused and many, many more. Wayfinder sees them. They believe in the amazing potential of each and every one of them. And, they turn that potential into reality.
Last year, Wayfinder Family Services served more than 21,000 children, youth, and family members across California. More than 90 percent of the people Wayfinder supports are low-income, and its services are always free.
A $1,000 donation can cover 10 life-changing early intervention sessions for children like Kennedy.
Key Supporters
Board of Directors:
Harold A. Davidson
Scott M. Farkas, Esq.
Erica Fernandez
Timothy E. Ford, Esq.
Robert D. Held
Steve L. Hernández, Esq.
Jonathan I. Macy, M.D.
Linda Myerson Dean
John Nicolaus
Glenn A. Sonnenberg
Fernando Villa, Esq.
Tara Voss
Elworth (Brent) Williams Jr.
Stevie Wonder
Impact Council:
Nicholas (Nick) Aull
Kylene Barker
Brian Barreto
David Berg
Christina Bjornstrom
Otis Blum
Robert Luce
Zuber Memon
Jason Russell
Anita Siraki
Jon Steinberg
Camilla Walker