Inspiring a More Dignified and Humane World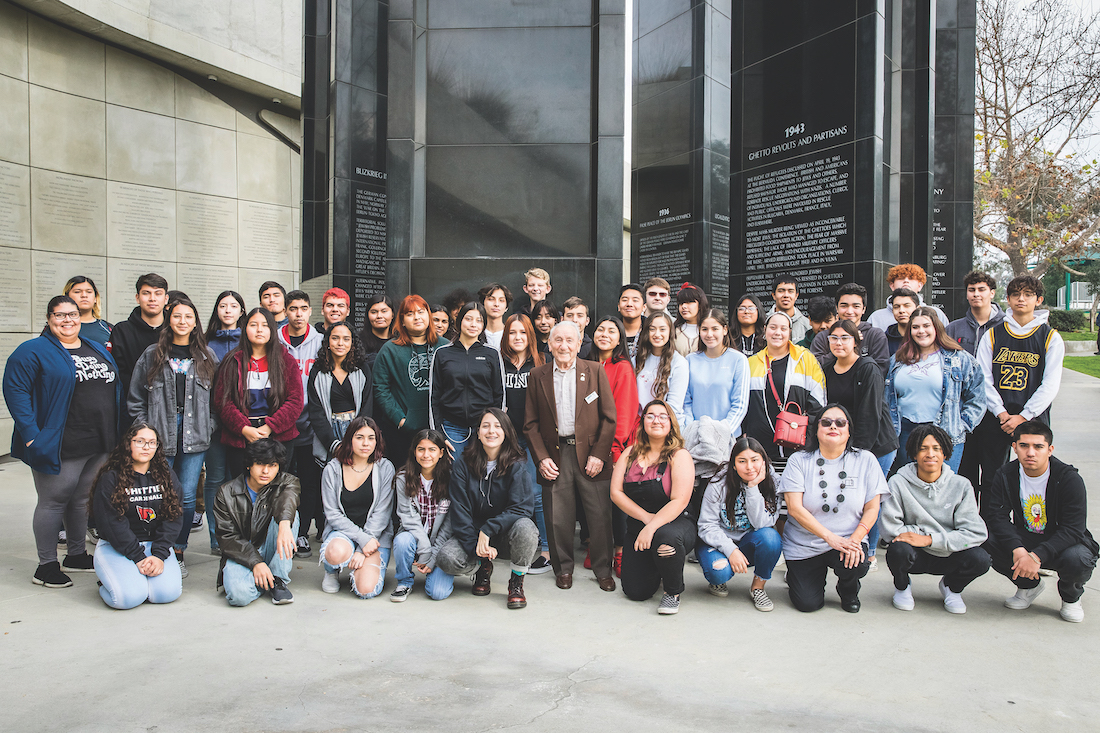 On a recent morning at Holocaust Museum LA (HMLA), Betsy, a docent, was leading a tour group of 20 LA high school students. She was telling the students about the progression and deepening terror of Nazi atrocities, while stopped in front of a wall depicting the architects of the Final Solution. "Does anyone know how many Jewish people perished in the Holocaust?" she asked the students. One hand shot up. "60,000?" a 16-year-old young man ventured. When Betsy shared that he had gotten only the "6" right, but it was six million, not thousands, the horror that permeated the group was palpable. 
While it's a natural corollary of history that the further we get from an event, the more difficult it is to keep it alive in our collective consciousness, Holocaust Museum LA ensures that we will not be condemned to repeat this lesson of the past by empowering students and visitors to stand up against hatred, bigotry, and antisemitism. And, in a time when memes of Nazi book burnings are juxtaposed with current photos of that very thing in the U.S., it is now more important than ever.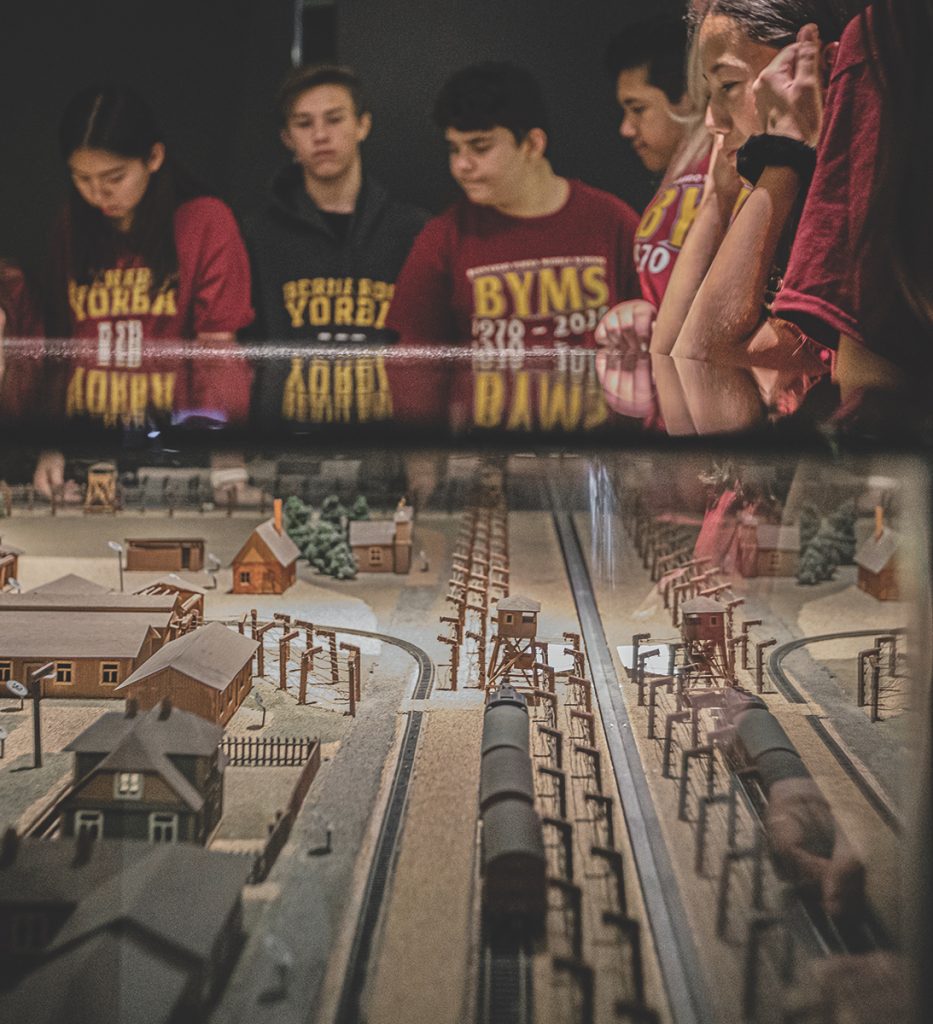 When it comes to HMLA's mission, there are two indisputable, salient facts: antisemitic incidents surged to historic levels in 2022, with a total of 3,697 incidents reported across the U.S., an increase of 36% compared to 2021 (according to the Anti-Defamation League); and a recent national study reveals that "Holocaust education in high school reflects gains that manifest in cultivating more empathetic, tolerant, and engaged students" (from a study released by Echoes & Reflections). The results also indicate that exposure to Holocaust survivor testimony is strongly associated with numerous positive outcomes in early adulthood, including higher critical thinking skills and a greater sense of social responsibility. Taken together, those facts underscore not only the importance of HMLA's mission, but the urgency of it.
HMLA is the oldest Holocaust museum in the U.S., founded in 1961 by survivors who met in an English as a Second Language class at Hollywood High. It is also among the most innovative. Participants in the Museum's tour get a 90-minute immersive experience that inspires participants to stand up against hate in their own lives and communities, followed by an opportunity to interact with an actual Holocaust survivor for another 90 minutes, who shares his or her compelling testimony and discusses the importance of oral history, resiliency, and treating people with dignity and respect.
In 2025, HMLA will complete work on the new Jona Goldrich Campus, doubling the Museum's footprint to accommodate more visitors (500,000 annually, including 150,000 students), with a first-class theater, and expanded educational and exhibition spaces. Among the new exhibits, museumgoers will be able to see first-hand an authentic box car from Poland, that carried victims into concentration camps.
As the survivor population continues to dwindle, HMLA has ensured that the important and influential oral storytelling tradition continues. HMLA currently trains survivor children and grandchildren to carry on the tradition with future museumgoers. The Museum recently debuted "Dimensions in Testimony," a life-size holographic representation of 99-year-old Auschwitz survivor Renée Firestone, created by USC Shoah Foundation. Visitors and students can now have a real-time interactive conversation with one of the oldest living Holocaust survivors. "Ensuring that students and museumgoers will be able to not only hear survivor testimony first-hand, but interact with the survivor forever is an incredible blessing of technology," says Beth Kean, HMLA's CEO. The exhibit will soon become a permanent 3D museum installation, preserving the effective oral storytelling tradition forever.
In a time when echoes of Nazi book burnings are shockingly repeated across the U.S., and when hate crimes and rhetoric more broadly is on the ascent and the current perpetrators have more advanced weaponry and greater firepower than ever (not only to burn books but to spread disinformation across traditional media, social media, and the internet), HMLA's mission is ever more crucial for future generations.
Donate now!
www.holocaustmuseumla.org
(323) 651-3704
Chief Advancement Officer: Omar Sharif Jr.
Matching Challenge!
The Smidt Foundation, led by Eric and Susan Smidt, has given Holocaust Museum LA a $5 million matching grant for its expansion. This gift means that the Foundation will match each donation two-to-one, effectively raising $7.5 million. The Smidt gift emphasizes the importance of welcoming more young visitors, with the goal of keeping both admission and transportation free for school groups.
Mission
To commemorate those who perished, honor those who survived, educate about the Holocaust and inspire a more dignified and humane world.
Begin to Build a Relationship
We know you care about where your money goes and how it is used. Connect with this organization's leadership in order to begin to build this important relationship. Your email will be sent directly to this organization's Director of Development and/or Executive Director.
How can we take the lessons of the Holocaust and apply them to what's going on today? Education is key. We need to teach that we are all connected. We're proud to support Holocaust Museum LA in their much-needed work to preserve the stories of survivors, like my husband David, and to carry forward their messages of courage, resilience, and hope.
Help Educate to Stop Hate
$1,000 – Provides bus transportation for students from Title I schools in LA County to visit the Museum. With free admission and free bus transportation, this is likely the only field trip students will be able to take this year.
$2,500 – Enables 100 students to participate in a docent-led, inquiry-based, customized tour and to meet a survivor.
$5,000 – Sponsors training and tools for 35 teachers to learn how to best facilitate lessons about the Holocaust and genocide in the classroom.
Key Supporters
For a full list of supporters, please visit www.hmla.org/supporters.