J3's Hiring Strategy Creates a "Halo" Effect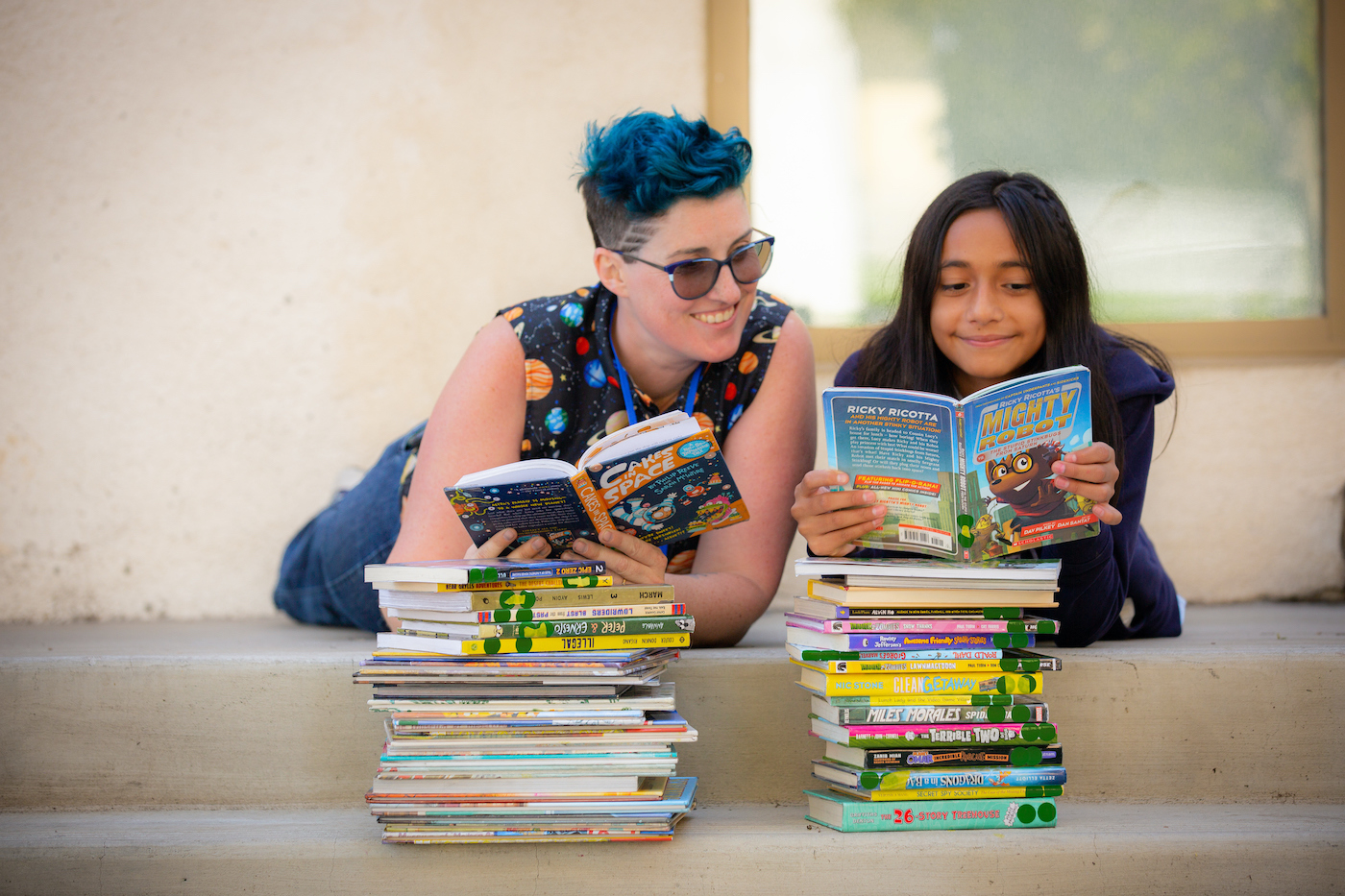 J3 Foundation understands the special and powerful relationship between teacher and student.
That's why this literacy non-profit empowers local teachers in every way possible. Rather than sending in outside instructors or volunteers like many other non-profits, J3 only hires teachers and aides who are already working at the schools where they offer Cozy Reading Club, their free afterschool reading program.
It's the harder route, but J3 knows it's the smart thing to do and the right thing to do. By hiring from within, the foundation can make a more immediate and lasting impact for the teachers, students, and community.
One afternoon at Washington Elementary in Compton, Ms. Weatherspoon noticed that the twins Sam and Serena* seemed a little uneasy while reading J3's book of the day, Oji Chan's Gift. The story is about a girl who grows up tending a garden with her grandfather, who eventually grows too old to care for his home or garden.
After the book came the journal prompt: "How do you respond to big changes in life?" Stifling back tears, the twins vaguely share their response with the class – that they experienced a big change in their lives recently, on their birthday.
Ms. Weatherspoon and Ms. Manivanh Do bring the siblings into the hallway for a quiet moment to connect.
Together, the teachers and J3 team work hard to create a safe space for these kids.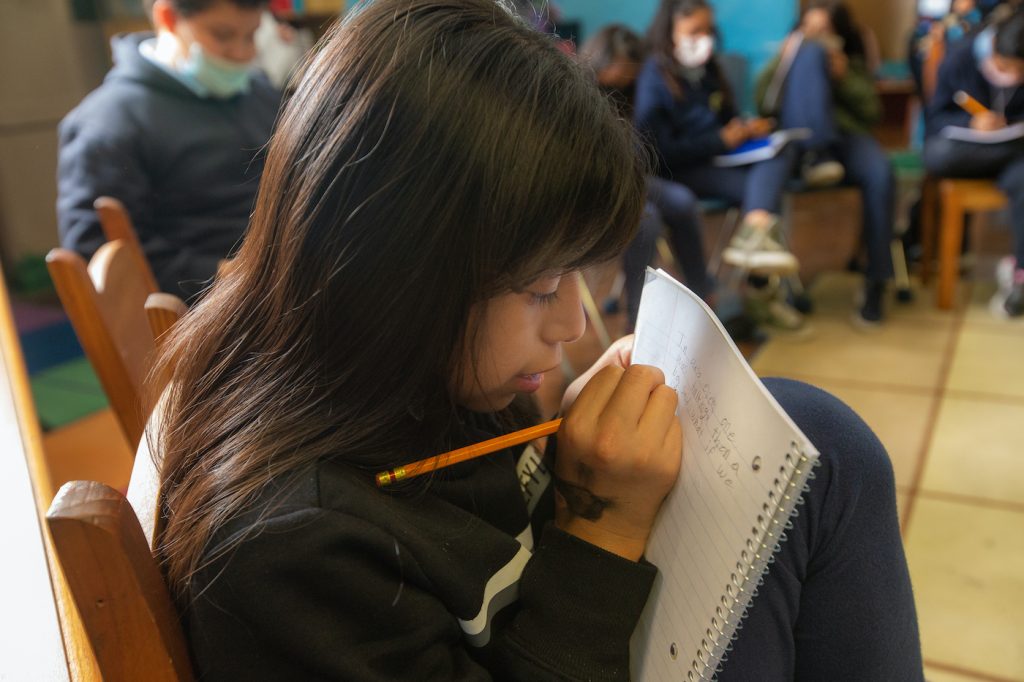 By hiring from within, "We build trust with our students much faster because the staff in our program know them, see them daily, and live and work in their neighborhoods. There is a cultural understanding that does not need to be overcome," says Beth Anderson (J3 Corporate & Community Outreach Coordinator).
The twins are reluctant to share at first but find the courage to tell their teachers that their grandfather passed away on their birthday. Gently, Ms. Weatherspoon tells them it's okay to feel this way and asks them what they need to feel better.
90% of J3 students come from low-income households, often in communities with higher levels of instability and trauma. "For these kids, there often isn't space to have feelings. But at J3, we can create the space for it," says Ms. Weatherspoon. "Culturally, folks don't tend to open up about certain things here. For them to trust us enough to give us that detail was really major."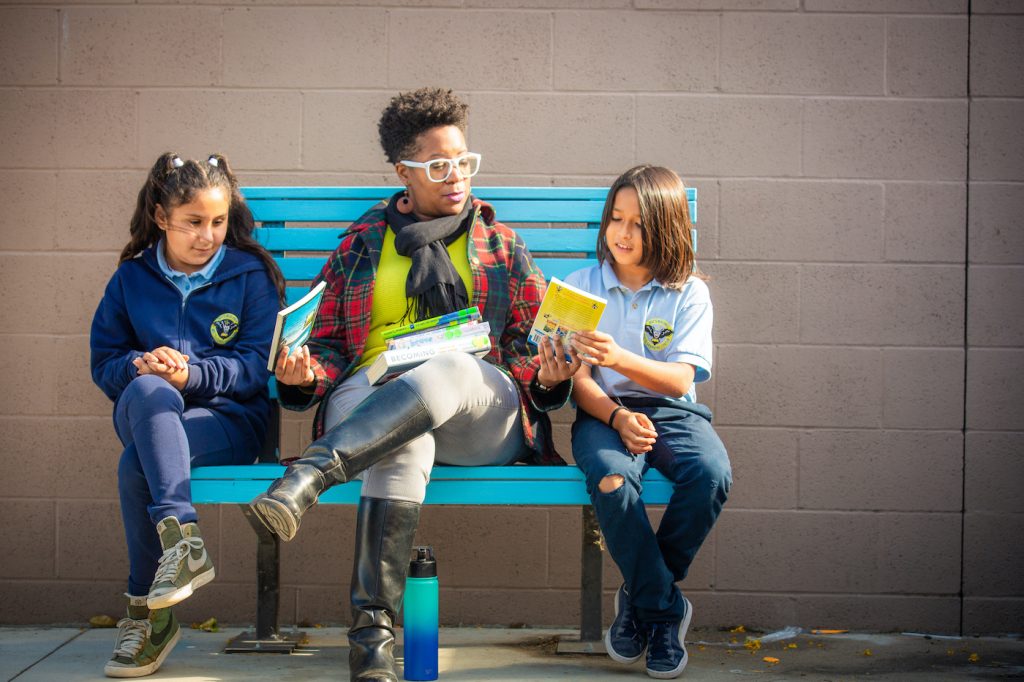 With their natural empathy and J3's training in SEL (Social Emotional Learning) and Restorative Practices, Ms. Weatherspoon and Ms. Manivanh Do help Sam and Serena step back into the classroom feeling a little lighter and more present to learn. They kept a watchful eye on the twins and were able to give them what they needed to get through the rest of the session. The school becomes a safe space for these kids to return to because they have the support of their teachers and the space to be vulnerable.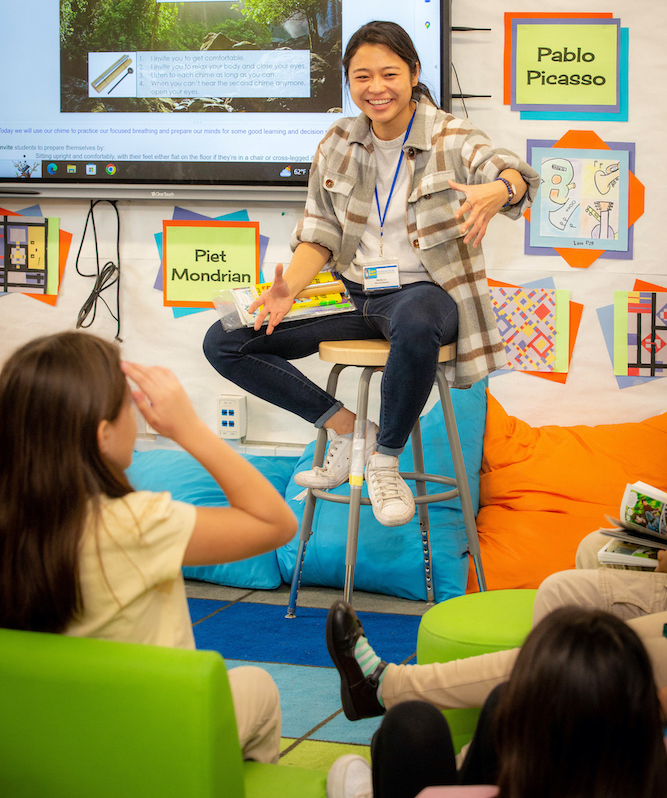 The good that happens in Cozy Reading Club doesn't just stay in Cozy Reading Club. It spreads, just as J3 intended.
Often, J3 instructors will share the Cozy Reading Club's curriculum and library of books with other non-J3 teachers at their school as educational tools and resources. In her daytime classroom, Ms. van der Weyde at Kelly Elementary School (Compton, CA) uses J3 reading lessons in her general ed classroom and asks her J3 students to lead them. Since the J3 teachers are often also their general ed teachers, kids who had previously been struggling academically are used as positive examples in the classroom. This builds their confidence, highlights their new skills, and makes it much less likely that they'll end up as a dropout statistic.
"When we hire a teacher or aide from a school we're serving, we have an opportunity to help so many more than just the 25 students in that after-school program," says Stacee Longo (J3's Senior Program Director). "We're building up a whole community, one session at a time."
It's vital that the teachers and aides benefit, too. "When J3 hires these teachers, we pay them well," says Stacee. J3 matches instructors' district salary rates, which is more than the second jobs that many of them have had to work to sustain a living. "We respect their education. They can be paid what they're worth to do what they're best at."
Donate today to help J3 Foundation empower teachers to elevate their students and create a better future for us all.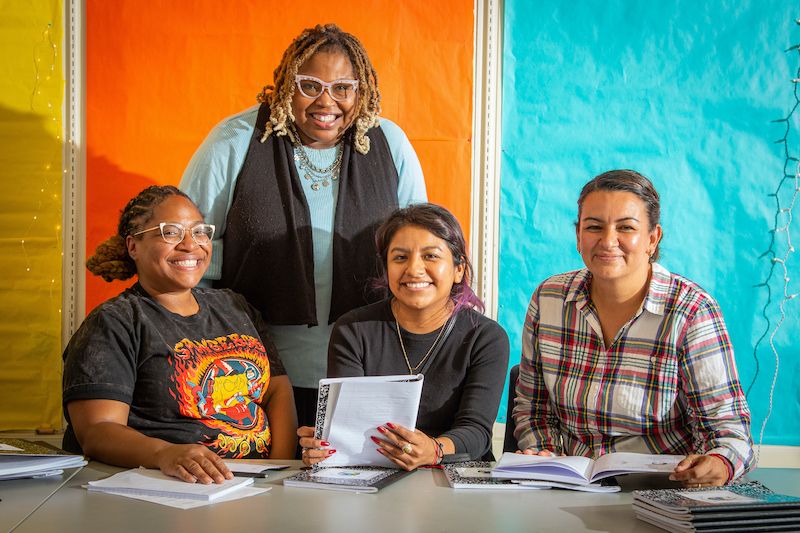 *The names of students have been changed to protect their identities and privacy.
Donate now!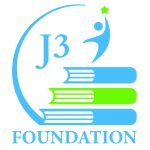 www.j3foundationla.org
(310) 924-2422
Director of Operations: Bobbie Boggs-Miller
Matching Challenge!
J3 is excited to announce a unique opportunity to double your donation! Glaser Weil has generously offered to match the first $10,000 in recurring donations!
Mission
To equip 4th grade scholars with the skills, habits, confidence, and book access they need for a lifetime of reading success
Begin to Build a Relationship
We know you care about where your money goes and how it is used. Connect with this organization's leadership in order to begin to build this important relationship. Your email will be sent directly to this organization's director of development and/or Executive Director.
The J3 Cozy Reading Club teaches critical reading competencies through an evidence-based and culturally-relevant curriculum. It allows our Compton students, regardless of income or background, to receive a high-quality after-school reading intervention program. As the Director of Educational Services and former K-8 school principal, I have seen how the J3 Cozy Reading Club has impacted our students' academic and social development and continues to do so each year. Most importantly, our students love attending J3 sessions! Thank you, J3 Foundation!
Struggling to Read, J3's Cozy Reading Club Makes it Fun
"The Cozy Reading Club, J3 Foundation's premier reading program, is special in how intentional every piece of the two-hour after-school program is," Stacee Longo, Sr. Program Director of J3 Foundation says. "We take a holistic approach with our students by focusing on reading skills, mindfulness, social-emotional learning, restorative practices, and so much more."
J3 Foundation is raising $864,000 to expand its Cozy Reading Club to 24 additional schools, double its book collection from 5,000 books to 10,000, and to reach 650 more students of color who are struggling to read.
A $1,500 donation will add 100 books to the J3 collection for our students to read. A $5,000 donation will support the costs of hiring highly qualified educators from our partner schools. A $12,000 donation can fund an entire trimester for a school in need. And a $36,000 donation will fund an entire year of the Cozy Reading Club for 30 students at one school.
"The magic of our program is that we provide a safe space where all students get to rediscover the joy and magic of a good book," says Longo.
Key Supporters
Morgan Stanley Gift Fund
McKuin Frankel Whitehead LLP
Oceankind Foundation
Richardson Charitable Foundation
Once Upon a Time Bookstore
Armanino LLP
Barry Family Foundation
Book Foundation
Brother International
CTBC Bank Corp.
Glaser Weil LLP
Humberto & Maria Gray
James Worthy
Joel & Sherry McKuin
Lido Advisors LLC
Macquarie Capital USA
TASCHEN Books
The Brentwood Inn