Downtown Women's Center Recognized for Leadership in Ending Homelessness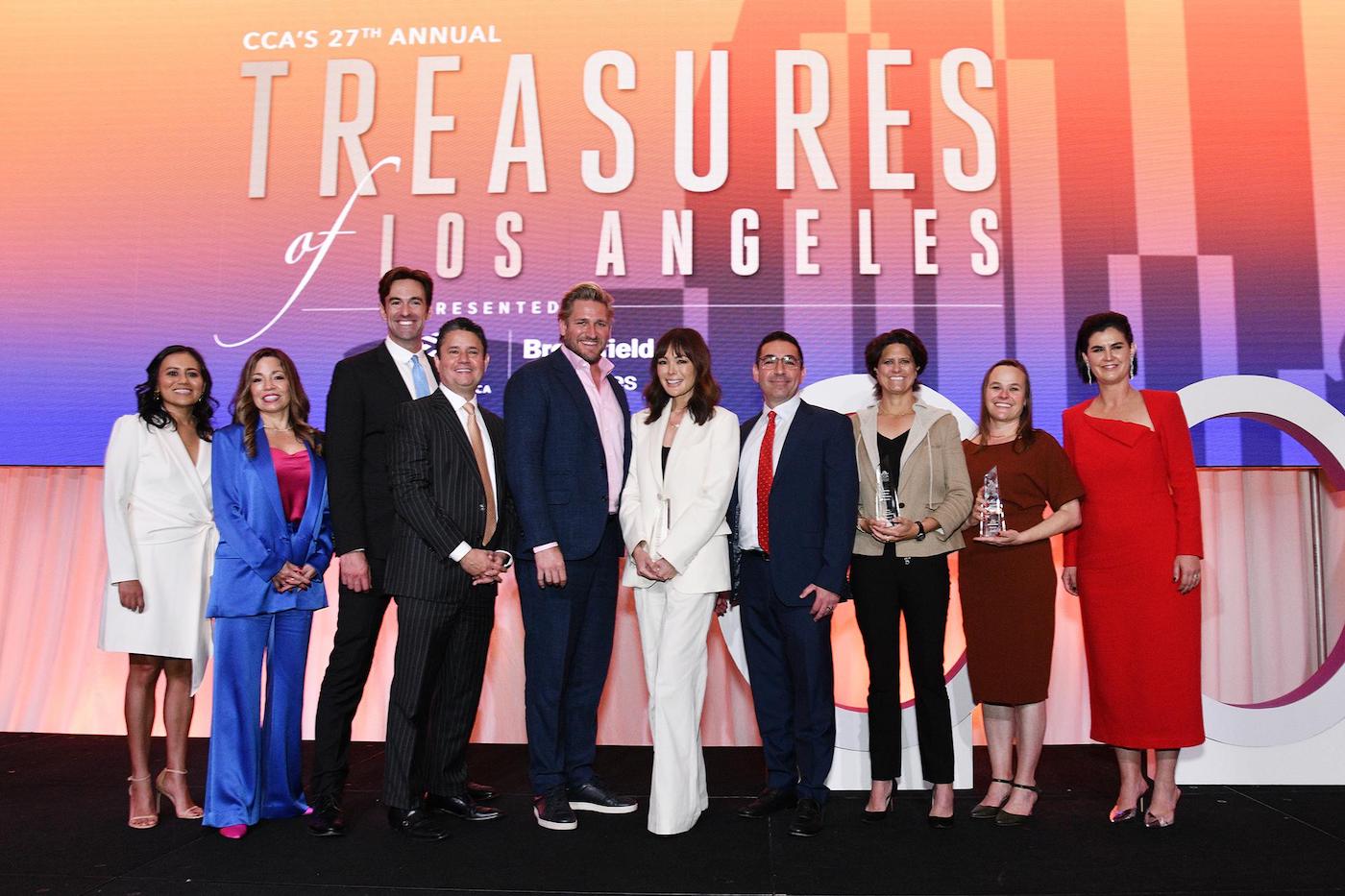 Downtown Women's Center (DWC) was honored for its outstanding leadership in addressing women's homelessness. DWC, along with esteemed partners Angel City Football Club and celebrity chef couple Curtis and Lindsey Stone, was honored by the Central City Association (CCA) as a "Treasure of Los Angeles." Additionally, DWC CEO Amy Turk was recognized at the Pioneer Women Awards 2023, hosted by the LA City Human Relations Commission and LA Civil Rights Department, for her nearly 20 years of service.
The first accolade bestowed upon DWC was the "Treasure of Los Angeles" award, presented by CEO of the Lee Andrews Group and CCA Board Member Stephanie Graves. This recognition highlights DWC's trailblazing role in developing comprehensive homeless services specifically tailored for women. DWC's remarkable firsts include opening the first permanent supportive housing site in the country and the first, and still only women's clinic, in the Skid Row community. Such initiatives have been instrumental in creating safe and empowering spaces for homeless women, ultimately helping them rebuild their lives.
At the award ceremony on May 18th, DWC CEO Amy Turk highlighted the award as collective victory for women and the community that has supported the agency. Also in attendance were DWC Board Chair Elizabeth Karatz Faraut, Board Chair of Finance Ruth Edwards, and Board Secretary Catherine Collins, as well as Board Members Vicki Curry and Justine Gonzalez.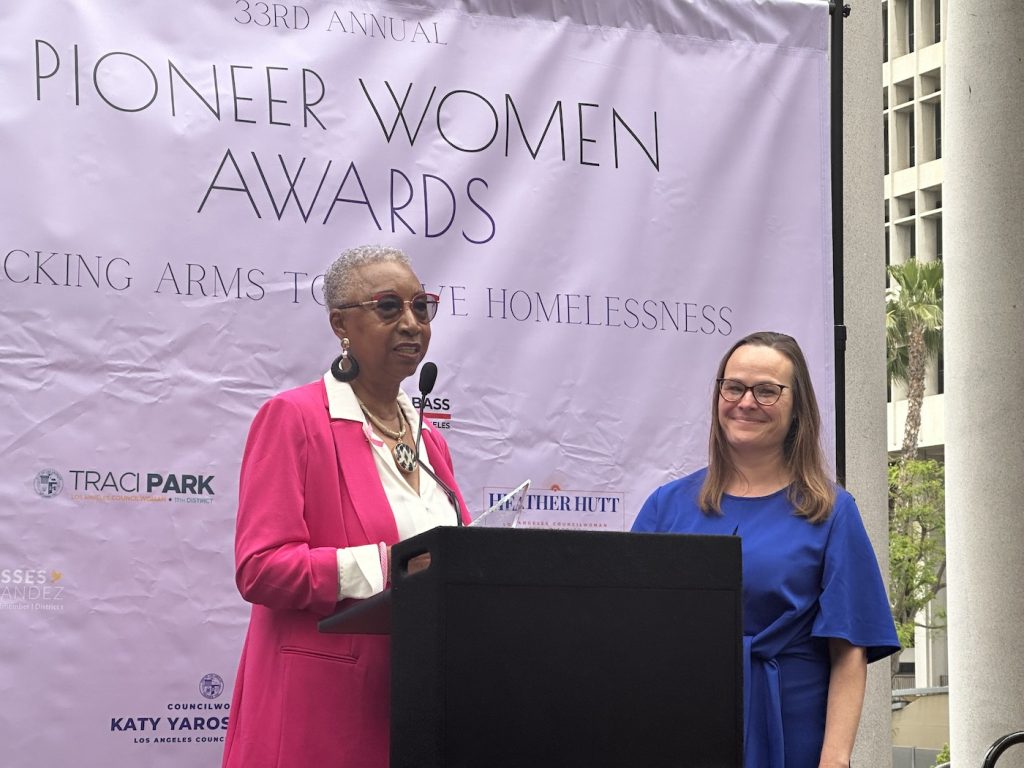 In another momentous recognition, DWC CEO Amy Turk was honored at the Pioneer Women Awards 2023. This award acknowledges individuals who have been tireless advocates for gender equality and who have empowered women and girls in Los Angeles. Turk's nearly two decades of dedicated service exemplify her commitment to fostering transformative programs. Her leadership has been instrumental in creating sustainable solutions, raising awareness, and championing the rights and well-being of marginalized women.
Downtown Women's Center continues to be at the forefront of addressing women's homelessness in Los Angeles. DWC's innovative programs, combined with its commitment to comprehensive care and community collaboration, have set a precedent for addressing the unique needs of unhoused women. Through its exceptional leadership, DWC is making a tangible difference in the lives of countless individuals, offering hope, stability, and a path towards self-sufficiency.
Donate now!
downtownwomenscenter.org
(213) 213-2834
Director of Donor Relations and Events: Holly Hight
Mission
The Downtown Women's Center (DWC) envisions a Los Angeles with every woman housed and on a path to personal stability. Its mission is to end homelessness for women in greater Los Angeles through housing, wellness, employment, and advocacy.
Begin to Build a Relationship
We know you care about where your money goes and how it is used. Connect with this organization's leadership in order to begin to build this important relationship. Your email will be sent directly to this organization's director of development and/or Executive Director.
I take this work very personally because it pretty much saved my life. I love that I'm able to train women that were just like me and guide them. So I'm gonna be here forever. It's my career now, that's how I look at it.
Let Your Legacy Be Saving Women's Lives
The Downtown Women's Center recently launched its legacy circle. Thus far, 36 people have joined, writing the life-changing nonprofit into their bequests.
For Vikki Vickers, a one-time DWC resident, it's about the best investment you can make.
"Ninety eight percent of women housed at DWC never return to homelessness," Vickers says. "In giving money to DWC, you are saving a life, changing a life, giving them a foundation, support, and someone to trust. You're not just giving money, you're actually saving a life."
Please consider making the Downtown Women's Center part of your legacy.
Key Supporters
Otis and Bettina Chandler Foundation
Maria Bamford
Carla Barboza
Joanne Kozberg
Eileen Goodis and Eric Strom
Billie Greer
Lynn Hall Russell and L. Michael Russell
Kellie Hawkins Davis
Shelli Herman and Stewart Gleischman
Elizabeth Karatz Faraut
Marilyn and Jeffrey Katzenberg
Foundation
Tiffany Mayberry
Christy and Stephen McAvoy
Linda Griego
Elizabeth Naftali
Marylouise Oates and
Robert Shrum
Eleanor and Glenn Padnick
Brenda Levin
Silton Family Foundation
Andrea Van de Kamp
Weingarten Family
John and Marilyn Wells
Cindy Starrett