UNITE-LA Partners with Avantus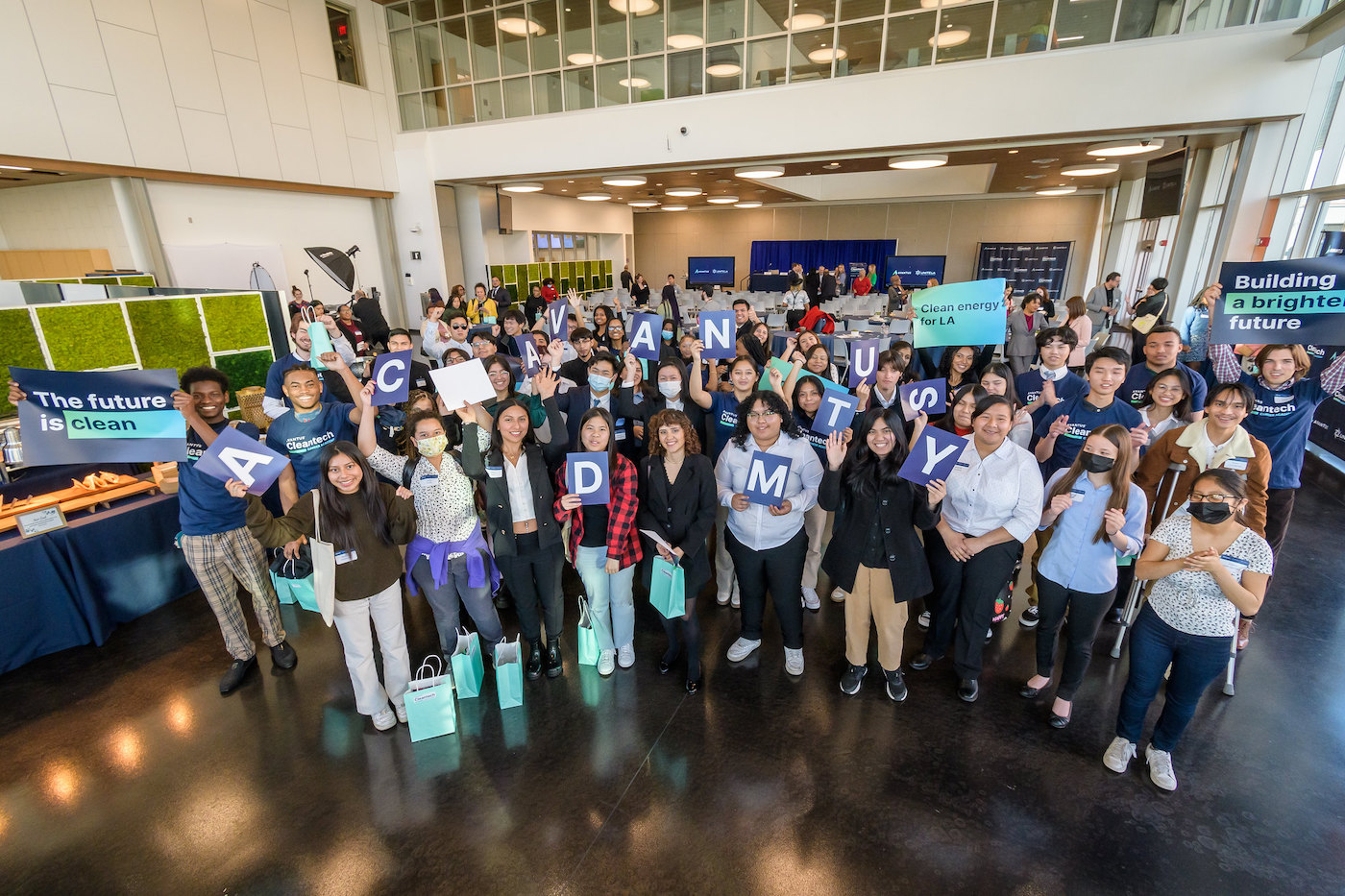 Los Angeles is poised to establish itself as the nation's capital for green energy and clean technology. The city is home to world-class innovative companies and has the visionary leadership needed to build an unmatched clean energy economy. And Los Angeles' position is only going to be supercharged by the investments made available through bills like the Inflation Reduction Act.
There's just one issue. If you talk with employers these days, they will tell you one of their biggest challenges is finding qualified workers. The workforce challenge is even more acute in the dynamic and fast-growing clean energy sector.
That's the impetus for a unique partnership between UNITE-LA and Avantus, an LA-based leader in the clean energy transition, and UNITE-LA. Through this partnership, we recently launched the Avantus Cleantech Career Academy, designed to identify, recruit and develop diverse 16-to-24-year-olds from historically marginalized communities in Los Angeles for careers and jobs in the clean energy sector. Through education, job readiness and paid work-based learning, the Avantus Cleantech Career Academy creates opportunities for students to succeed in California's green energy future.
Partners in the academy already include a broad cross section of secondary and higher education institutions, community organizations, public agencies and leading employers.
Launched in March, UNITE-LA and Avantus held a kickoff event where the Academy's founders, partners and local leaders recognized 75 students who will spend 12 weeks learning about essential skills, industry sectors, local employers and career pathways into the emerging, clean energy economy. We are leading the way to developing a diverse, inclusive, local workforce to meet the industry's talent pipeline needs.
"While the Avantus Academy launched in March, we continue our efforts to increase its impact by recruiting employer partners from the clean energy sector and identifying prioritized 16-to-24-year-olds from schools and community organizations that might benefit from access to careers in the growing clean energy sector," said Bridget Netter, senior vice president of Programs and Talent Development for UNITE-LA.
The academy is aimed at giving students a pathway to turn their passion for climate issues into careers focused on climate solutions. It is what inspired Dr. Tom Buttgenbach, founder and CEO of Avantus to help found the academy.
"There is such a strong activism and passion for climate issues in this next generation. The strength of that conviction is matched only by the scale of the challenge. We are going to need all hands-on deck in the fight against climate change, and I'm thrilled to see our partners in the cleantech sector here in Southern California stepping up alongside Avantus to help train young people to join in the fight," said Dr. Buttgenbach. "Not only can we help provide the next generation with means to combat the climate crisis, the Avantus Cleantech Career Academy also helps create viable pathways to good green jobs right here in L.A."
The launch event provided students, accompanied by family members, an opportunity to network, partake in professional headshots and meet the visionaries behind this collaborative partnership. Students were inspired by Alysia Bell, UNITE-LA President, and Tom Buttgenbach, the CEO of Avantus, Dawn Dai, emcee, and had the opportunity to hear from a panel of employers who have committed jobs and internships. At the end of the 12-week academy, eligible students will receive scholarships to continue their cleantech education and an opportunity to further their experience through internships with partnering cleantech employers.

As student Nicolas Vitello said after the attending the event, "I enjoyed meeting with everyone and hearing the people who are going to support us on this journey through the academy."

At UNITE-LA, we know why these youth want to be a part of this journey, but why not hear it directly from them? And while you are it, take a look at the photos from a very memorable kick-off event!
VIP Note: See attached photo with the recommended photo caption:
Students attend UNITE-LA's + Avantus partnership launch of the Avantus Cleantech Career Academy, a career pathway that creates opportunities for students from underserved and unserved communities in the Los Angeles area to succeed in California's green energy future.
Donate now!
www.unitela.com
(619) 254-7098
Senior Director Strategic Partnerships: Chelsey Holmlund
Mission
UNITE-LA's mission is to ensure the continuous improvement of effective and aligned cradle-to-career public education and workforce development systems in Los Angeles, resulting in all children and youth having access to a high-quality education. We serve to prepare the region's children and youth for high-skill, high-wage employment in a fulfilling career of choice, with a priority focus on underserved populations.
Begin to Build a Relationship
We know you care about where your money goes and how it is used. Connect with this organization's leadership in order to begin to build this important relationship. Your email will be sent directly to this organization's director of development and/or Executive Director.
I was empowered to delve deep into my potential. The rich resources helped me to land my first professional internship as an operations intern. I gained many professional business skills from my first internship, and it allowed me to reach my full potential in terms of skills such as marketing/sales, management, and project organization. I was in love with the company culture and its community value that I was blessed to work with.
Success is When Talent Meets Opportunity
As part of UNITE-LA's goals for 2023, they plan on expanding their career pathway programming to include a new Cleantech Academy, offering students exposure and pathways to careers in the environmental and clean energy sectors.
They hope to raise $75,000 from new donors. If UNITE-LA can meet this goal, the Kresge Foundation, a long-time funder of UNITE-LA, has committed to unlock an additional $75,000 in unrestricted funding for the organization.
$1,500: Helps provide a student with a one-year college scholarship
$4,000: Helps a young person to explore potential professions through a 160-hour paid summer internship
Key Supporters
Annie E. Casey Foundation
Anthony and Jeanne
Pritzker Family Foundation
Ascendium Education Group
Atlas Family Foundation
Bank of America
Boeing
California Community Foundation
California Department of Education Community Schools Grant
California Student Aid Commission
Carl and Roberta
Deutsch Foundation
Carol and James Collins Foundation
City of Los Angeles – Mayor's Fund: Hire LA's Youth
Coca-Cola Foundation
College Futures Foundation
Conrad N. Hilton Foundation
ECMC Foundation
Evelyn & Walter HAAS Jr. Fund
Farmers Insurance
First 5 LA/Community Partners
Green Foundation
Heising-Simons Foundation
JPMorgan Chase
Kaiser Permanente
Kayne Family Foundation
L.A. Lakers Youth Foundation
L.A. County Department of Public Health – Office of Diversion
and Reentry
L.A. County Supervisor Holly Mitchell
LA/OC Regional Consortium
Los Angeles City Economic
and Workforce Development
Department
Lumina Foundation
Michelson 20MM Foundation
National Skills Coalition
Office of Statewide Health Planning
and Development
Ralph M. Parsons Foundation
Rattray Kimura Foundation
S. D. Bechtel, Jr. Foundation
Sierra Health Foundation
Sobrato Family Foundation
Stuart Foundation
The Ahmanson Foundation
The Alliance for Children's Rights
The California Wellness Foundation
The David and Lucile
Packard Foundation
The Ford Foundation
The James Irvine Foundation
The Kresge Foundation
The Stein Family Foundation
United Way of Greater Los Angeles
Valero Energy Foundation
Weingart Foundation
William and Flora Hewlett Foundation
W. M. Keck Foundation
Youssef and Kamel
Mawardi Foundation