Shanghai: Holocaust Port of Refuge
On Sunday, February 5th, Holocaust Museum LA's staff members and curators of the traveling exhibition "Hidden History: Recounting the Shanghai Jewish Story" will be speaking at an event in Morgan Hill, along with a 95-year old Shanghai survivor and special guest speaker former Congresswoman Jackie Speier. During the 1930s, when most closed their borders to Jewish refugees seeking asylum from Nazi Germany, Shanghai was one of the few that remained open. The unique and inspiring stories of the Shanghai Jewish community are especially relevant today with the rising tide bigotry and antisemitism, increasing hate crimes targeting the AAPI community, and worldwide refugee crises. RSVP HERE!
HOLOCAUST MUSEUM LA
100 The Grove Drive, Los Angeles, CA 90036
323-810-2058
holocaustmuseumLA.org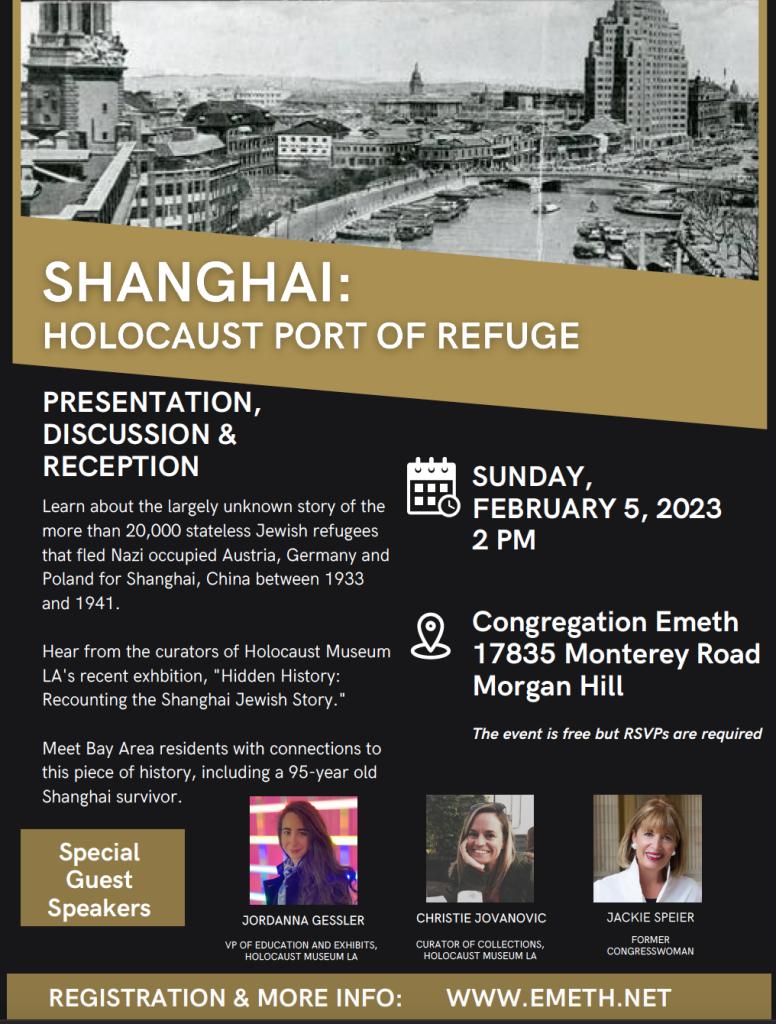 Donate now!
www.holocaustmuseumla.org
(323) 651-3704
Chief Advancement Officer: Omar Sharif Jr.
Matching Challenge!
The Smidt Foundation, led by Eric and Susan Smidt, has given Holocaust Museum LA a $5 million matching grant for its expansion. This gift means that the Foundation will match each donation two-to-one, effectively raising $7.5 million. The Smidt gift emphasizes the importance of welcoming more young visitors, with the goal of keeping both admission and transportation free for school groups.
Mission
To commemorate those who perished, honor those who survived, educate about the Holocaust and inspire a more dignified and humane world.
Begin to Build a Relationship
We know you care about where your money goes and how it is used. Connect with this organization's leadership in order to begin to build this important relationship. Your email will be sent directly to this organization's Director of Development and/or Executive Director.
This is why we have to educate the young people about what happened. The only way is through education.
Help Teach and Inspire the Younger Generation
Schools in under-resourced communities attend fewer museums, and participate in less field trips in general, because of lack of funding. As gas and other prices have risen, the cost of renting buses has skyrocketed.
Donors who want to help Holocaust Museum LA fulfill its mission of welcoming every school group that wants to visit can offer support by off-setting these costs. Your donation of $2,000 can fund a bus trip from Northern California to Los Angeles.