Mona Sinha's Journey to Gender Justice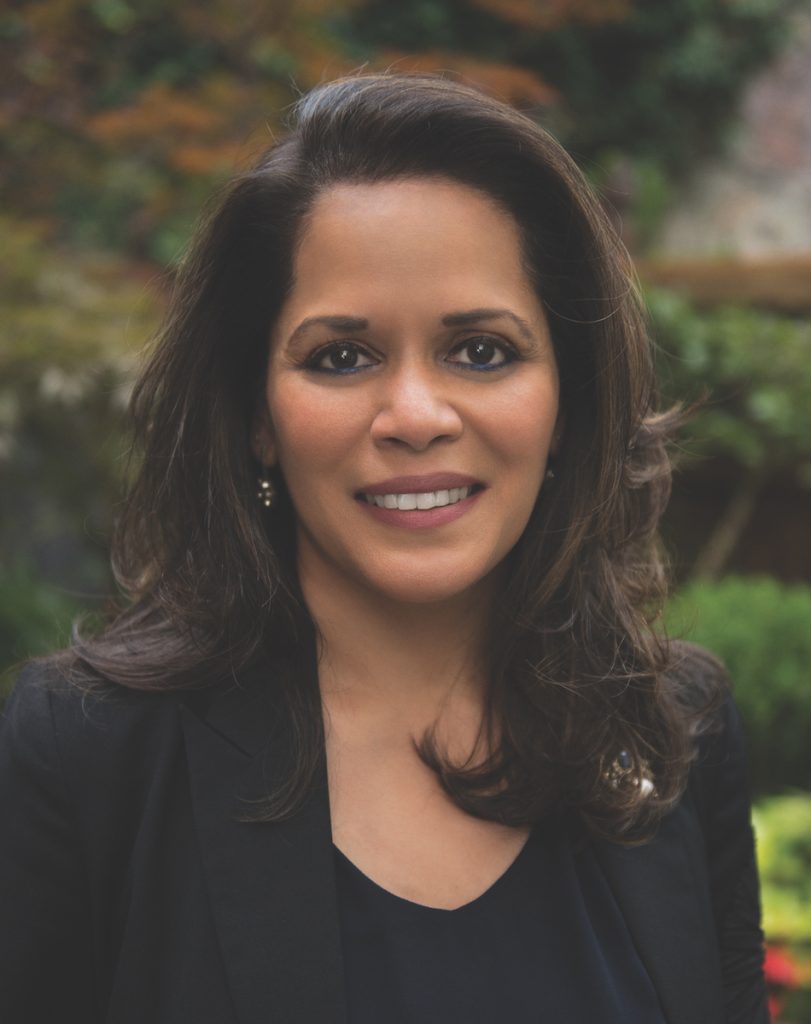 It's a long way from Calcutta (now called Kolkata) for Mona Sinha, Board Chair of Women Moving Millions. Growing up in a family of three girls, Sinha could never escape the feeling that her parents had really wanted a son. She's since overcome this feeling of inadequacy, but it informs her world view and her approach to philanthropy which works to build a gender equal world where everyone is valued for who they are. Supporting gender justice, for Sinha, is part of her DNA.
"I grew up very well cared for. I'd watch my mother dole out the food for the day and what needed to be cooked. She would take a cup of rice and put it in a sack and it really intrigued me. At the end of the month, the sack would be filled up and she would give it away. So that was her form of philanthropy."
At the age of 12, Sinha volunteered at Mother Teresa's Missionaries of Charity Orphanage in Calcutta, where her desire to aid humanitarian efforts in her local community sparked a revelation that gender bias in the adoption process was disproportionately favoring boys.
"She was a very revered figure in Calcutta. Volunteering each week was a wonderful experience because there were so many girls who were my age. One day, I realized that the reason there were so many girls was because the boys got adopted first," Sinha says.
Sinha's understanding of the impact of philanthropy continued to take shape. At 19 she was accepted to attend Smith College, a private liberal arts school for women in Northampton, Massachusetts.
"My father told me, 'I can't afford to pay for college in America.'"
The predicament was troubling, but Sinha's tenacity to find a solution in the face of challenges is a quality she's always possessed.
"I was awarded a big scholarship, which made me realize that somebody I didn't even know had the faith in a stranger, essentially, to pay their full tuition. That was an eye-opener."
At Smith, Sinha's determination and natural ability to lead through elevating others was nurtured on campus by the community's commitment to foster female empowerment.
"Smith is a very activist campus, but it's also a hugely supportive campus. With a very supportive network of not just students and alumni, but just the whole zeitgeist of people who've been real big forces in the feminist movement. We had Gloria Steinem as a role model, and she remains so even to this day. Smithies are all leaders who have, in some ways, defined the course of some big changes in the world. And these were very formative years of my life living alone, figuring out my identity as a young woman and being able to step into that space instead of feeling like an imposter… That's what drew me to Smith."
After graduating from Smith, Sinha secured a job on Wall Street, an experience she recounts as being a stark divergence from her time at school as she encountered a hierarchical culture in the workplace.
"It didn't matter how good I was… it was a very male-dominated world. Four-letter words were tossed around in every sentence. The culture was quite sexist, but I did love the work and pivoted from there to marketing after I got my MBA and loved that too. It was all about learning how to build a brand. And then came a moment in my life where I had to decide, 'Is this the best use of my time on Earth?' And I decided corporate America probably wasn't."
Though at odds with the harsh realities dealt to women working in corporate America at that time, Sinha's experience was far from a waste.
"The whole idea of philanthropy being only for people who are rich is a fallacy. I think you can be philanthropic in so many ways. Using your time to lift someone up or being a helping hand to somebody is also philanthropy. It's the love of humankind."
"It made me a more effective leader at large because my philanthropy's not just about writing checks, it's about building and supporting organizations. I come to it with a lens of restructuring; I have this unique ability to see where the easy and the difficult fixes are. I will come in and start digging through, and not in a high-handed way, but just as a teacher, a mentor, and a collaborator all to help shape and grow strong organizations.
If you think about it from just a capitalistic point of view, philanthropy is risk capital because we are not looking for financial returns. So, it's a great way to engage in projects, to engage in solutions spaces, which could fail, which is fine. You're never going to find solutions if you don't explore a few that fail and philanthropy is just the capital that can do that."
Unlike on Wall Street, Sinha operates through "trust-based philanthropy."
"I totally believe in trust-based philanthropy. I don't want to read a 60-page research report that took somebody six months to pull together because I gave them money. I am happy to pick up the phone and say, 'How are you doing? What do you need? And where have you seen the change and where have you made a difference?' That's all I need."
Today, Sinha chairs Women Moving Millions, a community of approximately 340 individuals who each make a minimum $1M commitment to organizations and initiatives benefiting women and girls, encouraging its members to use this form of assessing impact.
"At the end of the day, your impact is on people's lives. And how do you measure people's lives? It's about letting people live with dignity and letting people have that economic agency to make decisions that impact their lives and the life of their families and communities.
"And some of that is very difficult to measure from a purely investment statistic. Perhaps we can measure it when we encourage people to be investors with an impact or a gender lens. That's when you can ask wealth managers and investment portfolio managers to really prove that what your values are and what you would like to invest in are being showcased or realized."
Among her many philanthropic endeavors, Sinha created the Asian Women's Leadership University, which, as of early September, after 10 years of work, finally got its license.
"What started as a little kernel of an idea started snowballing and we got invited by the government of Malaysia to create Women's Leadership University in Malaysia in partnership with Smith."
Sinha, a major force in the world of philanthropy, holds on to her deep-seated belief, from watching her mother put rice aside for those who might need more, that philanthropy is not only for the super-rich.
"The whole idea of philanthropy being only for people who are rich is a fallacy. I think you can be philanthropic in so many ways. Using your time to lift someone up or being a helping hand to somebody is also philanthropy. It's the love of humankind. You can really express that in many ways, mentoring somebody, supporting someone, you could start with $25 or $5. It doesn't matter what the amount is. It's the thought and the action behind it. Also, I do believe that it is our duty to give back to the world that you're living in.
Everybody should be engaged in philanthropy, no matter what you have or don't have. It's about sharing. It's about coming from a place of abundance as opposed to thinking that resources are scarce, because they don't have to be."