Inside the Mind of a Quiet Philanthropist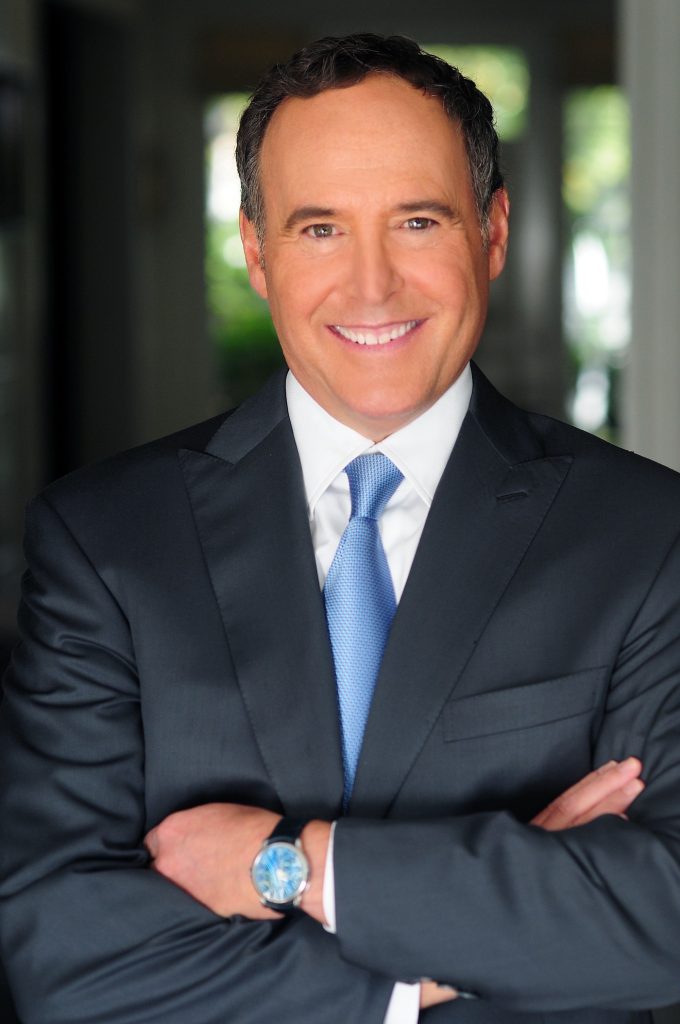 While you will often see him in the "pit" right in front of the stage at L.A.'s top nonprofit galas held at the Beverly Hilton, Cliff Gilbert-Lurie is neither ostentatious in his work nor in his giving.
As a managing partner at Ziffren Brittenham LLP, one of the city's most prominent law firms representing the entertainment industry, Gilbert-Lurie doesn't suffer for high-profile clients. His family's move a few years ago to Brentwood, however, came at the urging of his philanthropist wife, Leslie. Cliff and Leslie were about to become empty nesters, they were looking forward to a new adventure, and a move would be closer to Cliff's office. As it turned out, the move also placed them at the center of L.A.'s philanthropic world, where their home would become a venue for innumerable nonprofit fundraisers and political events.
While he says, in his characteristically humble way, that his role is typically relegated to that of "wine and beverage consultant," it has offered him a chance to "evolve," and become a "more thoughtful person."
So let's spend a little time getting into the mind of Mr. Gilbert-Lurie.
Q. Your wife, Leslie, is a very prominent local philanthropist. You too, albeit more quietly, support many causes whether that be serving on boards or giving. What are the causes that matter most to you and why?
A. I am mostly focused on the Alliance for Children's Rights, which is dedicated to protecting the rights and needs of children, whether legal rights, health care, or education. These issues are at the top of my list.
Our own children, and those of most of my friends and colleagues, are lucky to have loving families, and access to financial and other resources. Too many children in Los Angeles do not have these things, and they need outside advocates to help them reach their potential. My family has "adopted" the Alliance for Children's Rights as our "family" charity. Leslie helped to launch it, and over the years we've both been board chairs, and remain active in policy and fundraising. I support other charities and political causes, nationally and internationally, too, but the Alliance has a special place in my heart.
Q. You left your home in the Valley, to be in the epicenter of Los Angeles' philanthropic world. You have opened up your home to innumerable events in support of nonprofits that range from global human rights to those serving children here in L.A. How has that move shaped your thoughts on giving?
A. Living in the city has made it easier to attend and host events, but I'm not sure that it altered my view on giving.
Honestly, Leslie has been the primary influence in opening our home for our political and philanthropic work. She allows me to act as the wine and beverage consultant, however.
But in all seriousness, I've learned so much from the political leaders and policy experts who've spoken at our home over the years. We've hosted events for Human Rights Watch, Kamala Harris, Gavin Newsom, Vision to Learn, Ted Liu, Facing History, Democratic Senate Committee, Joe Kennedy, Karen Bass, the Alliance, UCLA, John Hopkins, and The Rand Corporation, just to give you a flavor of the types of events we've welcomed.
It's been mind-opening. Sort of like having mini-TED presentations in our backyard. It has engaged me and others as community members, and helped me evolve into being a more thoughtful person.
Q. You collect stamps, love show tunes and model trains. How have these passions bled into your giving?
A. Ha! You forgot to mention astronomy.
I'm by nature a passionate and curious person, and that bleeds into everything I focus on. Once I'm locked in, I try to deliver 100%. I try to bring that same energy and focus to my board and charitable work. So I limit the amount of boards on which I'll serve, to make sure I have adequate time, focus, and energy to do a good job.
Q. How does a worthy nonprofit get your attention?
A. Usually Leslie or a trusted colleague or friend introduces me to a nonprofit or an urgent need. I'll listen, and if I'm moved, I'll think about whether I can be uniquely helpful and whether I have the time, focus, and financial resources to make a difference.
There are so many worthy causes, but I think if you spread yourself too thin, you aren't doing any of them the due they deserve.
Q. You are a co-managing partner at a major Los Angeles law firm. One that gives out grants, and regularly buys tables at galas and other nonprofit events. What should a nonprofit know before soliciting a law firm for gifts?
A. Key for us at Ziffren Brittenham is whether an honoree of a charity is a firm client, or whether one of our partners serves on the charitable board.
All my partners are very philanthropic; the firm matches their personal giving, up to certain limits. I'm proud to say our firm is the leader in giving amongst all the entertainment law firms; and I challenge our competitors to try to steal that crown from us!
Q. You have a chance to speak to L.A.'s donor community. What areas of need are you focused on in 2023 and where else would you like your peers to be looking, and donating?
A. Aside from the child welfare issues that I've mentioned, which will exacerbate under a recession and the lingering effects of COVID, I would focus on homelessness and climate change. In California, if we don't address climate change, wildfires, and water reclamation, we might all be moving eastward in the next five years!
Q. I know you consider yourself a philatelist, but do you even think of yourself as a philanthropist?
A. Well, for those of your readers that may not know, a philatelist is a fancy word for stamp collector; it literally means "lover of paper."
I consider myself philanthropic, but not necessarily a "philanthropist." "Philanthropist" sounds like a title I would consider when I hang up my spurs on my day job, and have more time to focus on raising money for worthy causes. Ask me again in another 10 years.