Innovations That Save Lives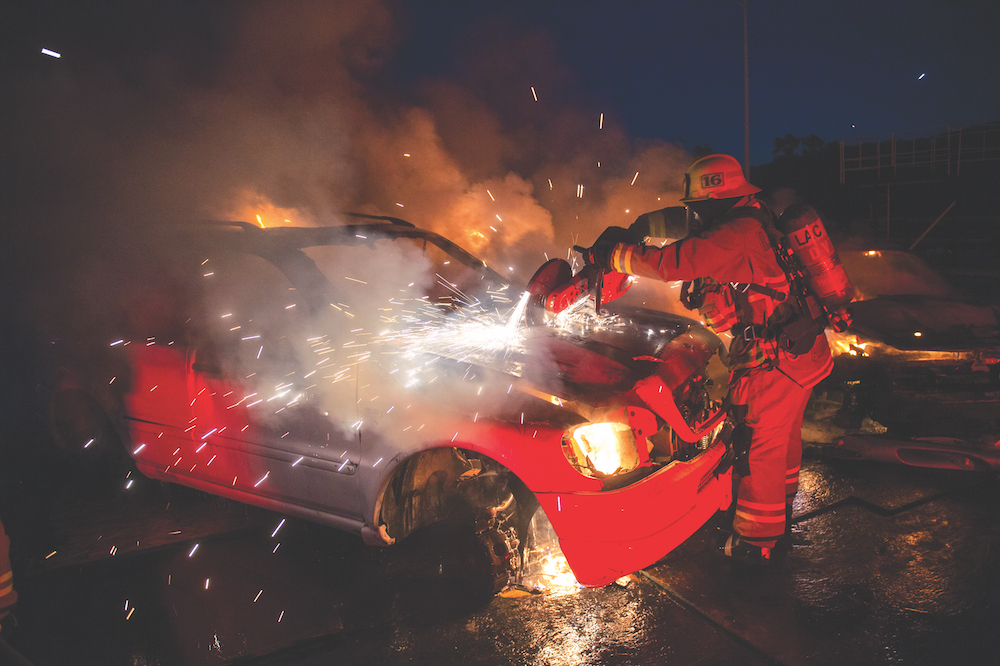 Los Angeles County is usually synonymous with entertainment, but the Los Angeles County Fire Department Foundation is giving Silicon Valley a run for its money in its commitment to innovation. Specifically, innovation that saves lives. 
The LA County Fire Department Foundation provides funding for Los Angeles County Fire Department needs that are not covered by its constrained government budget. This can include new beds for paramedics, new gym equipment for firefighters, or community preparedness classes. But, more often than not, the Foundation provides the County with resources and tools to innovate, something the LA County Fire Department knows a thing or two about.
The Fire Department invented the paramedic role to better serve the community. "Paramedics were not a thing in the 'sixties. In the 'seventies, we invented the paramedic and then helped NBC launch the TV show Emergency! to help people become accustomed to receiving medical services," Medical Director Clayton Kazan says. The problem, Dr. Kazan describes, is that the Los Angeles County Fire Department is evolving faster than government funding can keep up with.
The Los Angeles County Fire Department is one of the largest in the world: 177 fire stations, 162 lifeguard towers, an Air and Wildland Division with 10 helicopters and Task Force USA-2 – an international search and rescue team. With over 5,000 personnel, covering over 400,000 incidents per year, the fire department is stretched thin.
The Foundation fills those gaps. In the last 24 months, the Foundation has replaced old-fashioned jaws of life with modern equipment that can pull totaled cars apart faster – saving more lives. They also purchased 114 iPads in a single day, deploying telemedicine into disadvantaged communities during the pandemic providing the care people needed without transporting them to overcrowded hospitals.
"We're the button that makes innovation possible because our processes are simple; we can operationalize quickly," Foundation President Stacy Mungo Flanigan says with a smile.
And when things go quickly in the emergency field, it means more lives are saved.
Donate now!
supportlacountyfire.org
(323) 793-FIRE
Foundation President: Stacy Mungo Flanigan
Mission
The LA County Fire Department Foundation was formed to turn your donations into equipment and education that save lives.
Begin to Build a Relationship
We know you care about where your money goes and how it is used. Connect with this organization's leadership in order to begin to build this important relationship. Your email will be sent directly to this organization's director of development and/or Executive Director.
Help the County Breathe Easier
The Los Angeles County Fire Department Foundation has made it its mission to provide each paramedic unit with a mechanical CPR device by December 2023.
"We are trying to build a first-of-its-kind comprehensive cardiac arrest system in LA County, and it cannot be done without mechanical CPR devices," says Medical Director Clayton Kazan. Mechanical CPR devices are extra hands for paramedics to help them care for our sickest patients. While the program is in its infancy, there are already four confirmed survivors. "Our team is so proud that these four people were returned to their lives, their families, and their communities, completely intact, because the Foundation's donors provided the resources for us to pilot our vision.
"Government budgets are always based on paying for what has been established with no room for vision or innovation. My team is always saying, 'If only we had some room in the budget, we could do so much more.' That is why we are so grateful to the Fire Foundation and its generous donors," Dr. Kazan adds.