Destination Crenshaw is Transforming South L.A., and the Lives of its Residents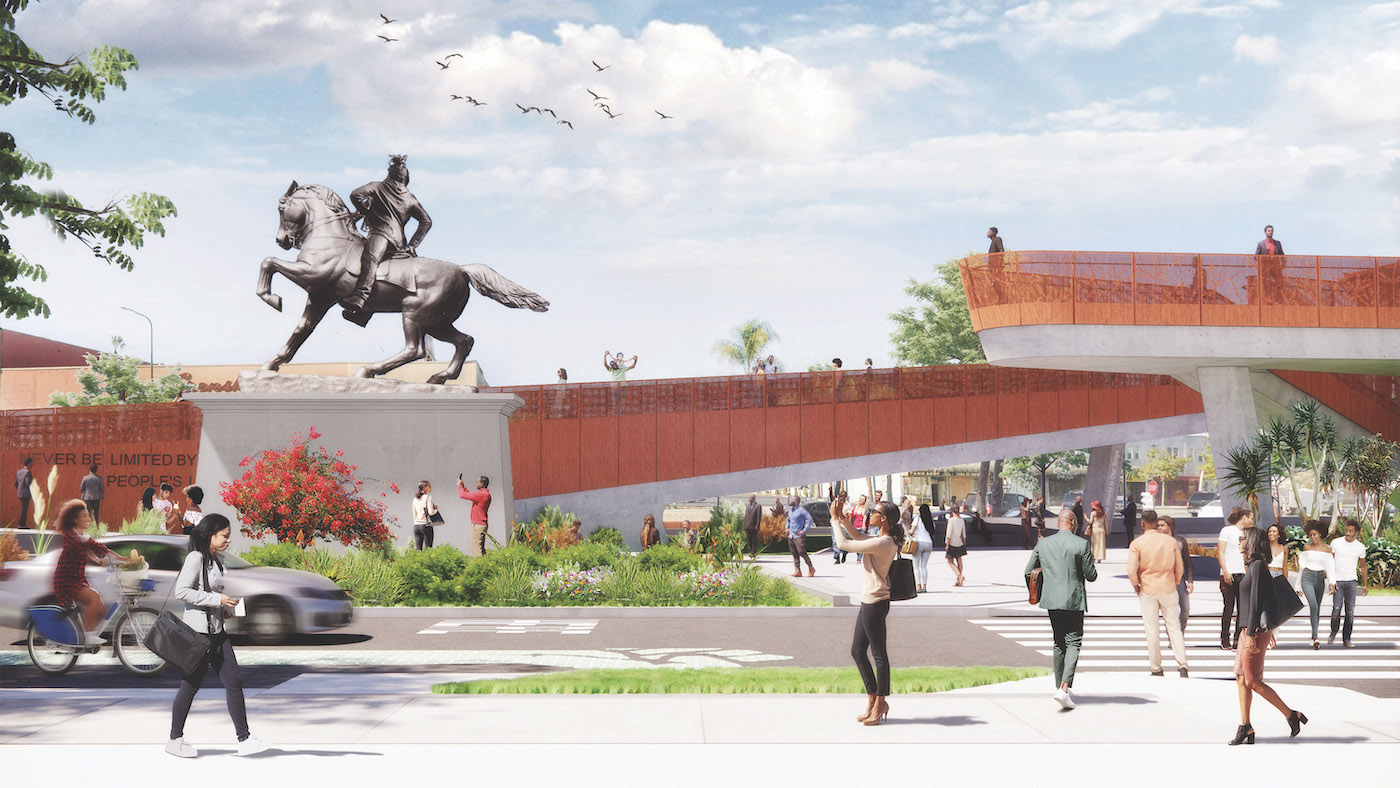 When a Metro light rail line running through Crenshaw Boulevard was announced years ago, it sparked fears of displacement and cultural erasure in this largely Black South Los Angeles neighborhood.
But community advocates, led by L.A. City Councilmember Marqueece Harris-Dawson, asked locals how they could benefit from the influx of visitors the Crenshaw/LAX line would bring.
That ultimately led to the creation of Destination Crenshaw (DC), a 1.3-mile cultural infrastructure project with a mix of community spaces, hundreds of trees and over 100 public art projects commissioned to Black artists along iconic Crenshaw Boulevard, the largest Black business corridor on the West Coast.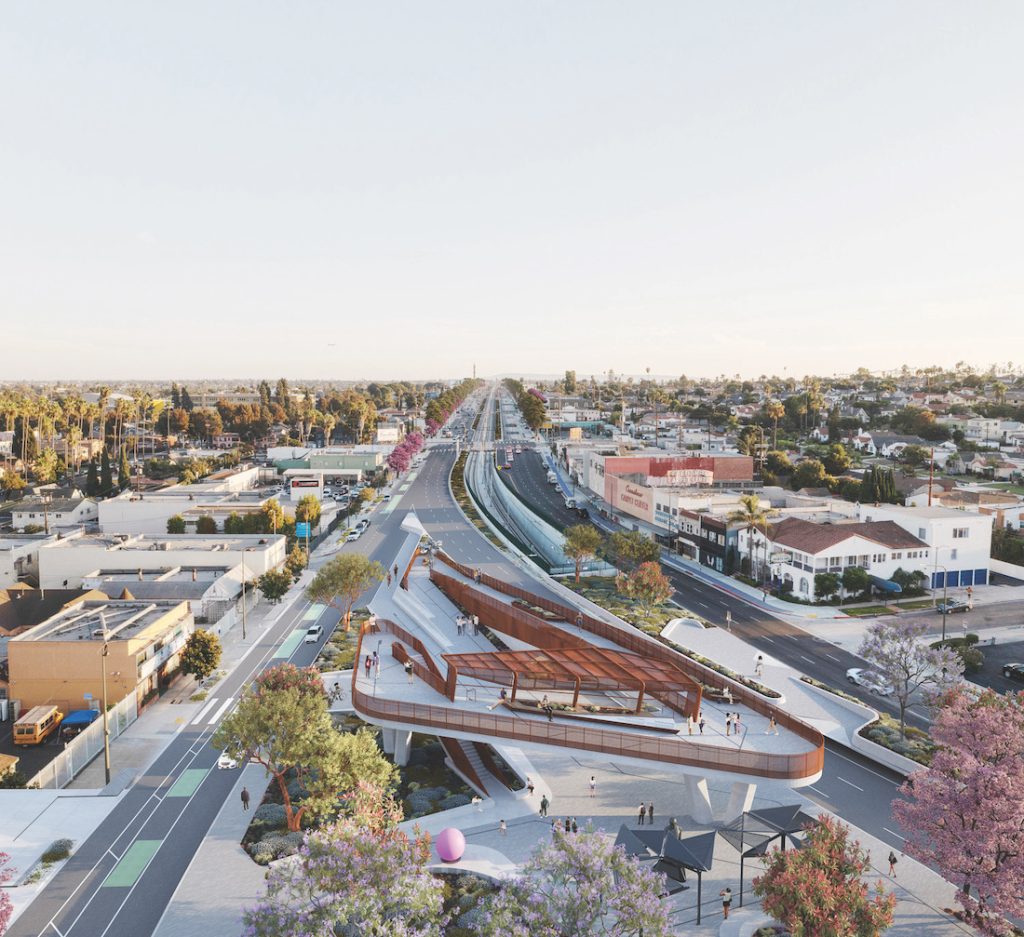 "The No. 1 challenge that all communities of color in South L.A. face is: How does this place get better but ultimately not push me out at the same time?" says Jason Foster, Destination Crenshaw's president and chief operating officer.
A key component of this revitalization project is its workforce development program, which launched with the start of construction in 2021. They're on track to meet the ambitious 70 percent local hire goal. This means hiring workers from western South Los Angeles, Los Angeles County, and specific areas of San Bernardino and Riverside counties.
The DC workforce development program's entry point for the program is through pre-apprentice programs that recruit and train people new to the construction trades, paying them a living wage, for programs that are typically unpaid to attend. Graduates work with the jobs coordinator, 2nd Call, to get placed with a construction project in the L.A. area, ideally through union sponsorship by a subcontractor on an active project. Once placed, Destination Crenshaw's goal is to bring them to work on their project along the boulevard.
"We're doing all we can to drive community residents to careers in construction, whether through new access, exposing them to a new career path, or reconnecting them to the trades," Foster says.
South L.A. resident James Morgan, an Army veteran who spent more than two decades in prison, has worked as a laborer and a sponsored apprentice on the Destination Crenshaw project.
"Beautifying the neighborhood helps the self-esteem of the community," Morgan says. "It makes me feel good knowing I can be a part of this instead of destroying the community."
The K-Line was opened to the public in October 2022 and the revitalization project will be by mid- 2023.
"This is about how we can put more people in the Crenshaw community in front of the changes, to be able to positively benefit from this increasing amount of investment," Foster says.  
Donate now!
www.Destinationcrenshaw.la
(323) 652-4698
President and COO: Jason Foster
Mission
Destination Crenshaw is a reparative development project and will be the largest Black public art project in the U.S. and quite possibly the world. Ultimately, the project will commission more than 100 works by Black artists who have strong ties to Los Angeles, creating a pipeline of work and jobs for emerging, seasoned and internationally renowned artists. But the project is so much more than art. It's mission is nothing less than to place a cultural stamp of Blackness on Crenshaw Boulevard – a stamp akin to those in Chinatown, Mariachi Plaza, Koreatown and other ethnic enclaves.
Begin to Build a Relationship
We know you care about where your money goes and how it is used. Connect with this organization's leadership in order to begin to build this important relationship. Your email will be sent directly to this organization's Director of Development and/or Executive Director.
Destination Crenshaw has allowed me to grow my business and plan for future visitors to the Crenshaw community.
Improving South L.A. and the Career Paths of Its Residents
Destination Crenshaw is seeking $400,000 in the coming year to expand its workforce development program with an eye toward hiring even more locals.
Funds would allow the nonprofit to recruit up to 100 more workers into its pre-apprentice program, enable more workers to apprentice on its revitalization of Crenshaw Boulevard, and place more people on construction projects throughout the region.
"We have to acknowledge that to improve our community, we have to also improve the opportunities to access careers for our residents," says Jason Foster of Destination Crenshaw, who's also a resident of South L.A. "In the midst of these ever-increasing costs of living in our city, DC's approach is to focus on permanence for our current residents."
Key Supporters
Public Donors include The City of Los Angeles, the State of California, the U.S. Department of Housing and Urban Development, and METRO.