Deploying Assets for Impact: Putting Values into Practice
BJ Goergen:
Maloney Global Head of the Philanthropy Centre,
J.P. Morgan Private Bank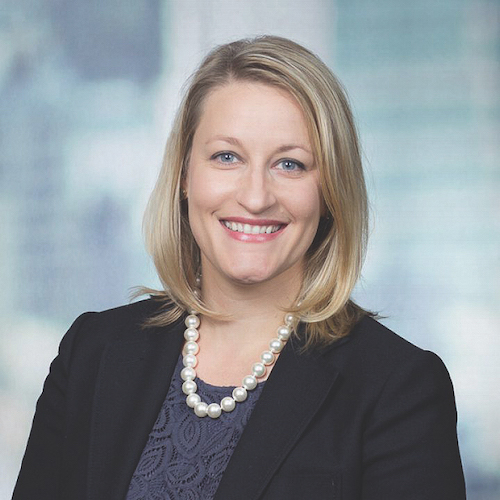 In addition to building a global powerhouse armed with specialists in investing, banking, lending, wealth management, and estate planning, JPMorgan Chase & Co. has assembled a world-class team dedicated to helping its Private Bank clients maximize their philanthropic impact.
"It is part of the broader financial relationship," says BJ Goergen Maloney, global head of the Private Bank's Philanthropy Centre. "We take the philanthropy piece of that journey so clients can put their values into practice."
Journey is an important word for Maloney. J.P. Morgan Private Bank created the Philanthropy Centre as a resource for the full spectrum of Private Bank clients, from those who are "getting started on their philanthropic journey" to longtime benefactors "who want to take their generosity to the next level," Maloney says.
Just as the Private Bank offers clients access to bespoke financial research and investment opportunities, Maloney's global team works with clients and their financial advisors, providing thought leadership and best-practices research, guidance on setting goals, and structuring charitable-giving entities, as well as the vetting of and introductions to nonprofit organizations.
"We talk a lot with clients about how making an impact requires having a goal," she says. "And about moving from giving just to organizations that approach you or that you know to spending time thinking about: 'What do I want to move the needle on in my lifetime? Where do I want to invest my time and resources more intentionally?' That tends to lead to a lot of satisfaction."
Maloney brings experience in nonprofit law, international development, and public-private partnerships after stints running a family foundation and working in the State Department and White House.
The Philanthropy Centre has become a force multiplier that serves giving writ large, not just its clients. Working with the National Philanthropic Trust, the Centre created a portal for donor-advised funds to access and then wire funds to nonprofits.
"We're doing things like that to make giving easier and faster," Maloney says. The Centre is also investing in a digital platform to encourage collaboration among clients through data sharing about nonprofit strategies and outcomes.
The Private Bank connects donors with J.P. Morgan's prized network of clients and contacts, as well. In addition to webinars on subjects like the psychology of giving and how to be a more effective nonprofit board member, the Centre curates events where Private Bank clients can learn from leading philanthropists and meet peers who share an interest in a particular issue – and perhaps a desire to collaborate.
The expansion comes amid two encouraging trends in philanthropy that play to the strength of the Private Bank's holistic client services. One, in particular, is taking hold on the West Coast. "People want to have impact across their whole lives," from how they run their businesses and how they get involved in the community to how they invest and give away their money, Maloney says. "It's a different conversation than it used to be around charitable dollars because it's not just about charitable dollars anymore."
The second: "People are accelerating their giving," she says. "They're giving more away while they are living, rather than as part of an estate plan or an afterthought at the end of their lives."
The decision by major philanthropies, such as the Gates Foundation, to set target dates for spending resources and The Giving Pledge, a commitment from more than 200 of the world's richest people to donate most of their wealth to philanthropy, catalyzed this trend. Also, tech entrepreneurs are retiring earlier, and millennials are donating to charitable causes. Heirs on boards of family foundations are saying, "'Let's make bigger bets on organizations we care about and trust,'" Maloney says.
"It's really important for givers to find a way to keep the joy in the journey and spend time either with an organization they're supporting or communities that are benefiting from their gifts," Maloney says. "That's where the real magic happens."