Challenging Los Angeles to Do More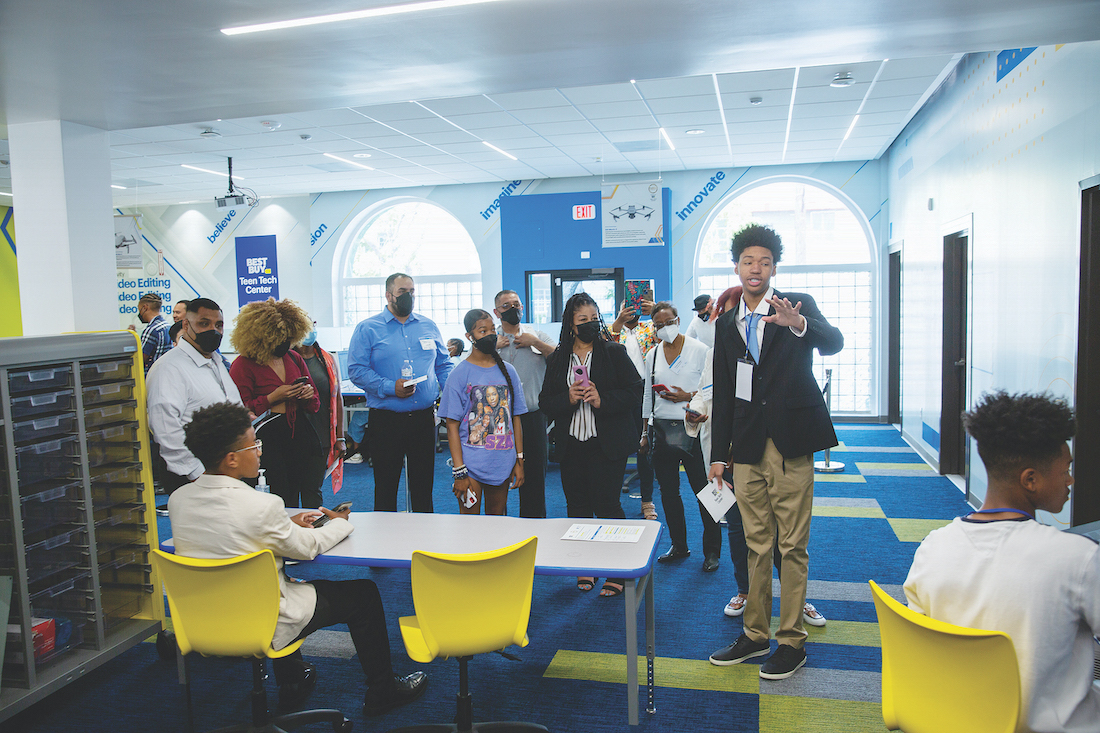 Los Angeles is rife with challenges. Meeting those challenges requires people and institutions willing to step up. For the Annenberg Foundation, that willingness is embedded in its DNA.
From the environment to housing and harnessing the incredible burgeoning of the tech industry locally, the Foundation has developed a successful strategy to gently, but clearly, challenge partners across the public and private sector into joining hands to accelerate change.
April 2022, Earth Day, was case-in-point. Political leaders including Governor Gavin Newsom, Senator Alex Padilla, and Congressman Ted Lieu had joined other electeds, nonprofit leaders, and foundation staff for the groundbreaking for the Wallis Annenberg Wildlife Crossing. The crossing, spanning the ten lanes of the 101 freeway near Agoura Hills, is a monumental public-private partnership to protect and restore wildlife habitats in Southern California, and one which wouldn't be anywhere near construction if it weren't for the Annenberg Foundation and its leader Wallis.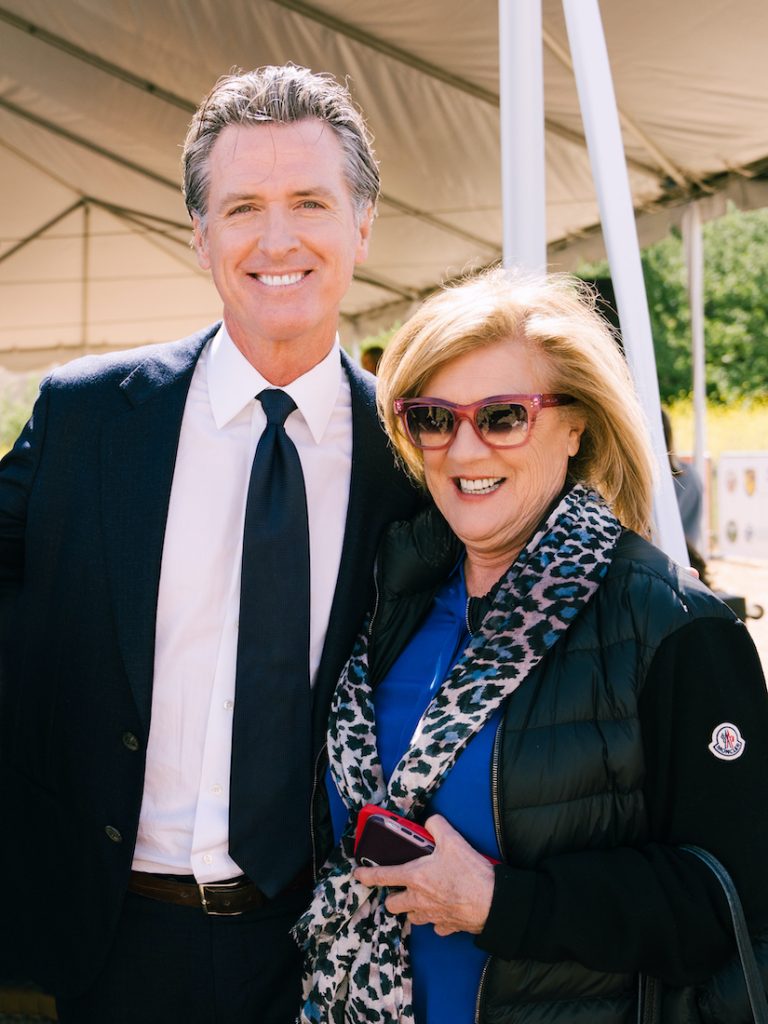 Cinny Kennard is the foundation's executive director. Having spent most of her career as a journalist, Kennard is averse to hyperbole, but can't help to underscore the power of that ceremony.
"It was a moment in California history that I was proud to be a part of, that Wallis was proud to be a part of," she says. "It was just all of us together. No bickering. Just getting it done. The most wonderful part of this great Annenberg philanthropy story is we didn't do it alone. We had partners in every shape and size, and that was everything to making this happen, so California could be an example. It was a great, great thing."
It all started in 2016 when the National Wildlife Foundation (NWF) and CalTrans proposed a massive corridor across the 101 freeway in Agoura Hills to provide wildlife with a safe place to cross into other habitats.
Wallis Annenberg, steeped in a philanthropic tradition bent on taking big bets and bringing friends along for the ride, put up $1 million for a challenge grant.
"There's a reason I wanted to support this crossing and issue this challenge: We need to move beyond mere conservation, toward a kind of environmental rejuvenation," Annenberg said. "Wildlife crossings are powerfully effective at doing just that – restoring ecosystems that have been fractured and disrupted. It's a way of saying, there are solutions to our deepest ecological challenges, and this is the kind of fresh, new thinking that will get us there."
The initial challenge drew some $10 million in donations, but Annenberg and the Foundation were far from done. In 2021, they issued a record-breaking $25 million challenge grant to the NWF, dubbed the "Conservation Challenge Grant." The funds raised were not only enough to fund construction, but moved up the timeline to that fateful Earth Day – three years earlier than planned.
While the $25 million challenge is currently the largest such investment to date, it is far from a first for the Foundation.
In 1993, the Foundation, still led by founder Walter H. Annenberg, launched the unprecedented $500 million Annenberg Challenge for School Reform, which inspired public school reform in eighteen sites across the nation. This initial investment catalyzed more than $600 million in matching grants, and led to major reforms in school districts across the county.
Unlike many private foundations with a dozen or more board members, Annenberg's is composed of Wallis and her three adult children, Lauren Bon, Gregory Annenberg Weingarten, and Charles Annenberg Weingarten. This, Kennard says, allows the foundation to be extremely nimble and able to meet the pressing needs of the day.
While many foundations still struggle to use their endowments as a vehicle for positive social change, Annenberg's Board carved out $15 million more than 10 years back to ensure that the Foundation used all of its tools for impact. They came up with "three pillars" to drive those investments: equitable access to capital, diversity in leadership, and Los Angeles.
With a deepening housing and homelessness crisis ravaging the city despite significant public investment, the Foundation made a $2.5 million investment in SDS Capital Group's Supportive Housing Fund, which eschews public funding on the front end, and is building more than 1,000 units for unhoused Angelenos, fast.
In this case, the opportunity was brought to Annenberg by the Weingart Foundation, illustrating just how willing the Foundation is to forge meaningful partnerships. "The good thing that happens around investments like this is you have a foundation with good experience, so it's colleague to colleague sharing to say, 'This would be a good investment.'"
To wit, Annenberg helped to get SDS's fund fully capitalized and it's now building new housing every day.
But the Foundation is not only focused on the crises playing out today; it is always in search of opportunities to build a better L.A. for tomorrow.
In the mid 2010s, Kennard recalls how Los Angeles was increasingly becoming a hub for the tech industry.
"L.A. evolved into a tech ecosystem that was looked upon by everyone in the country, and arguably the world, as a place where there was exponential growth in tech," Kennard says. "Wallis and I said to each other, 'My God, the city is changing. What can we do as a philanthropic organization in this community to connect the tech wealth to those that need access and opportunity to it?'"
In 2018, the Annenberg Foundation, the Office of Mayor Eric Garcetti, and local venture capital (VC) and tech firms started convening tech industry leaders to ensure that the industry was not only benefiting itself, but the city as a whole.
This evolved into PledgeLA, a collective of over 200 VC firms and tech companies focused on growth in diversity, equity, and community engagement each year. The hallmark is an annual report that highlights opportunities and pain points to help create a more inclusive local tech and venture ecosystem.
Kennard calls this work "pathfinding," setting the bar for where the field is and where it needs to be.
To lift up talent in a deeply neglected part of the city, the Foundation, alongside big names like the Hilton Foundation, Tony Pritzker, and Magic Johnson, launched the South LA Founders Fund, which is providing capital to startups led by Black and Latino founders from that community.
"The city changed," Kennard says, "and Annenberg wanted to evolve and be there to help as it did."
Donate now!
annenberg.org
(650) 823-4575
Media Strategist & Writer: Alex Gilliland
Mission
The Annenberg Foundation is a family foundation that provides funding and support to nonprofit organizations in the United States and globally. The Foundation and its Board of Directors are also directly involved in the community through innovative projects that advance public well-being, spark new ideas, and spread knowledge. The Foundation is committed to core values of responsiveness, accessibility, fairness, and involvement.
Begin to Build a Relationship
We know you care about where your money goes and how it is used. Connect with this organization's leadership in order to begin to build this important relationship. Your email will be sent directly to this organization's Director of Development and/or Executive Director.
The Annenberg Foundation was instrumental in making this public-private partnership a reality. The Foundation provided the financial momentum to get this visionary project off the ground and the sustained support and strong partnerships continue to foster excitement and global interest from local LA funders to international philanthropists. The Annenberg Wildlife Crossing has become a model for others committed to protecting wildlife and creating a legacy of conservation in California and beyond.