Everyday Heroes in Ukraine Rescue 14,000 Children and Families with Support of Children's Charity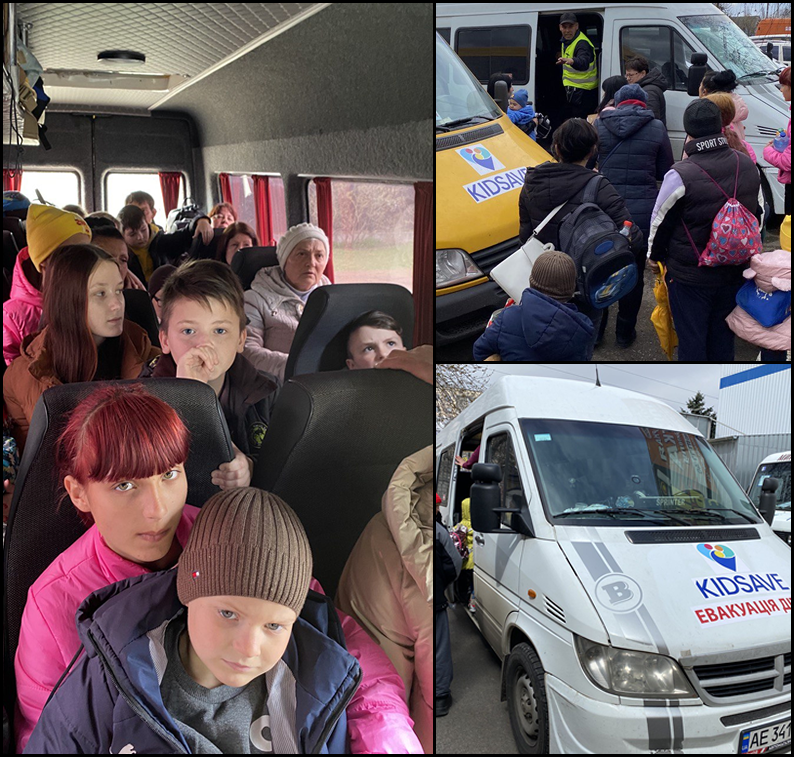 Evacuees in Ukraine call Kidsave's team there "Angels of Hope." What started as a small, rag-tag group of civilians, orphan advocates, volunteers, truck drivers, regular people has grown into a team of 65 on the ground expertly rescuing more than 14,000 women, children, and elderly out of war zones. The team answers calls 24-hours a day from desperate civilians whose neighborhoods were just bombed. They make 1200-mile treks into the most dangerous areas to save as many children and families as possible. They are one of the only groups still rescuing from these areas.
Pavlo Shulha, Kidsave Ukraine director and mentoring association president, leads the team there. "Cities in Mykolaiv, like Snihurivka and Bashtanka, are constantly under fire. Women, children, and babies have been living in basements without power, water, and heat for two weeks now. After we fill all our buses and vans, more people pull on the door handles, begging us to get on board," says Shulha.
After the firsts Russian attacks, Pavlo's whole world completely changed. A husband and father of nine (one biological child and eight fostered orphans), his career was spent as an advocate for orphaned children. He and his wife Olena led Kidsave's pilot program to move orphans out of institutions and into family-based care and corporate mentoring to prepare them for the working world.
On February 23, his only priority was to get 117 people, made up of orphans Kidsave served and their new families, out of the line of fire. Pavlo called his friends, and they loaded up their vehicles and borrowed utility vans to get these families to smaller villages. This team hasn't stopped since.
Today, Pavlo and Kidsave have worked for two months, with little to no sleep, leading a fleet of over 40 purchased and rented passenger vehicles. Through the support of public donations, Kidsave's team can now rescue 1150 at one time. The goal is to expand this fleet and move as quickly and discreetly as possible, says Pavlo.
"I never imagined I would be doing this work. Some of the things we've seen on our trips have hurt too much to tell. But, we have to keep going back. They have no means to escape without us. We can't stop."
Kidsave's team has no plans of stopping anytime soon and will be there for the long haul. Kidsave's goal is to bring orphans and children back to Ukraine one day soon and resume work finding children loving homes in Ukraine.
Background:
Kidsave's Ukrainian Rescue Efforts to Date:
Kidsave has been working in Ukraine since 2016, facilitating training, corporate mentoring, and family finding for older children and teens, so when crisis struck, Kidsave acted immediately.
On February 24, 2022 Kidsave began evacuating children and families out of active combat zones.
Since then, Kidsave has helped more than 14,000 people get to safety. More than 8,000 are children.
Since evacuations started, we've evacuated children from 10 orphanages.
Kidsave's rescue efforts began with three team members, their friends, and their own personal cars. Since then, the team has grown to well over 65 committed drivers and volunteers and a fleet of 40 vehicles to evacuate children and families, providing humanitarian aid.
Kidsave's team and volunteers on the ground have been making 1,200-mile trips back and forth, traveling in dangerous conditions through Mykolaiv, Kherson, New Odesa, Ismail, and more cities, for days at a time.
Kidsave has safely delivered people to the borders of Poland, Moldova, Slovakia, Czech Republic, Romania, and Germany.
Kidsave's Ukraine team has also delivered 150 tons of humanitarian aid collected from other NGOs and volunteers at the border to hospitals and rehab centers while en route back to the regions to rescue more people.
After Evacuation
Kidsave's work does not end with evacuation. Kidsave has set up a hotline for psychological assistance and counseling to provide continuing support. In addition to providing shelter, food, and necessities, Kidsave is also partnering with churches and other organizations to help them feel as safe and comfortable as possible once they cross the border.
Our top priority is to get children living in institutions out of danger zones. Kidsave has been cleared to move children from orphanages to safety. By law, the regional governors and child welfare staff must determine when children can leave the country and where they will go once they are out of Ukraine.
The Ukrainian Government has halted all international adoptions to keep children as safe as possible.
Kidsave will continue working in Ukraine after the war and help children return to families where possible, and find new families when no opportunities exist with kin.
Who is Kidsave?
Kidsave is a 501(c)(3) non-profit committed to helping older children in foster care in the United States and orphans around the world find permanent families since 1999.
Kidsave runs domestic, Weekend Miracles programs in the U.S. to find adoptive families and lasting connections for older kids in Los Angeles and Houston. 7 out of 10 kids exit the program with a lasting connection or permanent family. Kidsave also runs a Summer Miracles Hosting program bringing older children with no adoption prospects in Colombia to the U.S. over the summer and winter. 8 out of 10 children find adoptive families.
20 governments in 6 countries and more than 50 child placement agencies use Kidsave's Family Visit model.
Funds for Kidsave Ukraine
These rescue efforts are possible because of donations from the public. More funds are needed to continue to evacuate children and families out of active combat zones,
All donations made to Kidsave go directly towards this effort as the organization desperately tries to save children and families before it is too late. Evacuation windows are closing as bombings become more intense, and there are still thousands of civilians—thousands of children—trapped in Ukraine.
Donate now!
Kidsave.org
(310) 642-7283
CEO and Co-Founder: Randi Thompson
Mission
Kidsave helps find forever families for older kids in foster care and orphanages so they can thrive in a home filled with love, support and encouragement.
Begin to Build a Relationship
We know you care about where your money goes and how it is used. Connect with this organization's leadership in order to begin to build this important relationship. Your email will be sent directly to this organization's director of development and/or Executive Director.
We joined thinking, 'These kids are older, maybe they don't need parents,' but I was wrong; these kids need family, they need permanency, and we want to be there for them at all stages of their life.
50 Opportunities to Keep Kids from Aging Out Alone
The road from Los Angeles to Crestline quickly takes you out of the throbbing metropolis, thousands of feet up, into a different world. One many of the foster youth who attend Camp Connect have never seen.
Over three days, 50 or more young people enjoy the outdoors and have group discussions where they explore the idea of being adopted.
For many older foster youth, the system's plan is for them to "emancipate," a strange euphemism for exiting the system alone, left to fend for themselves. Instead of freedom, one quarter will experience homelessness within two years.
Kidsave wants to send another 50 young people up the mountain again in 2023 at a cost of roughly $50,000. The L.A.-based nonprofit has secured $25,000 in matching funds, meaning your gift will be doubled.
When asked why a donor should step up, Kidsave CEO and President Randi Thompson says: "Here's your chance to make a direct impact. Your gift will expose them to a new way of thinking, in the peace, tranquility, and safety of a camping trip. You can give these kids a weekend that will change their lives."
Key Supporters
Ahmanson Foundation
California Foundation for
Stronger Communities
County of Los Angeles
Max and Karel Guefen Foundation
The Hicker Family
David and Janyce Hoyt Foundation
John Gogian Foundation
Leonard Green Foundation
M B Seretean Foundation Inc.
Max and Karel Guefen Foundation
Ralph M. Parsons Foundation
Venable Foundation, Inc.