Butterflly App Available to CLC Clients at No Cost!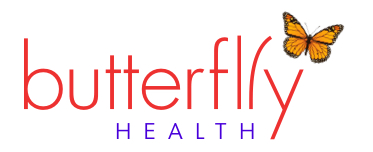 The mental health and wellness app offers digital tools to manage stress, build resilience, and combat the unprecedented mental health crisis among children and youth in foster care.
CLC is excited to announce a new and innovative pilot project with Butterflly, a mental health and wellness app that delivers culturally responsive, intersectional, and evidence-based care for teens and adults experiencing stress, anxiety, and depression. The Butterflly app provides one-on-one texting with a mental health coach, peer support groups, mood tracking and assessment, and referrals to mental health providers in the community. Clients can easily download the Butterflly app on their smartphone, computer, or tablet.
This winter, the U.S. Surgeon General Dr. Vivek Murthy issued an advisory highlighting the urgent need to address the mental health crisis among our nation's youth – a problem exacerbated by the pandemic and creating significant challenges for children and youth in foster care – 80% of whom enter the foster system already struggling with a significant mental health need.
"Mental health challenges in children and young adults are real and widespread. Even before the pandemic, an alarming number of young people struggled with feelings of helplessness and depression," said Dr. Kevin Jervik, Ph.D., Mental Health Consultant and leader of CLC's Mental Health Advocacy team. "The pandemic further disrupted their experiences at home, school, and in the community. The effect on their mental health has been devastating."
"We're proud to partner with Butterflly to increase accessibility to digital mental health tools and promote culturally competent wellness practices," said CLC Director of Diversity, Equity, and Inclusion Phyllis Stricklan. "Together, we hope to support our young clients ease stress, and build resilience."
"Butterflly is passionate about serving the mental health needs of underserved and BIPOC communities," said Rodney Bell, Founder, President & CEO of Butterflly. "Our all-in-one mobile health app focuses on individual and collective strength to help individuals reach their goals. We believe it is a great tool for CLC's clients to build life-changing skills to reduce anxiety, be more resilient, and prioritize self-care."
This first-of-its-kind collaboration with Butterflly reflects CLC's ongoing commitment to fostering mental health and wellness among our clients, families, and caregivers. CLC is honored to be Butterflly's first community-based collaboration and is grateful that our clients will have innovative telehealth services and digital self-care tools at their fingertips.
About Butterflly
Based in Los Angeles, Butterflly is an inventive behavioral health app providing trauma-informed, strength-based care. The app utilizes peer groups (collective care), individualized one-on-one coaching, and a culturally centered empowerment kit focused on intersectionality, trauma-informed principles, and wellness to improve mental health outcomes for under-resourced and diverse populations.
About Children's Law Center of California
Children's Law Center of California (CLC) provides skilled legal representation for abused and neglected children and youth under the jurisdiction of the dependency court. CLC is the largest children's legal services organization in the nation, advocating for over 33,000 children and youth in foster care in Los Angeles, Sacramento, and Placer counties each year.
Donate now!
www.clccal.org
(323) 980-1538
Executive Director: Leslie Heimov
Mission
Children's Law Center of California (CLC) is a non profit, public interest law firm that provides legal representation for tens of thousands of children impacted by abuse and neglect.  We provide an unparalleled level of expertise in and out of the courtroom. Our highly skilled, passionate and committed attorneys, investigators, and support staff fight to ensure the well-being and future success of our clients through a multi-disciplinary, independent and informed approach to advocacy. We are a powerful voice for our clients fighting for family reunification, permanence, educational opportunity, health and mental health services, self-sufficiency and overall well-being.  We are a driving force in local, statewide and national policy change and child welfare system reform. 
Begin to Build a Relationship
We know you care about where your money goes and how it is used. Connect with this organization's leadership in order to begin to build this important relationship. Your email will be sent directly to this organization's director of development and/or Executive Director.
While navigating the complicated layers of the child welfare system, my wife and I learned about CLC and their incredible advocacy for youth in foster care. We support CLC because we are passionate about making contributions that will last and will impact as many children as possible. The unfortunate fact is that CLC's clients have so many unmet needs, and they need your help to reach the tens of thousands of youth they represent.

A $2500 Gift
Children's Law Center of California's multidisciplinary advocacy enables the nonprofit law firm to protect and promote the well-being of its clients, especially those in need of urgent involvement. CLC offers intensive care and support for young parents and those about to become parents in foster care. Through relational legal advocacy, its new prevention project can address obstacles that may arise for a young parent. From securing diapers and blankets to helping parents set up childcare or other support, CLC strives to prevent more children and families from entering the foster care system. As of July, this project served nearly 170 clients. Your gift of $2,500 would help CLC expand this vital program, helping to break the foster care cycle, one young family at a time.
Friends of CLC
Samson Mengistu
Roland and Sally Kelly
Joseph and Jean Mandel
California Community Foundation
American Business Bank
Tyler Childs and Caitlin Youngs
Benjy Grinberg and Ellen Goldberg
Conrad N. Hilton Foundation
Reissa Foundation
The Barry and Wendy Meyer Foundation
The Durfee Foundation
Dario Frommer
Samuel and Helene Soref Foundation
Neal Kaufman, MD, MPH
Dara and Conan Barker
Chay and Kim Lapin
Ralph M. Parsons Foundation
Sacramento Region Community Foundation
Perkins Coie LLP – International Law Firm
Majestic Realty Foundation