We Just Launched Our Gun Store Transparency Project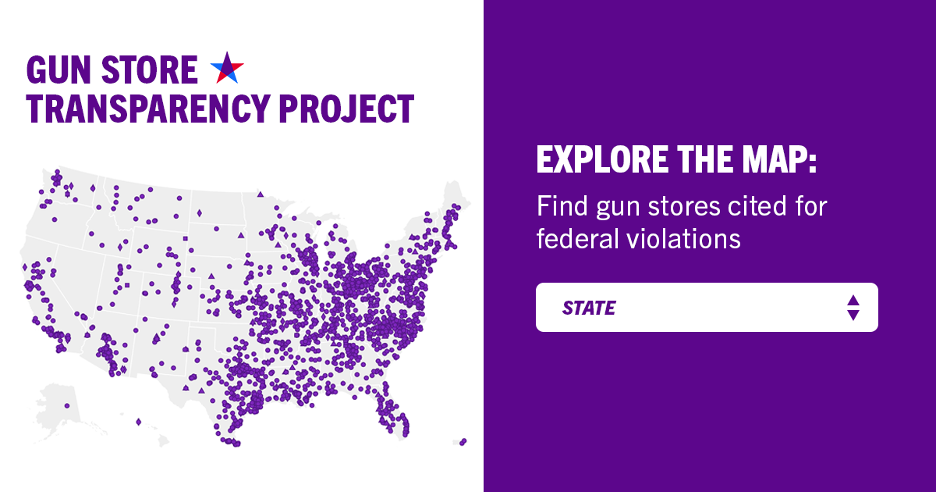 The largest database of ATF gun store inspection reports ever released to the public, exposing gun stores cited for breaking the law
We spent years filing Freedom of Information Act (FOIA) requests and fighting in court to secure thousands of pages of federal gun dealer inspection reports — which we have now mapped and made available to you at GunStoreTransparency.org.
Type in a zip code and find gun dealers that have been cited for violations in your community and across the country.
The Gun Store Transparency Project ensures that the American public will no longer be kept in the dark about businesses that contribute to gun violence in their communities, including whether federal authorities are failing to hold them accountable.
Please consider sharing this new resource on social media.
Thank you for joining Brady in taking action, not sides, to create a safer America free of gun violence.
[Share on Twitter] [Share on Facebook]
Brady Publishes Largest Searchable Database Of ATF Inspection Reports Ever Released To The Public
Brady's Gun Store Transparency Project Includes Over 2,000 ATF Gun Store Inspection Records Illustrating Why Improved Oversight And Regulation Of Gun Dealers Is Critical
Today, Brady launches the largest searchable database of ATF Inspection Reports ever released to the public. Brady's Gun Store Transparency Project, found at GunStoreTransparency.org, contains 2,212 reports from the U.S. Bureau of Alcohol, Tobacco, Firearms and Explosives (ATF), where ATF took administrative action against federal firearms licensees found to be in violation of the law. Users can visually explore this data, viewing documents by geographic location, by violation type, and by year. This site is a living project that will be updated with new reports and information that Brady continues to receive from ATF.
Brady President Kris Brown shared:
"This database reveals that when ATF inspects gun dealers and finds serious violations, it rarely takes decisive action to reform or shut them down. Americans, and particularly Black and Brown Americans, pay for this lack of enforcement with their lives. The information in this database is even more important after a year of record-setting gun violence – violence that we know is fueled by easy access to guns that are negligently or willfully sold unlawfully by gun dealers.
By making public ATF gun dealer inspection reports we can spotlight the role that meaningful inspections and enforcement can have in reforming the bad actors in the industry and uplift the important actions of the overwhelming majority of gun dealers who follow and go above and beyond the law in order to keep gun owners and our communities safe.
Brady fought in court for these records, and they are now the property of the American public through Brady's database. Our hope is that every lawmaker, reporter, and researcher uses this site to help improve inspections. This is a clarion call to federal leaders to act; to state and local leaders to act; and to all of us to pay attention to the common-sense solutions we can implement right now to save lives."
Brady Senior Counsel and Director of Programs Josh Scharff shared:
"The gun lobby has worked for decades to stop the publication of valuable data about the sources of crime guns, and also to weaken federal efforts to inspect, reform, and enforce the law against firearms businesses that choose profit over public safety. These inspection reports provide new insight into some of the businesses that have not followed the laws designed to ensure the safe transfer of firearms and combat illegal gun trafficking, as well as what, if anything, the federal government is doing about it. The public owns and has a right to this information. If our nation is going to end gun violence, we must address the supply of crime guns and meaningfully act to prevent guns from flowing into the criminal market and then into our communities. Brady's project will help to shed a light on the need for urgent reform, action, and modernization. When over 100 people every day die from gun violence, taking action to enforce the law through improved gun store inspections must be a top priority for every elected official at every level of government nationwide."
About Brady's Gun Store Transparency Project:
Brady has been defending the victims of gun violence in court and pushing for comprehensive and effective federal, state, and local oversight of the gun industry for decades. Beginning in 2017, Brady filed Freedom of Information Act (FOIA) requests to obtain federal inspection reports where ATF took administrative action against gun stores cited for violating the law. Ultimately when the records were not produced by ATF, Brady took action in court to force production and has received over 55,000 pages to date of these reports. This database includes and builds upon the documents used in investigations conducted by USA Today and The Trace in 2021, The New York Times, the San Francisco Chronicle, and others. This database is the most comprehensive and detailed collection of ATF inspection reports ever released publicly, and will continue to grow as Brady obtains new reports from ATF.
Fast Facts About The Documents And Data On This Site:
● 2,212 ATF inspection reports obtained and processed by Brady
● 130,525 active federal firearms licensees, as of Fiscal Year 2020.
● 5,827 firearm compliance inspections conducted by ATF in Fiscal Year 2020
● 0.7% of licensees inspected in Fiscal Year 2020 had their licenses revoked
Brady has one powerful mission — to unite all Americans against gun violence. We work across Congress, the courts, and our communities with over 90 grassroots chapters, bringing together young and old, red and blue, and every shade of color to find common ground in common sense. In the spirit of our namesakes Jim and Sarah Brady, we have fought for over 45 years to take action, not sides, and we will not stop until this epidemic ends. It's in our hands.
Donate now!
www.bradyunited.org
(202) 352-2434
Chief Development and Engagement Officer: Liz Dunning
Mission
We're uniting people from coast to coast, liberal and conservative, young and old, fed up and fired up, to end gun violence.
Begin to Build a Relationship
We know you care about where your money goes and how it is used. Connect with this organization's leadership in order to begin to build this important relationship. Your email will be sent directly to this organization's Director of Development and/or Executive Director.
I'm proud to support Brady's groundbreaking Show Gun Safety campaign to be more intentional about how guns are portrayed on screen. We in the creative community must do our part to create a safer America free of gun violence — and that change can start in the characters we create and the stories we tell.
Seatbelts in TV Shows Saved Lives – Let's Do the Same by Showing Safe Use of Guns
Brady is raising $1,000,000 to fund the national expansion of our Show Gun Safety Culture Change campaign in 2024. Cultural attitudes and behaviors around smoking, drunk driving, and seatbelts have all evolved due in large part to the powerful influence of film and television. We're taking on gun safety – and need your support to transform Hollywood's portrayal of guns. 100% of your donation will help us change our gun safety culture and free America from gun violence.
Key Supporters
Judd Apatow
Shonda Rhimes
Adam McKay
Mark Ruffalo
Jimmy Kimmel
Amy Schumer
Glen Mazzara
Piper Perabo
Bradley Whitford