Dedicated to Ending Hunger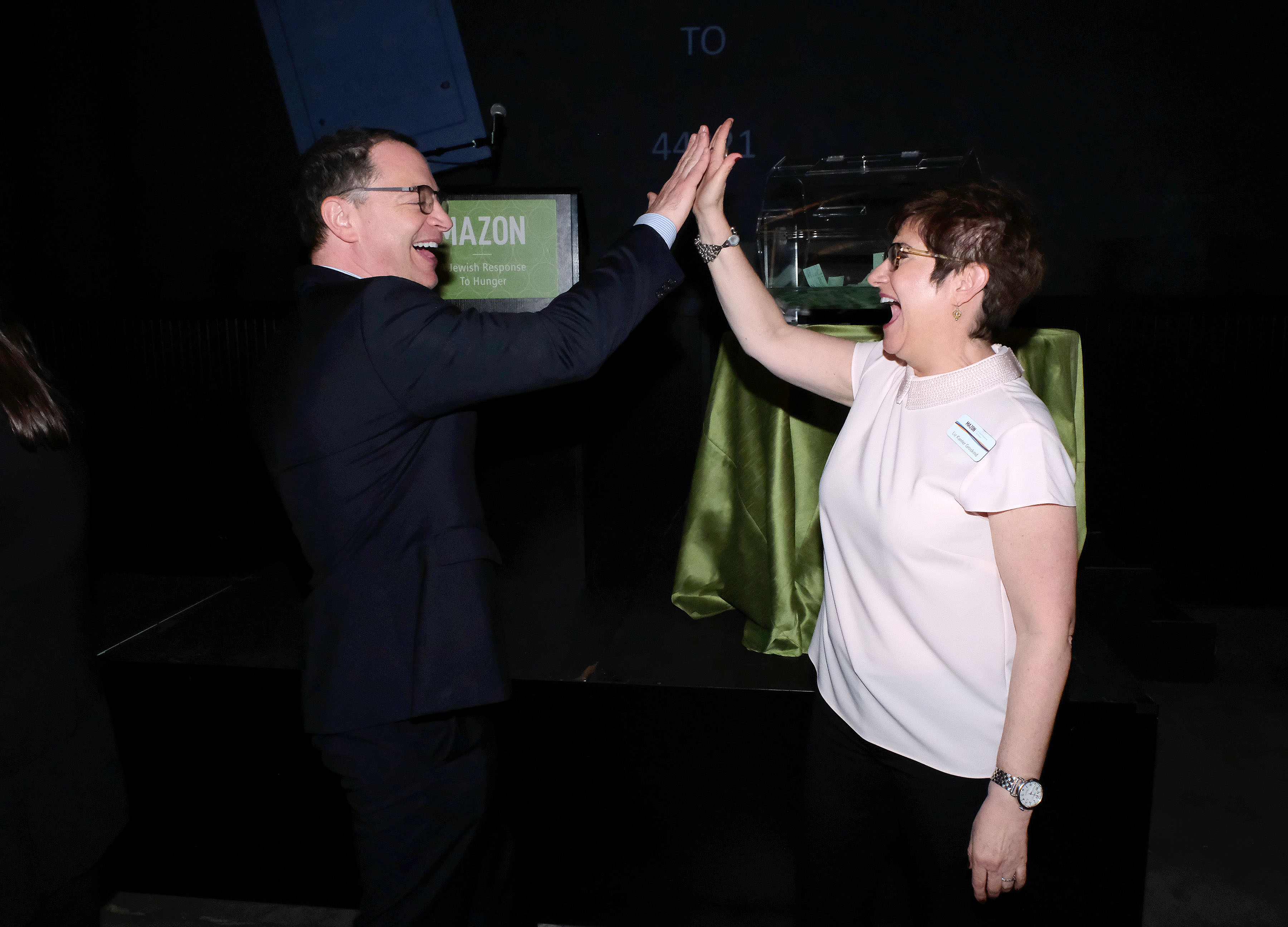 A stunning one in 10 households in the United States currently faces hunger. MAZON's focus is to expose this reality, and to ensure that everyone in the U.S. can access the food they need and deserve.
Headquartered in Los Angeles for more than 36 years, MAZON: A Jewish Response to Hunger develops and advances policy solutions to address hunger, recognizing the government's obligation to ensure that all people can feed themselves and their families. The national anti-hunger organization has become a leading voice in the field, activating a broad community of dedicated partners and champions around the country.
"We are challenging arguments that the government has no role to play in ending a major societal issue like hunger," says Abby J. Leibman, MAZON's president and CEO.
With tens of millions of Americans struggling to put food on the table, only the government can implement the change needed at the scale and speed required. MAZON works to end hunger by building relationships across the country with hundreds of anti-hunger organizations and on Capitol Hill, fighting for increased investment in federal nutrition programs, such as the national food stamp program known as SNAP.
In the summer of 2021, MAZON and its partners successfully persuaded the U.S. Department of Agriculture (USDA) to increase SNAP benefits to families in need. The organization also reinvested in building a network of anti-hunger organizations in the most food insecure states in America, including Mississippi, West Virginia, and Arizona.
With MAZON's support and guidance, these partners are building and growing their influence at state and local levels, advancing policies to make food security possible for millions of families.
Gathering strength from core Jewish values and traditions, MAZON focuses on helping hungry people of all faiths and backgrounds. In particular, they spotlight the needs of often overlooked populations such as active-duty military families, veterans, Native Americans, single mothers, LGBT seniors, and those in Puerto Rico and the territories.
"MAZON's work is informed and guided by the ancient and very relevant traditions that we are not obligated to finish the work of justice, but are charged with never turning away from it, that we are all made in the image of the divine, and that we should embrace the needs of the stranger," says Leibman. "These traditions teach us that we have an obligation to all people and that we should not judge them for the circumstances that might cause them to face hunger."
A key part of MAZON's work is elevating public knowledge of ongoing hunger issues across the U.S, and in so doing, dismantling the stigma surrounding hunger and the federal assistance programs that were created to provide food for all people in need. In the spring of 2022, MAZON is launching a virtual National Hunger Museum, a first-of-its-kind interactive resource that will explore 100 years of hunger and anti-hunger policy in the United States. Set against the political, economic, and cultural influences that led to the striking disparities that exist today, MAZON's virtual museum will provide historical perspective, from the 1918 Spanish Flu pandemic to COVID-19, to reveal the cycles of policymakers expanding and dismantling the American social safety net system — and chart a path forward for a stronger, more effective national commitment to ending hunger once and for all.
"Sometimes things seem all doom and gloom. But we see a real opportunity here, in this moment," Leibman says.
Donate now!
www.mazon.org
(424) 208-7210
Vice President of Community Engagement: Naama Haviv
Mission
Inspired by Jewish values and ideals, MAZON: A Jewish Response to Hunger is a national organization fighting to end hunger among people of all faiths and backgrounds in the United States and Israel.
Begin to Build a Relationship
We know you care about where your money goes and how it is used. Connect with this organization's leadership in order to begin to build this important relationship. Your email will be sent directly to this organization's Director of Development and/or Executive Director.
I'm very proud to support MAZON. It's a wonderful organization that for decades has fought hunger in the U.S. and Israel by working to change the underlying circumstances that allow food insecurity to persist. They give a face and a voice to populations that are often overlooked. MAZON recognizes that hunger is a problem that can be solved, and they are committed to helping create a political and social environment that prioritizes the issue, so that we can share a more compassionate world, where those in need can access the support we all deserve.
A Hunger Museum
At its core, MAZON is an organization dedicated to enacting change. While much of that change is dedicated to influencing policy, another aspect is public education to build the political will necessary to end hunger. Following a devastating 2020, when the number of Americans struggling with food insecurity more than doubled from 38 million to nearly 80 million, one of MAZON's new initiatives is a dynamic new resource that will shift the public narrative about who struggles with hunger in this country, and why.
MAZON aims to raise $500,000 to launch a virtual National Hunger Museum that will showcase the country's history of hunger and anti-hunger policies — from the beginning of the 1918 Spanish Flu pandemic through the COVID-19 pandemic. Launching in the spring of 2022, the permanent online museum will be an exciting, educational, interactive experience for users of all ages. MAZON's museum will provide the backdrop of history to inform how we chart a path forward towards an end to hunger. Its exhibits will be updated regularly and change as the country changes.
Thanks to The Giving List's novel matching program, all donations up to $1,500 will be matched.
Key Local Supporters
Sara M. Albert
Julie Chernoff
Leonard A. David
Michelle Goldman
Liz Kanter Groskind
Karen Jacobs
Marilyn Levenson Komessar
Steven Krikava
Janet & Barry Lang
David A. Lash
Randall Lewis
Richard Loewenstein
Joshua Malina
Craig Newmark
Rabbi Joel Pitkowsky
Morgan J. Powell
Daniel Segal
Howard B. Tarkow
Carolyn Schwarz Tisdale
Marcie & Howard Zelikow