Instilling Civic Duty in L.A.'s Future Leaders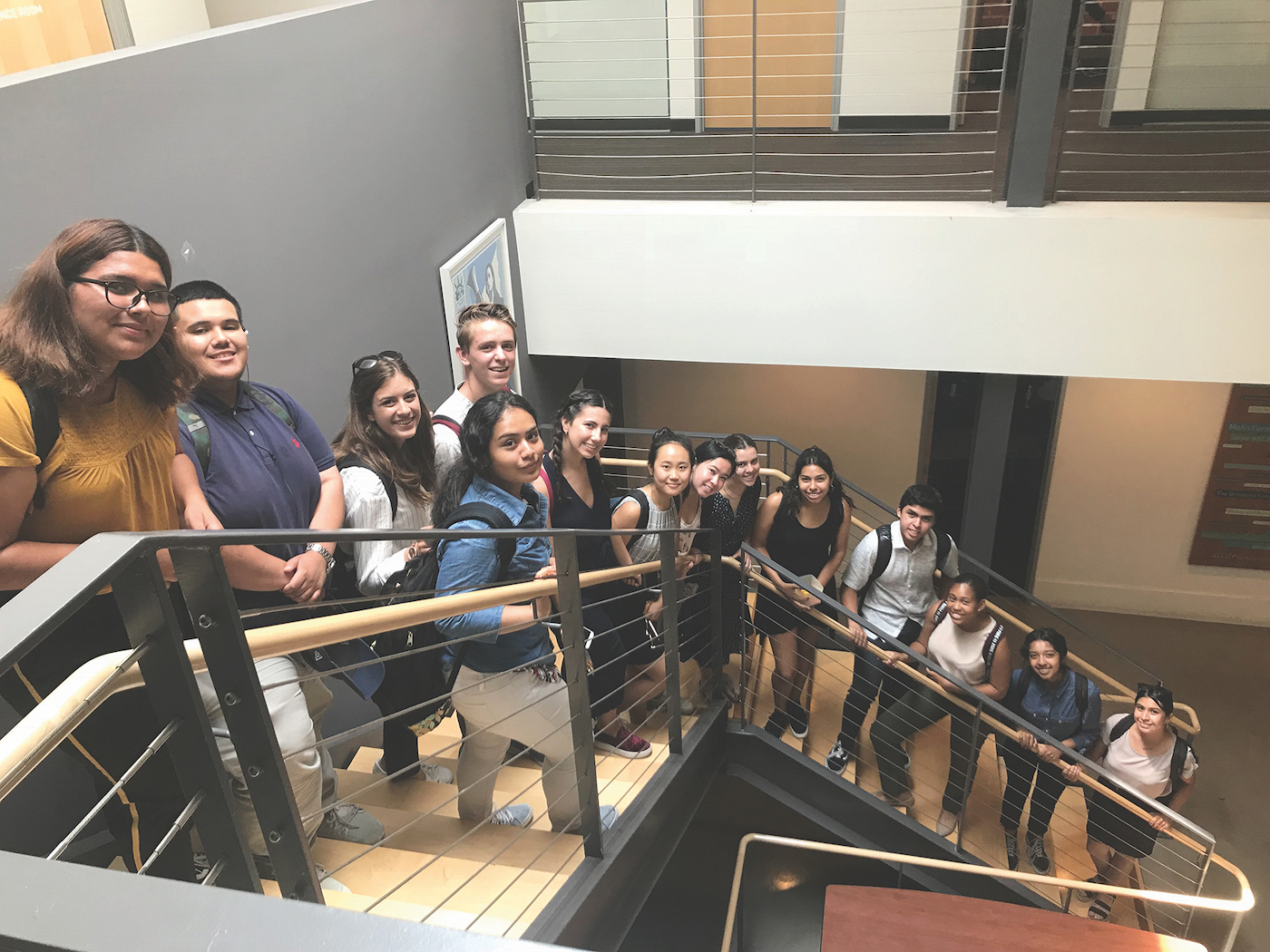 Founded in San Francisco in the wake of World War II by attorney W. Donald Fletcher and investment counselor Van Duyn Dodge, Coro is a nonprofit organization whose unique name represents both discovery and exploration. Both men saw the existential threat posed to American democracy by the rise of fascism in Europe and created Coro to provide interdisciplinary training for young professional specialists to become civic leaders capable of leading the nation through the post-war era, a time of profound economic growth and societal change.
Coro eventually established centers in New York, Pittsburgh, and Los Angeles, with more than 1,000 participants per year nationwide attending programs aimed at cultivating America's next generation of civic leaders. Coro has more than 10,000 program alumni currently serving as leaders in local, regional, and national/global businesses, nonprofit organizations, labor unions, governmental agencies, and elected public office.
One of them is Coro Southern California's President and CEO Natalie Samarjian, who participated in the San Francisco fellowship program directly out of college.
"It was the single most transformative year of my professional and personal journey in life," Samarjian says. "Although I went on to graduate from law school, nothing gave me the life experience, self-awareness, and expansive intellectual grounding that Coro did."
Samarjian stresses Coro's focus on encouraging its fellows to listen and work across ideological grounds.
"Our mission is to train civic leaders to protect and advance our democracy and solve some of our region's most entrenched challenges," she says.
To expand its impact, Coro launched its annual Youth Fellows Program (YFP) for high school students in Los Angeles County in 2017. The program brings together diverse cohorts of young aspiring leaders, 69% of whom are low-income students on academic scholarships, for an immersive six-week program and seminar training in youth leadership.
"The Youth Fellows Program continually pushed me out of my comfort zone," says Melissa Romero, a recent graduate of Valor Academy High School in North Hills, California. "It taught me how to talk and communicate more effectively with others and to be more comfortable with myself and my leadership style. Coro has helped me on my professional path, exposed me to leaders in Los Angeles, and showed me ways that I can impact my community."
Coro's Women in Leadership Program is creating a pipeline for mid-career professional women to become effective community leaders.
"We want to support women leaders so they can step into leadership for the greater good," Samarjian says. "We see women leaders as so effective in their roles, and we want to grow the number of women leaders. We are not at parity in L.A. County and so we want to play a part in building that."
Coro's longest-running program, now celebrating its 64th year, is its Fellows Program in Public Affairs, or FPPA, a full-time, nine-month experience for 12 recent college graduates per year.
"We want these young people to graduate with the knowledge, skills, and networks to implement meaningful change," Samarjian says. FPPA provides each fellow with internships in government, nonprofit organizations, businesses, electoral campaigns, and organized labor. Seminars include meetings with Coro graduates such as U.S. Senator Alex Padilla, L.A. County Supervisor Holly J. Mitchell, and U.S. Congressman Mike Levin.
"The FPPA program has been a difficult but powerful journey of self-reflection, discovery, leadership development, mentorship, collaboration, and inquiry," says Coro alumnus Angel Lira, a UC Irvine graduate who is about to embark on a Fulbright scholarship to Paraguay, where he will research the political perceptions of rural youth in the country. "The program was an incubator where I was able to grow faster than I ever have professionally and personally. I discovered how to effectively integrate into many different situations, and by jumping right into the fray of Los Angeles, I gained valuable experiences I will carry with me into the future."
Donate now!
Matching Challenge
The first $1,500 will be matched.
Social Change Through Leadership Development
Since 1957, Coro Southern California has helped hundreds of individuals in Los Angeles become effective civic leaders through comprehensive fellowships and internships spanning city and county government, nonprofit, corporate, and political spheres.
Its focus on youth leadership and mid-career professional training for women has built up leaders on the frontlines of issues ranging from immigration and education to transportation and housing. Your support enables Coro to empower leaders to work across differences and accelerate meaningful, lasting solutions to our most entrenched public challenges.
Thanks to The Giving List's novel matching program, all donations of up to $1,500 will be matched.
To learn more about Coro Southern California, or to donate, please visit corola.org.
Mission
Coro's mission is to strengthen the democratic process by preparing individuals for effective and ethical leadership.
www.corola.org
(213) 267-6552
President and CEO : Natalie Samarjian
Begin to Build a Relationship
We know you care about where your money goes and how it is used. Connect with this organization's leadership in order to begin to build this important relationship. Your email will be sent directly to this organization's Director of Development and/or Executive Director.
Coro is a life-changing opportunity that has created a foundation for me to grow as a leader. In addition to critical leadership skill development and amazing relationships, Coro has provided many valuable lessons. The Youth Fellows Program has allowed me to see the world with a different perspective. Coro has taught me that uncertainty can pave the way to growth and inspire the change makers.
Key Supporters
Bruce and Toni Corwin
The Ralph M. Parsons Foundation
California Community Foundation
Bank of America
Aileen Adams and Geoffrey Cowan
The California Wellness Foundation
Mark Ridley-Thomas,
Los Angeles City Councilmember
John and Sarah Kobara
Community Partners
The Eli and Edythe Broad Foundation
Cedars-Sinai
Andrea Van de Kamp
Edison International
Angell Foundation
Former California State Senator Carol Liu
FivePoint
Weingart Foundation
The California Endowment
Peter J. Taylor
United Airlines