Standing up to Bigotry and Hate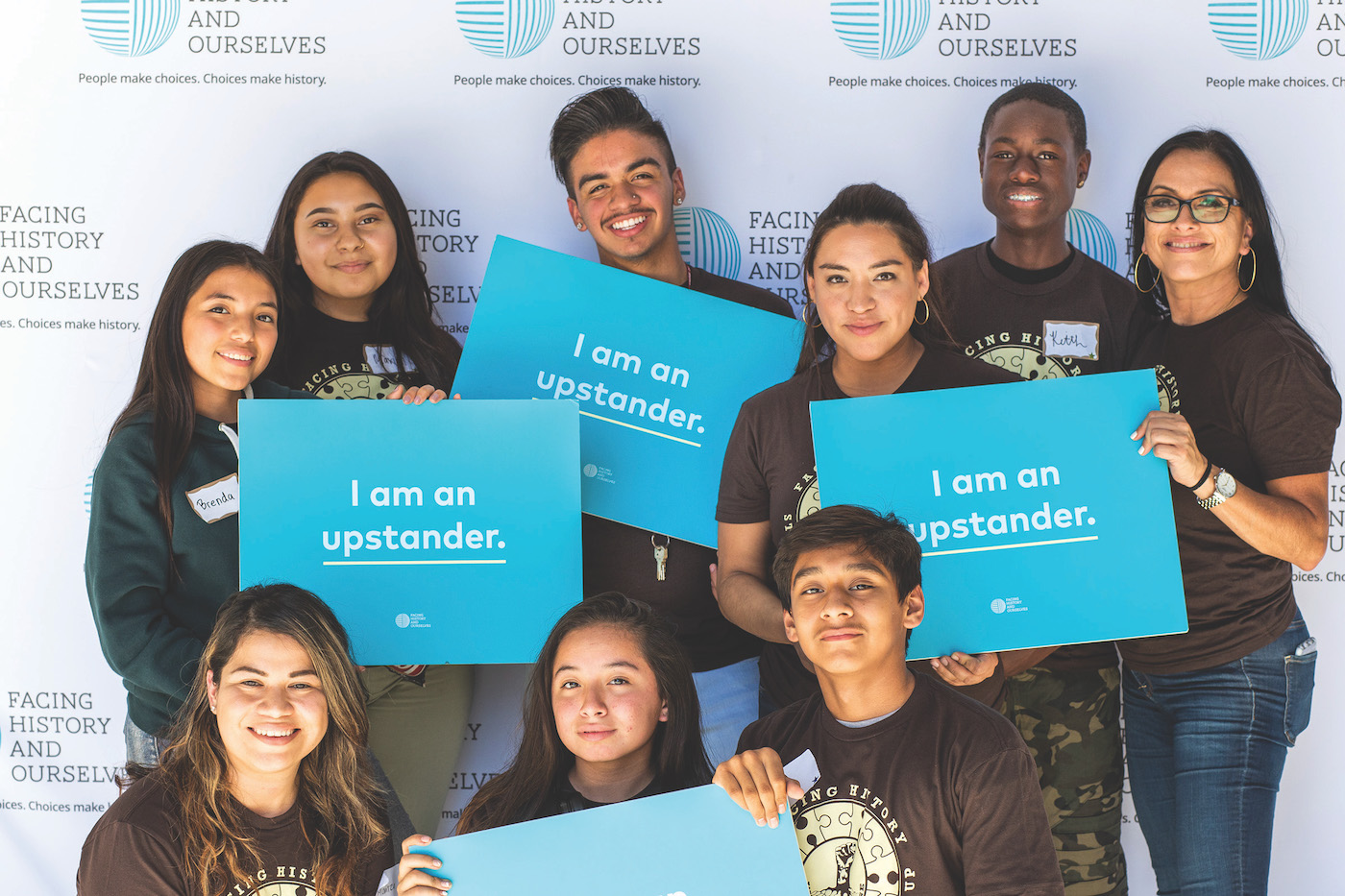 Liz Vogel's least favorite class while growing up in New Jersey was history. Memorizing facts and dates from the past always felt disconnected from her life in the present.
Despite this, she majored in history at Pomona College in Claremont after a course got her thinking about her identity, her connection to others, and her role in shaping the future.
Today, Vogel is the executive director of Facing History and Ourselves Los Angeles, which uses some of the hardest lessons of our past and present to challenge teachers and students to stand up to bigotry and hate.
Founded in 1976, the nonprofit produces curriculum for middle and high school classrooms along with professional development and support for educators. It links the content taught in the classroom – such as the Holocaust and the U.S. civil rights movement – to what students are witnessing and experiencing in their own lives.
"We're focused on pivotal moments in history and in literature – hard history – where neighbor turned against neighbor or democracy was failing and we use this as a way for young people to reflect on the choices people made in those moments and the decisions students face every day," Vogel explains.
Few organizations provide the depth that Facing History does, by connecting rigorous academic content, ethics, and social emotional learning, Vogel says. The goal is to help young people understand that their choices matter – and that they can make a difference in their own communities, she adds.
Students who take Facing History:
•are more likely to recognize racism, antisemitism, and prejudice
•have more tolerance for others with different political views
•are more motivated to learn
•believe that they can make a difference
A few years ago, a student at Animo Jackie Robinson Charter High School in South Los Angeles was inspired by Facing History to help those experiencing homelessness.
David noticed people on the street on his way to school and felt compelled by his Facing History lessons about bystanders to not see them as just the other but as part of the community. He organized a student effort to make and pass out sandwiches and other basic supplies. He also coordinated an effort to bring mobile showers into the community for the first time.
"David just graduated from Georgetown University where he continued to develop his leadership around pressing social issues," Vogel says.
With heightened demand among educators, Facing History is expanding its programs to entire school districts. It partnered with Burbank Unified School District this year to provide professional development for all 700 of its educators around the themes of equity and justice. This pilot program is critical at a time that society has become so polarized, she said.
Today, "it's hard for us to disagree with someone without disavowing them as a person," Vogel says. Yet "imparting those skills and making them a priority in education is what our world desperately needs." Democracy itself relies on this education.
Vogel reflected back on her personal experience, "Facing History would have been so valuable for me as a young person trying to make sense of the world and my place in it."
Donate now!
www.facinghistory.org/thegivinglist
(213) 202-2811 x828
Director of Development: Gretchen Blake

Mission
Facing History and Ourselves uses lessons of history to challenge teachers and their students to stand up to bigotry and hate.
Begin to Build a Relationship
We know you care about where your money goes and how it is used. Connect with this organization's leadership in order to begin to build this important relationship. Your email will be sent directly to this organization's Director of Development and/or Executive Director.
Righteous Persons Foundation is incredibly proud of our long running partnership with Facing History and Ourselves, which is one of our earliest grantees. Facing History doesn't just teach historic events, they help students and educators understand and make meaning of our past and draw powerful connections to our present-day lives. Their work is critical to building a more just and connected future for all.
Help Facing History Reach More Students
With the shift to virtual classes, a contentious election, and a national reckoning of racial inequities over the past year, more teachers than ever are turning to Facing History for support. Our network now includes more than 350,000 educators around the globe, including nearly 20,000 educators across Southern California.
To help Facing History meet the increased demand for our programs in Los Angeles, an anonymous supporter has offered to match all donations raised through this edition of The Giving List, up to $100,000.
Facing History believes young people can become critical thinkers, stand up to bigotry and hate, engage in their communities and strengthen democracy. Your investment will train up to 1,000 new teachers to empower their students to challenge the legacies of injustice and create a more just and equitable world. Visit facinghistory.org/thegivinglist.
Key Supporters
Annenberg Foundation
City National Bank
Bill Feldman
Tara & Eric Hirshberg
Johnny Carson Foundation
Maja Kristin
Eunice Lee
Luminescence Foundation
Marmol Radziner
Pair of Thieves
Pritzker Pucker Family Foundation
The Palermo-Ravich Family Foundation
Carrie & Ken Richman
Righteous Persons Foundation
The Rose Hills Foundation
MacKenzie Scott
Skoll Foundation
Florence & Harry Sloan
Karen Sulzberger & Eric M.A. Lax
Janice White