Art as Permanence for Black Los Angeles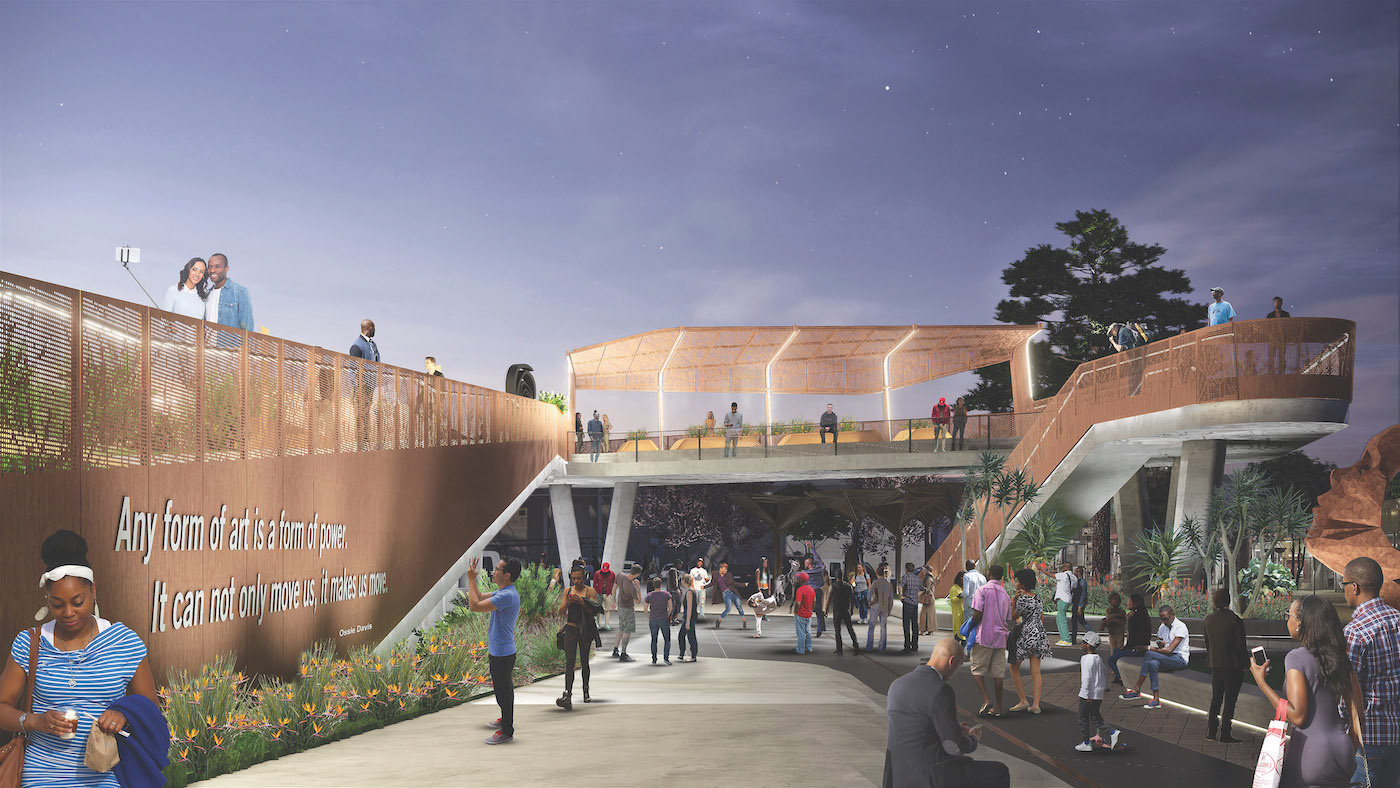 Destination Crenshaw, is a potential game changer for South Los Angeles. Once complete, the 1.3 miles of Destination Crenshaw will boast more than 100 commissioned works of Black art, 10 pocket parks and community spaces, cultural stamped infrastructure (including sidewalks, wayfinding signage, and street furniture), and hundreds of trees in the heart of the city's Black historic district once construction wraps in late 2022. Through art and design, the project aims to stamp the boulevard with a visual celebration of the creative contributions Black Angelenos have made to the city and to the world. A parallel and equally important component of the project is Destination Crenshaw's economic agenda, which is to create careers for local residents, and offer critical support for both legacy small businesses and young entrepreneurs.
"How do we improve systematically oppressed communities and serve as an answer to the cultural erasure and displacement that Black and brown communities experience and keep people there?" asks Jason Foster, Destination Crenshaw's president and chief operating officer. "That's something that Destination Crenshaw is working toward and will accomplish with our project."
Destination Crenshaw intends to economically revitalize the area in a way that will benefit the historic community's existing residents. It's a goal the organization plans to achieve with the backing of community members who have weighed in on the project through an advisory council that formed four years ago. That guidance and grassroots support is essential to the project because Destination Crenshaw is a concept that arose from strong community sentiments regarding the Los Angeles Metro's nearly complete $2.14 billion Crenshaw-LAX light rail line and its potential to displace local businesses and residents.
The brainchild of Los Angeles Councilmember Marqueece Harris-Dawson, Destination Crenshaw instead wants to create "permanence" for the Crenshaw District's Black community. Its "unifying narrative" highlights the migration experience of thousands of Black families who moved to Los Angeles generations ago in search of a better life. The project's unifying narrative is based on the Giant Star Grass, which served as bedding on the ships that transported enslaved Africans across the Atlantic to the Americas. That grass is now found in every U.S. state and represents a definitive link to the greater Black experience in America.
"All the design elements of our project are based on that unifying narrative," Foster says, "so that the community can understand that the story of the project is actually their story, directly addressing cultural erasure and really, hopefully, being an answer to the gentrification question that typically happens when public investment occurs."
As Destination Crenshaw is prioritizing community members' opportunities to benefit economically from the project, they've set an ambitious goal of hiring 70% of its construction workforce locally. Ideally, Foster would like to see projects similar to Destination Crenshaw appear in disinvested African-American neighborhoods nationwide.
"We want to create a way for people to have a North Star and really be able to understand that it is possible to improve your community," he says of scaling the project for other cities. "It is possible for Black people to live in a beautiful environment."
Donate now!
www.Destinationcrenshaw.la
President and COO: Jason Foster
Mission
Destination Crenshaw is a reparative development project and will be the largest Black public art project in the U.S. and quite possibly the world. Ultimately, the project will commission more than 100 works by Black artists who have strong ties to Los Angeles, creating a pipeline of work and jobs for emerging, seasoned and internationally renowned artists. But the project is so much more than art. It's mission is nothing less than to place a cultural stamp of Blackness on Crenshaw Boulevard – a stamp akin to those in Chinatown, Mariachi Plaza, Koreatown and other ethnic enclaves.
Begin to Build a Relationship
We know you care about where your money goes and how it is used. Connect with this organization's leadership in order to begin to build this important relationship. Your email will be sent directly to this organization's Director of Development and/or Executive Director.
This is for us, and by us and unapologetically so. You can see in the assembly of community members at the table and the team that is doing the work this project is culturally competent, which we rarely, if ever, see in these types of public infrastructure and community development projects.
Leave Your Mark on Destination Crenshaw — Literally
Destination Crenshaw, a 1.3-mile art and culture corridor, aims to preserve the rich legacy of Black Angelenos – from the Angelenos of African descent who cofounded L.A. to the generations of Black Americans who moved to and thrived in the Crenshaw District.
"We're now in our capital campaign, and we need people who actually want to invest in the future of Black Los Angeles," says Jason Foster, Destination Crenshaw's president and chief operating officer.
Investors in the project can literally leave their mark on the museum. The names of foundations or individual donors who make substantial donations to Destination Crenshaw will appear along its corridor, at parklets, and in other high-profile sites.
Key Supporters
Board of Directors
Berlinda Fontenot-Jameson,
Board Chair
Deborah Bryant,
Board Treasurer
George Fatheree Esq.

Advisory Council
Adam Ayala
Alberto Retana
Allison Agsten
Archer One
Ben Caldwell
Darnell Hunt
Drake Dillard
Felicia Filer
James Burk
Jill Moniz
Jorge Peniche
Joy Simmons
Karen Mack
Kohshin Finley
Leroy Hamilton
Mandla Kayise
Mark Greenfield
Naima Keith
Ron Finley
Tafarai Bayne