Give Music Mastery, Change Lives Indelibly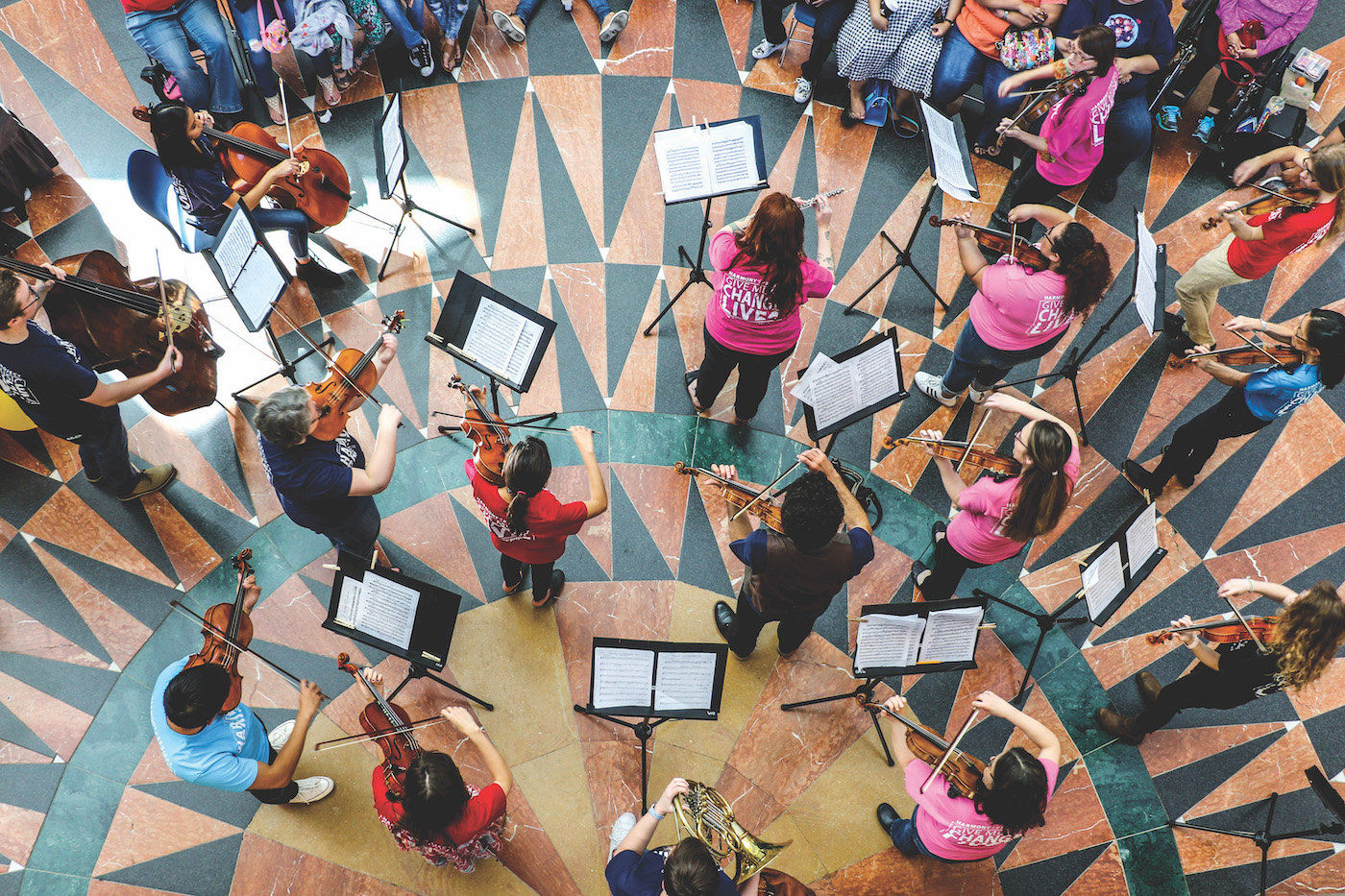 There's no secret that there's power in music. At the Los Angeles-based Harmony Project, giving children the power to play it has been transformative.
"What we found is that when you learn how to master an instrument, it does something to you creatively," says Executive Director Natalie Jackson. "Music helps kids have more perseverance. It helps their ability to improve cognitive learning."
The Harmony Project provides low-income, underserved children in Los Angeles with free musical instruments of their choice, classes and opportunities to perform in front of an audience. It currently serves more than 3,500 students across 17 program locations across the county.
Students who sign up are a part of Harmony Project for the entirety of their schooling, some from kindergarten through high school. The idea is that students shouldn't just learn an instrument, they need to master it. And that ability serves them through other aspects of their lives beyond the classroom.
"For every kid, there needs to be some sort of a push to excellence in everything you do," Jackson says. "Because we've noticed that when you have that push for excellence, for example in violin, you will do the same thing in your educational goals and professional goals."
The program first started with 36 students at a small church in Hollywood and now is taught by 70 teachers across L.A. One of its programs is a youth orchestra done in partnership with the Los Angeles Philharmonic and teaches 350 kids out of the EXPO Center in South Central L.A. Through the partnership, kids can also enjoy free master classes and Philharmonic musicians routinely come to coach the student ensembles.
And the program has shown results. About 97% of Harmony Project's graduating seniors are accepted to a college or university. What makes Harmony effective is it also offers kids a sense of stability. As children move around from one elementary school to a new middle school and onward, at Harmony Project they stay in the same program, growing musically with fellow students they've known for years. Harmony Project also fosters community amongst its parents, encouraging potlucks after recitals and providing college ready and financial literacy meetings for them.
Jackson calls it a "holistic support system" and that extends to scholarships Harmony Project offers to its students. Any student who remains in the program more than three years gets $5,000 to use towards college. So far over 600 students have received the scholarship. They also offer alumni the chance to return in the summers for paid internships and work with the younger students.
"Our alumni regularly tell us that they've gotten so much from being a part of Harmony Project and offer to contribute to our mission in whatever way they can," Jackson says. "I think that's a beautiful part of what our story is."
Donate now!
www.harmony-project.org
(323) 895-7703
Executive Director: Natalie Jackson
Mission
Harmony Project's mission is to promote growth, community, and connection through the study, practice, and performance of music.
Begin to Build a Relationship
We know you care about where your money goes and how it is used. Connect with this organization's leadership in order to begin to build this important relationship. Your email will be sent directly to this organization's director of development and/or Executive Director.
Spending time here at Harmony Project helps me grow, not only as a better musician, but as a better person by surrounding myself with people that care.
Give Students a Community Through the Sound of Music
Each year, the organization helps transform the lives of more than 3,500 underserved K-12 students by providing them equitable access to a tuition-free music education that also prioritizes their academic success and socioemotional development.
Harmony Project believes that combining rigorous music instruction with a robust social support network empowers students to become creative thinkers and confident learners capable of realizing their full potential as the next generation of leaders.
Generous contributions will not only help alleviate the financial and logistical strain placed on the organization as a result of the pandemic, but also support the organization's transition back to in-person programming for the upcoming 2021-2022 academic year.
Key Supporters
The Ahmanson Foundation
Banchik Family Foundation
California Arts Council
California Community Foundation
The Carl & Roberta Deutsch Foundation
City of Los Angeles Department of Cultural Affairs
City of Los Angeles Department of Recreation and Parks
Hearst Foundations
The Herb Alpert Foundation
Jewish Community Foundation
Los Angeles City College
Los Angeles County Department of Arts and Culture
Los Angeles Philharmonic Association
Max H. Gluck Foundation
National Endowment for the Arts
Office of Los Angeles Mayor Eric Garcetti
Ralph M. Parsons Foundation
Roddenberry Foundation
Southern California Counseling Center
United States Department of Housing and Urban Development