Creating Homes & Hope for Homeless Youth & Students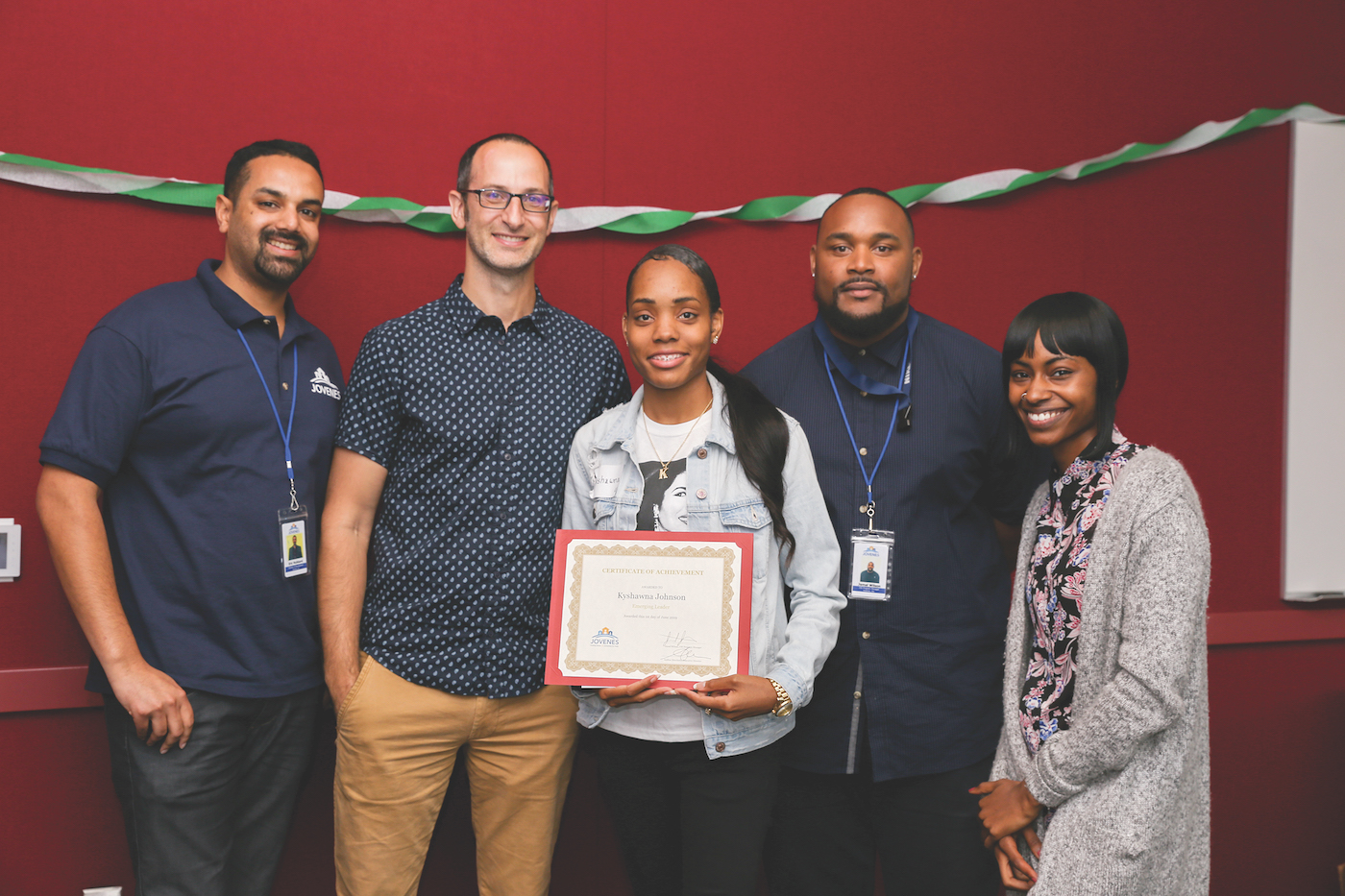 From its roots as a shelter for adolescent Latinos in 1989, Jovenes has become a leading provider of support services for homeless youth by recognizing, as Executive Director Andrea Marchetti says, that "homelessness is not just a housing problem."
Since taking the helm in 2010, he has ambitiously expanded Jovenes' mission, building a continuum of care to help the youth it serves lead productive, self-sufficient lives. That portfolio includes short- and long-term housing options, rigorous case management, and partnerships to address needs like healthcare, mental health, employment and education. In recent years, Jovenes' housing capacity has quadrupled to accommodate 400 youth, and its staff has grown from 10 to 75.
Marchetti's team often discovers hidden populations and unmet needs of vulnerable youth. In 2015, Jovenes organized community college tours to encourage its older clients to enroll. As college officials pitched higher education as a stepping stone out of poverty, they surprised Jovenes staffers by asking for help with their own homeless crisis.
Turns out, one in five students at Los Angeles-area commuter colleges has no permanent home to commute from.
"We encountered a problem that even we weren't fully aware of," says Eric Hubbard, Director of Development and Strategic Partnerships. So Jovenes got right to work on a solution. The result is the College Success Initiative (CSI), a pioneering student-housing strategy that started in partnership with community colleges and has expanded to four-year schools.
Now in its sixth year, CSI has given over 200 students one less thing to worry about as they pursue their degrees. It's working: Virtually all the participants have maintained steady housing and almost two-thirds have graduated or are still enrolled – putting these hardship students nearly on par with overall graduation rates at community colleges. CSI's 42-strong class of '21, which includes two graduates from December 2020, earned diplomas ranging from associate's degrees from Cerritos College to the program's first master's graduate from California State University Long Beach.
Thanks to Jovenes' success and its advocacy for California to fund programs supporting students experiencing homelessness, CSI has become the model for other communities where housing insecurity is a major impediment to finishing college. The initiative is just one example of how Jovenes innovates and tailors solutions that benefit homeless youth far beyond its service area in southeast L.A. County.
"I'm proud that we try to be a learning organization, to understand what the need is before just coming out with ideas and pushing those ideas from top down," says Marchetti.
Jovenes' novel solutions include "The Village," California's first college-housing project exclusively for homeless students. Cerritos College bought land near its campus, and Jovenes leases the units to provide no-cost housing for 28 students. Working with L.A. County, Jovenes converted part of the shuttered Los Padrinos Juvenile Hall in Downey into the area's first emergency shelter solely for young women. Opened in 2021, the 20-bed facility is a metaphor for Jovenes' mission: A grim former incarceration center is now a welcoming, safe space with support services to steer homeless youth toward a more promising future.
Donate now!
www.jovenesinc.org
(323) 260-8035 x108
Director of Development & Strategic Partnerships: Eric Hubbard
Mission
A home and family for those without, Jovenes helps youth, ages 18-25, end their cycle of homelessness. Located in Boyle Heights and serving communities throughout Southeast LA County, Jovenes works deeply with our youth focusing on not only their needs for housing, but also healthcare, education, employment and trauma recovery. We empower those we serve because we believe that homelessness does not define our youth. Our mission is to help homeless youth become active and integrated members of our community. Together we work to develop pathways for personal and professional growth so young people can move into permanent housing and make meaningful contributions to the community we share.
Begin to Build a Relationship
We know you care about where your money goes and how it is used. Connect with this organization's leadership in order to begin to build this important relationship. Your email will be sent directly to this organization's Director of Development and/or Executive Director.
I support Jovenes because I believe in their mission, in the youth they serve, and the ways my donations have a multiplying impact. Like many nonprofits, Jovenes is filled with compassion, but they operate like a business that develops a strategy, implements a plan, and then uses metrics to continually adapt and ensure success. Jovenes shares what they learn so their strategies can be replicated and impact youth across California. Most importantly, they meet youth where they are at, treat them with respect, and help them feel accepted so they can have positive feelings of self-worth and an opportunity for success. I'm proud to support Jovenes and their youth, and I invite you to join me in investing in their future.

Help Provide a Home for Youth
Jovenes is one of L.A.'s most innovative organizations addressing youth homelessness, and your financial support will directly impact the youth it serves. Your donations will help Jovenes continue to scale its programs to support youth and college students experiencing homelessness while providing the individualized care that these young people need. In 2022, Jovenes will open new housing opportunities for homeless youth and expand its partnerships to reach more young people in need, while investing in evaluation in order to foster a learning environment for constant improvement.
Jovenes hopes you will reach out to learn more about the agency, take a virtual tour of our facilities, and explore ways that you can contribute to making lasting change in the lives of homeless youth.
Key Supporters
The California Wellness Foundation
The Ballmer Group
The Weingart Foundation
The Peter & Candis Doerken
Foundation
The Hezlep Family Foundation
The Carl & Roberta Deutsch
Family Foundation
Lauren Coker
Eliseo & Sue Tenorio
Jess Montes
Rafael & Linda Ramirez
David Valdez & Eric Hsu
Krystal & Kevin Finkel
Deana Ng
Tina Birungi
Dr. Yolanda Aguerrebere
Lucas Rivera
Fr. Richard Estrada
Marilyn Wells
Susan Baughman
Jennifer Taw