Comprehensive Support for the Formerly Incarcerated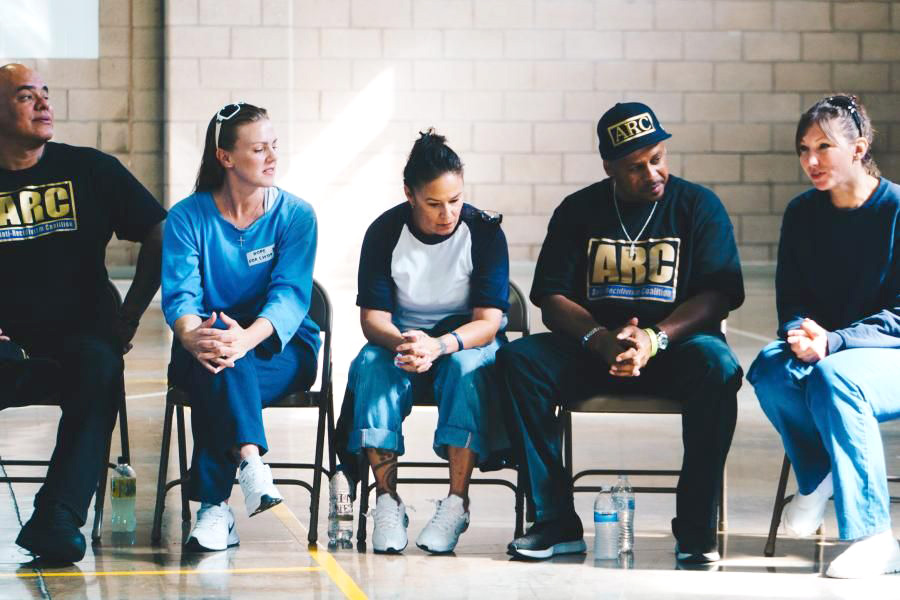 To support incarcerated and formerly incarcerated people, the Anti-Recidivism Coalition (ARC) not only offers rehabilitative programming, job training, housing access, and counseling services, but it also engages in advocacy bent on ending mass incarceration and reducing the footprint of the criminal legal system.
ARC's origins trace back to 2013, when founder, film producer, and activist Scott Budnick, was volunteering for a writing and mentorship program in a juvenile hall facility. Scott met incarcerated youth who were facing adult prison sentences – one young man faced more than 200 years in prison. Budnick was moved to launch a peer support network for these young people so that they could return home successfully and thrive in the "free world."
"Society is not set up to support people who are coming home from incarceration," says Nicholas Reiner, ARC's director of communications. "So, [we wanted to] provide assistance and resources to our members reintegrating into their communities. "
Nearly a decade later, ARC has co-sponsored more than 25 bills and has communicated with more than 10,000 current and formerly incarcerated individuals seeking reentry assistance. Over 1,700 adults and young people across California are ARC members with access to case management, mentorship, and mental health and wellness support, as well as transitional housing, legal, and education and career readiness services.
ARC stands out because they empower individuals who have been impacted by the criminal legal system to tell their own stories, give back to their communities, and become leaders in the space. 
"We have leveraged the stories of people who have experienced these systems first-hand at the state, local, and federal level. We believe that the people closest to the issues are also closest to the solutions," says Executive Director Sam Lewis.
In fact, Lewis points out that over 75 percent of their staff are system-impacted, including himself, having served 24 years of a life sentence prior to his rise from ARC Life Coach to executive director. ARC's federal and state advocacy directors and community organizing managers were also once incarcerated. The leadership roles they hold show how formerly incarcerated people can act as decision-makers and strategists to drive systems change, he adds.
Moreover, ARC's Hope and Redemption Team (HART) makes the organization unique, for it is made up of Life Coaches who previously served life sentences, and who now go back into California state prisons to provide parole board preparation, rehabilitative programming, and reentry support to those still in confinement. In July, California Gov. Gavin Newsom signed into law a new state budget that will expand the HART program to 31 California prisons by the end of 2021.
"Our Hope and Redemption Team has been in a third of California carceral facilities for the past five years. With the new plans for statewide scaling, we will have a representative in every California state prison who will help prepare people to be their best selves once they're out," Lewis says. "This means that the need for public and private investment in our organization is greater than ever so we can support these individuals both during and after incarceration."
ARC hopes to one day scale its innovative model nationally. According to Director of Development Rachel Chung, the recidivism rate for its members is less than 10% compared to about two-thirds for formerly incarcerated Californians with felony convictions.
Chung attributes ARC's triumphs to its holistic approach to recidivism. "We provide a continuum of care that helps people not only reenter society, but reach their highest aspirations and give back to their community in meaningful ways."
www.antirecidivism.org
(213) 572-6980
Executive Director: Sam Lewis
Mission
The mission of the Anti-Recidivism Coalition (ARC) is to change lives and create safe, healthy communities by providing a support and advocacy network for and by formerly incarcerated men and women. To accomplish this mission, ARC advocates for fair policies in the juvenile and criminal justice systems and provides a supportive network and reentry services to formerly incarcerated individuals.
Begin to Build a Relationship
We know you care about where your money goes and how it is used. Connect with this organization's leadership in order to begin to build this important relationship. Your email will be sent directly to this organization's director of development and/or Executive Director.
I've seen first-hand the transformative power of ARC's work in the justice reform space. They stand out in the field because of their unique community-based approach to advocacy and direct services as well as their commitment to elevating leaders with lived experience. I am grateful for their thought partnership as we continue to advance equity, safety, and healing together.
Support Women and Gender Non-Binary Individuals
In 2019, ARC's rapidly growing membership revealed a gap in specialized programs that served the unique needs of formerly incarcerated women and non-binary people. In response, ARC launched their Womxn and Non-Binary Programs department which aims to provide better gender-responsive services like child and family reunification. The program provides safe support groups on topics such as domestic violence – an issue which nearly 100 percent of incarcerated women have experienced at some point in their lives. To engage in a broader dialogue with the public around women and incarceration, the department recently launched their "Free World" podcast, which elevates the underrepresented voices of system-impacted women in the justice reform space.
"We can very confidently say this is likely the only podcast among the millions out there that is hosted and produced by formerly incarcerated women," says Nicholas Reiner, ARC's director of communications.
It is also important to note that Rachel Chung, ARC's director of development, says that the organization is seeking funding support to grow its services for women, gender non-conforming people, and transitional age youth.
Board of Directors
Paul Blavin
Scott Budnick
Jerome Dixon
Dede Gardner
Michael Goldstein
Adam Gunther
Esché Jackson
Ron Kaye
Jason Post
Tim Storey
Mara Burros-Sandler
George Wells
Prophet Walker
Kristen Ingram
Brad Slater
Toni Michelle White
Brandon Williams